They may be vintage in design, but Bundt pans can prove to be very beneficial both inside and outside of the kitchen.
If you're not a fan of cakes with holes…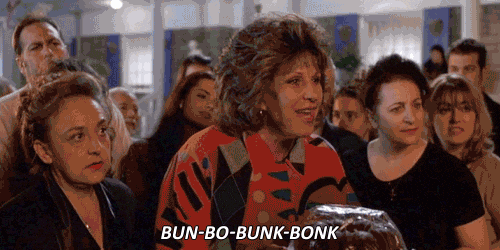 You can use Bundt cakes for several other things!  Great for organizing and decorating, a Bundt cake pan can come in handy all over the house!
10 Clever Uses for Bundt Cake Pans
Make an Organizer: Stack Bundt pans of different sizes to create a decorative organizer for food, craft supplies, or other nick-knacks. Personalize it further by spray painting the pans to match your décor.
Make a Wreath: Spray paint an old Bundt pan to look like an apple, pumpkin, or peppermint candy. This is a fun and unique decoration that will surely add character to your home.
Organize Makeup: Keep your counter clean of clutter with this cute makeup organization idea. Use the hole in the Bundt pan to hold your makeup brushes and place your must-have's right in the bowl.
Roast a Chicken: This is a genius way to roast your chicken. With the chicken standing upright in the oven, the fat will drip off the chicken and into the bowl, making this a clean and healthy roasting alternative.
Peel Corn on the Cob: Not a fan of eating corn ON the cob? Remove it from the cob by placing the bottom of the cob in the small hole in the Bundt pan. Run your knife down the cob and all those sweet little kernels will collect in the bowl of the pan.
Create a Wind Chime: Old antique Bundt cake pans are great for this project. Attach ropes of beads, bells, buttons, or charms to the Bundt pan and hang it outside for a cute, eclectic decoration that will liven up any garden.
Make Wall Décor: Arrange Bundt pans of various sizes and shapes on the wall for a cool 3D decoration that is great for both living rooms and kitchens. Color the pans if you'd like, or leave them as is for a cool rustic touch.
Create a Party Sandwich: Don't worry about ordering subs for your party, create a party sub right in your kitchen with a Bundt pan! This could easily feed 8 to 10 people, depending on the size of your pan, and it's a fun activity to do for family dinner night!
Make a Decorative Ice Cube: Keep punch and other drinks cold with a Bundt pan ice cube. Use a small Bundt pan to create a decorative ice ring and place in punch bowl to keep your drink cold. For an extra decorative touch, drop cranberries, flowers, or herbs in the ice cube for added color and flavor.
Create a Garden: Create fun planters using old Bundt pans. Try herbs or succulents for a cute garden decoration. A Bundt pan with succulents would also make a great housewarming gift for friends and family.
Knowledge is power!  Learn fun facts, hints and tips, and creative ways to use every day items with "The Buzz" posts on Thursday.