There are five movies that I basically know from beginning to end. Movies I've seen WAY too many times and will easily (and perhaps annoyingly) quote in any conversation when given the chance:
When Harry Met Sally
Mary Poppins
Forgetting Sarah Marshall
What's Eating Gilbert Grape
The Princess Bride
It's an eclectic line up, but one that has given me a very unique and unrealistically awesome view on the world (I mean, I know all about friendship, motherhood, heartbreak, family drama, and love just from this list!). To quote, it's practically perfect in every way. 😉
Even though these movies are all very near and dear to my heart, there's only one that I can watch over and over again no matter what the time, day, season, reason, or occasion: The Princess Bride.
This movie is classic cinematic gold. Though it suffered terrible reviews when it was first released, it's grown to become one of the most well loved fairy tales of all time. How did it do that, you ask?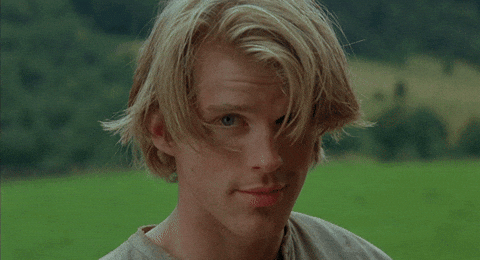 Filled with fun facts, sweet stories, and precious photos of the cast and crew, As You Wish: Inconceivable Tales from the Making of The Princess Bride is a true treat for fans of all ages. With his mysterious mask removed, actor Cary Elwes takes readers on a first-person adventure through the making and production of this cult classic film. From casting to credits, this delightful book gives readers an inside look at how the ROUS scene was filmed, the insane amount of training that went into every sword fight, how producers finally found the perfect Princess Buttercup, and proves, once and for all, the power of true love.
Throughout As You Wish, fellow cast members chime in with stories, memories, and fun facts about the filming of this movie.  Robin Wright, Billy Crystal, Mandy Patinkin, Wallace Shawn, Fred Savage, and many more share their feelings about their fellow actors (NOTHING BUT LOVE, YOU GUYS!) and the unexpected success of the movie.
In truth, I don't have enough good things to say about this book.  Warm, delightful, and fun to read, As You Wish is the perfect happily ever after to this magical love story.
And, in case you die-hard fans were wondering, this is not a kissing book.
Looking for a new book to read? Check in every Friday for a "Bee Happy" post, where I share reviews of books I've read or other book-themed lists.