Mary Poppins is one of the first movies I remember watching over and over again. I knew the whole movie beginning to end and, even in my hyper young state, would sit unmoved and watch every glorious minute of that near 3-hour movie.
My love for Mary Poppins has followed me into adulthood, and I've learned to appreciate this amazing movie on a whole new level. Hell, my husband and I even went as Mary and Bert for Halloween a few years ago!:
So when I stumbled upon this cute spoon charm at my local craft store, I couldn't resist the chance to turn it into a Spoonful of Sugar necklace!
Great for bridesmaids, friends, mom, or just as a little treat for yourself, this precious necklace is a subtle nod to a wonderful and classic Disney movie.
Spoonful of Sugar Necklace
Materials:
Spoon charm
Small pearl bead
E6000 glue or super glue
Chain or old necklace rope
Jewelry pliers
Jump rings (optional)
Various charms (optional)

Instructions:
Using the E6000 glue, carefully attach pearl bead to spoon charm. If the bead doesn't stay, you can also try super glue or a hot glue gun, but E6000 should easily to do the trick. Let it dry completely before moving on to the next step, about 10 minutes.

String your spoon charm onto the chain or necklace. You can make it long enough so you won't need a clasp or you can attach a clasp using jewelry pliers and jump rings. I actually attached my charm with a jump ring because the hole on the charm was too small for the end of the chain to fit through.
Once your spoon is centered on your chain, you can add various charms onto the chain if you'd like.
Enjoy your new necklace!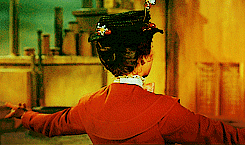 Celebrate creativity every Wednesday with a "Creativi-bee" post, where I share easy craft tutorials, project ideas, and craft collections.