It was 41 years ago today that thrill-seeking patrons flocked to their nearest theaters to witness one of the most terrifying and shocking movies of the time: Jaws.
Thought to be the first summer blockbuster movie ever, Jaws became an overnight sensation. It made $7,061,513 on its opening weekend, and that was in 1975! More than 67 million Americans flocked to see this movie on the big screen, and it forever changed how production studios treated their summer releases.
Jaws spawned several sequels, a dedicated and loyal cult following, and the shark used in the film, named Bruce by director Steven Spielberg, even got honored in another movie several years later: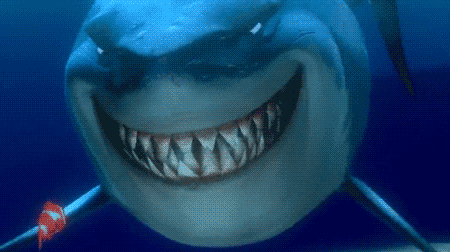 No summer would be complete without at least one viewing of Jaws, and to celebrate its anniversary, here is a fun treat you can serve at your movie night!
Jaws-Inspired "Bleeding" Cupcakes
Ingredients:
12 vanilla cupcakes, baked and ready to go
Raspberry or strawberry jam (I actually used lingonberry jam, so any red jam or jelly will work here)
Vanilla icing
Blue food coloring
White chocolate (or you can use fondant or paper for the fins)*
Supplies:
1M decorating tip
Knife or angled spatula
Hand-drawn template of shark fin
Disposable decorating bag
Wax paper
Toothpick (optional)
Instructions:
Bake and cool your cupcakes according to package or recipe instructions. Or, buy premade cupcakes from your local bakery. Make sure they're completely cool before moving onto the next step.
Using the big round end of the 1M decorating tip, cut out a hole on the top of the cupcake. Just twist the tip to cut the cake and fish out the hole with your finger. You can also use a spoon or melon baller if you don't have a large tip.
Fill the cupcake hole with jam.
Use the knife or spatula to ice your cupcakes. Move the knife up and down to create "ripples" in the icing and make it look like water.

To make the shark fins, melt white chocolate following package instructions. Place in a disposable dag or decorating bag and cut tip of bag. Position template under wax paper and trace pattern with white chocolate. Use toothpick if necessary to work chocolate into all the nooks and crannies.
Place in freezer to harden, then insert into icing on top of cupcake.
Enjoy your "bleeding" cupcakes!
*FOLLOW UP NOTE: So…here's the thing. After about 10 minutes of making these cupcakes, my shark fins started to melt and droop. Granted my kitchen was very warm, but if you're making these for a party where they're going to sit out for more than a second, I suggest forgoing the white chocolate fins and using fondant or even white Air Head candies to create the fins. Wilton's Candy Melts candy might also hold up without melting at room temperature.
Every Monday is a "Reci-bee" post, where I share my favorite recipes, recipe collections, and cooking and baking hints and tips.