There's only one word that comes to mind when I think of Nick Offerman: MAN. Not at all unlike the gruff but loveable Ron Swanson on NBC's Parks and Recreation, Offerman is a man obsessed with nature, good whisky, and fine meat. He loves his country and the people that built it and is a true-blooded American all the way.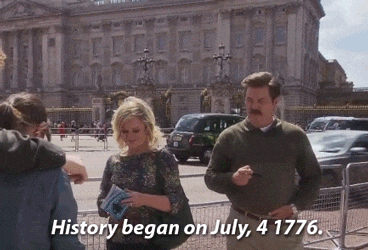 He prides himself on his abstinence from technology and his hobby, no, passion for creative art. Whether it's making cards for his wife (aww!) or crafting a boat out of wood, Offerman is a down and dirty man's man. I mean, look at the sexiness oozing from this GIF:
STAAAHHHPP!! I'm seriously in love with him.
PS-If you haven't seen this Nick Offerman Yule Log special, pour yourself a nice glass of whisky and treat yo self to it.  It will warm your heart and soul.
But when he's not working in his workshop or acting on stage or screen, Offerman spends his time with the written word. After the great success of his first book, Paddle Your Own Canoe, Offerman embarked on another collection of stories, this time focusing on those tried and true Americans that helped turn this country into the place it is today.
In Gumption: Relighting the Torch of Freedom with America's Gutsiest Troublemakers, Offerman takes us on a tour of American history, highlighting 21 creative, bold, and brilliant Americans who were trailblazers in their own right. Told with witty deadpan comedy that can only come from Offerman, each essay in Gumption aims to showcase how these individuals molded and paved their way through life, often battling controversy to realize their potential.
While I agreed with a good selection of the people Offerman included in this list, specifically Frederick Douglass, Eleanor Roosevelt, Carol Burnett, and Conan O'Brien, it started to become quite obvious that Gumption was turning into a place for Offerman to talk about all the people who helped mold and shape his own life. Offerman even owns up to his selfish ways, saying this book was the perfect excuse for him to "…meet his heroes and idols", a notion I certainly can't fault him for, because he has a great selection in Gumption. However, if his main goal was to really talk about the troublemakers that molded and shaped America, I think a few of his choices missed the boat. Sure the creative minds of Yoko Ono, Thomas Lie-Nielsen, Nat Benjamin, and George Nakashima have done amazing things, but do they belong in the same list as visionaries like Theodore Roosevelt, Wendell Berry, Willie Nelson, and Benjamin Franklin? While a lot of Offerman's heroes in Gumption certainly were trailblazers in their own right, I felt some gutsy Americans were missing from this list.
But my own personal aggravation was just that, my opinion. I can think of a good handful of people that would be on my gumption list that might not make it onto yours, namely Sammy Davis Jr., George Carlin, and Abraham Lincoln. But, all things considered, Gumption offers readers an intimate and personal look into the American heroes that made Offerman the man he is today. Conversational, honest, and laugh-out-loud funny at times, Gumption proves, once again, that there really is nothing that Nick Offerman can't do.
Looking for a new book to read? Check in every Friday for a "Bee Happy" post, where I share reviews of books I've read or other book-themed lists.