The coming of fall means one of my favorite fruits is in season…HONEYCRISP APPLES.
Tasty on their own but super easy and fun to bake with, Honeycrisp apples have become a favorite apple breed for kids and adults alike. They are super sweet, making them a tasty and healthy treat for kids, and they're packed with a high water content, helping to fill you up with fewer calories.
Like the Jazz and Jonagold apples, Honeycrisps are great for using in pies and in any recipe where you want to add a little refreshing taste and texture. Celebrate fall and rejoice in the tasty loveliness of these amazing apples with these 11 Honeycrisp Apple Recipes!
Honeycrisp Apple Sangria
Damn Delicious
This. Drink. Is. Beautiful. Hello new Christmas spritzer!

Caramel Honeycrisp Apple Bars
Imperial Sugar
What goes better with apples than caramel? Look how oooooy goooooy these are!!

Honeycrisp Apple Hummus
Turnip the Oven
This is the perfect dip for fall football games and blustery movie nights.

Honeycrisp Apple Turnovers
Pepperidge Farm
Packed with cheddar and cranberries (two flavors that LOVE apples), these turnovers would be tasty for breakfast or dessert!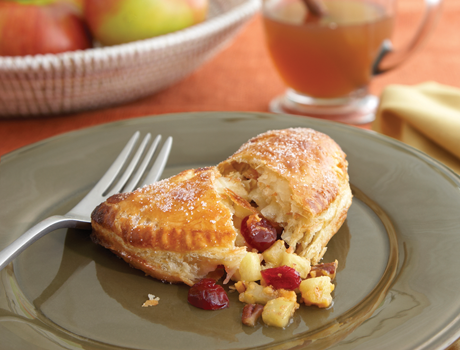 Brussels Sprouts with Honeycrisp Apples
FOOD52
The perfect compliment to pork, this flavorful side dish is packed with bacon, onions, apples and sage. YES PLEASE!

Honeycrisp Apple Tart
The Redhead Baker
Simple and rustic, this tart screams fall!

Crock Pot Baked Apples
Peaceful Bend
Another simple and classic treat, these baked apples would go perfectly with vanilla ice cream…and let's talk about how AMAZING your house is going to smell…

Holiday Honeycrisp Salad
Five Heart Home
A delicious salad that will feed a family, this dish also features walnuts, cranberries, and blue cheese (I'd use goat cheese). I've made this loads of times and it's always delicious!

Vanilla Bean Honeycrisp Applesauce
Self Proclaimed Foodie
If you've never had homemade applesauce, you're missing out. PLUS Honeycrisps are so sweet that you don't even need sugar for this recipe!

Honeycrisp Apple Quesadillas
Home and Plate
Another recipe featuring cheddar and bacon, these quesadillas are a game-changer.

Chicken Salad with Honeycrisp Apples
The Cozy Apron
Packed with flavor, this is one sandwich that screams fall!

Every Monday is a "Reci-bee" post, where I share my favorite recipes, recipe collections, and cooking and baking hints and tips.