Everyone knows the best part of any movie is the villain…and for years, Disney has been making some of the best villains of all time!
But what ever happened to those awesome voices behind some of our favorite movie villains? With backgrounds in theater and radio, several of Disney's most well-loved villains are actually celebrated actors and actresses with astounding and award-winning careers.
So get ready for the ultimate conclusion to our Disney Where Are They Now series with some of the most recognizable and hilarious characters we all loved to hate!
Don't forget to check out these other Disney articles!
Disney Princesses…Where Are They Now?
Disney Princes…Where Are They Now?
The Evil Queen
Snow White and the Seven Dwarfs (1937)
Voiced By: Lucille La Verne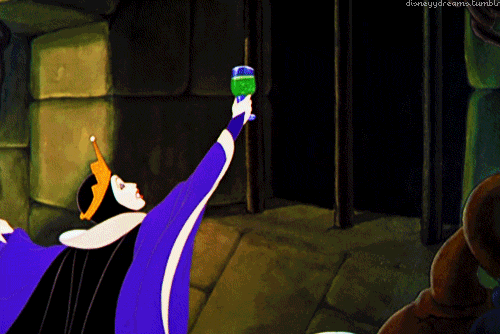 Known for her silent, scolding, and vengeful roles in early color films, Lucille La Verne began her acting career in 1914. Best known for her role in Snow White, Verne was typecast into playing several older women, mothers, and aunts during her career. She died from cancer eight years after her work on Snow White, which would be her last film.
Lady Tremaine
Cinderella (1950)
Voiced By: Eleanor Audley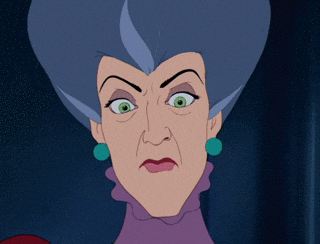 A Broadway baby, Eleanor Audley was born in New York City and got her start acting in several Broadway plays and musicals. She spent a majority of the 1940s and 1950s doing radio and film and was given the chance to voice Lady Tremaine in 1950. Disney liked her so much that she was cast again a few years later to voice one of the scariest Disney villains to hit the screen: Maleficent. Audley's likeness was used to create the characters of both her Disney villains. After her work at Disney, Audley went on to do some TV work, including appearances on I Love Lucy, Perry Mason, Dennis the Menace, The Twilight Zone, The Dick Van Dyke Show, The Beverly Hillbillies, and many more. She was added as a series regular to Green Acres from 1965 to 1969, playing the disapproving mother, Eunice Douglas. She passed away in November of 1991 due to respiratory failure.
The Queen of Hearts
Alice in Wonderland (1951)
Voiced By: Verna Felton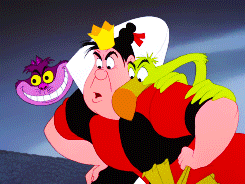 While Verna Felton had a good slew of film and TV appearances, she is perhaps best known for her work on radio. She was a part of the popular radio show, The Cinnamon Bear, and also worked on The Jack Benny Program and The Abbott and Costello Show. Previous to her work on Alice in Wonderland, Felton also voiced Dumbo's mother in Dumbo and the Fairy Godmother in Cinderella (1950). After Alice in Wonderland, she worked on three more Disney movies: Lady and the Tramp, Sleeping Beauty, and The Jungle Book, which would be her final role.   Felton died in 1966, the day before Walt Disney passed away. She was married to another radio actor named Lee Millar, who also did animation voices, notably for Disney's Pluto.
Captain Hook
Peter Pan (1953)
Voiced By: Hans Conried
Best known for his voice acting roles, Hans Conried provided the voice for both Mr. Darling and Captain Hook in Disney's Peter Pan. He started his career on stage, playing several classical major roles after his studies at Columbia University. As a voice actor, he had several roles in various radio productions and TV shows, including Mister Ed, Lost in Space, The Beverly Hillbillies, Gilligan's Island, Laverne & Shirley, The Love Boat, Hogan's Heroes, and many more. He was perhaps best known for his work on Make Room for Daddy, where he played Uncle Tonoose. He died of a sudden heart attack in January 1982.
Maleficent
Sleeping Beauty (1959)
Voiced By: Eleanor Audley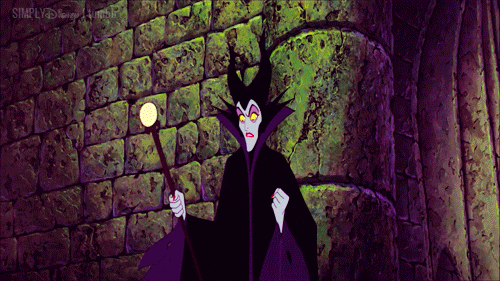 See Lady Tremaine entry.
Cruella de Vil
101 Dalmatians (1961)
Voiced By: Betty Lou Gerson
Another star of the radio, Betty Lou Gerson is best known for her role as Cruella de Vil in 101 Dalmatians, a role that made her a Disney Legend (the only villain on this list to achieve that honor). She got her start in radio dramas and soap operas before she moved to Los Angeles and got some minor roles in film and TV. Before her work on 101 Dalmatians, Gerson was cast as the narrator in Disney's Cinderella. After her work as Cruella, she had a few more appearances in TV and film, including a small role in Disney's Mary Poppins and a few guest appearances on The Twilight Zone, The Dick Van Dyke Show, and Hazel. She retired from acting in 1966 and passed away from a massive stroke in January 1999.
Madam Mim
The Sword and the Stone (1963)
Voiced By: Martha Wentworth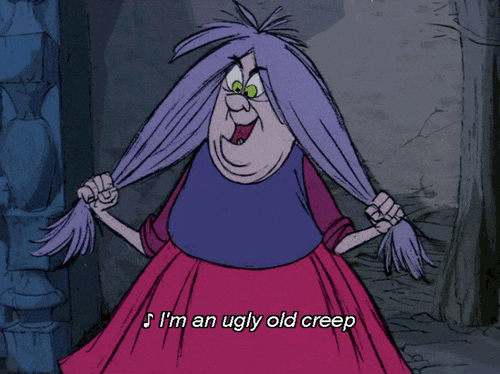 Martha Wentworth, like so many before her, also got her start on radio…starring in popular radio shows such as The Cinnamon Bear, Crime Classics, and The Abbott and Costello Show. Her work on The Cinnamon Bear was perhaps her best, as she starred as the terrifying Wintergreen Witch.  She appeared in some westerns before her work at Disney and also voiced the role of Nanny in 101 Dalmatians two years before The Sword in the Stone.  Her work on The Sword in the Stone would be her final performance. She died 11 years later at the age of 84.
Shere Khan
The Jungle Book (1967)
Voiced By: George Sanders
With a career that spanned more than 40 years, George Sanders definitely made his mark in entertainment. An actor, singer-songwriter, music composer, and author, Sanders was involved in a little bit of everything. His amazing base voice often led him to be cast as sophisticated villains, both on screen and as a voice actor. A British actor who was drawn to films with British casts, Sanders had memorable roles in Alfred Hitchcock's Rebecca, The Picture of Dorian Gray, The Ghost and Mrs. Muir, and All About Eve, a role that awarded him a Best Supporting Actor Oscar. A few years before his work on The Jungle Book, Sanders released his autobiography, Memoirs of a Professional Cad, which gathered critical praise for its wit and humor. He suffered from dementia later on in life and grew severely depressed when he could no longer play his piano. He died of a drug overdose in April 1972.
Prince John
Robin Hood (1973)
Voiced By: Peter Ustinov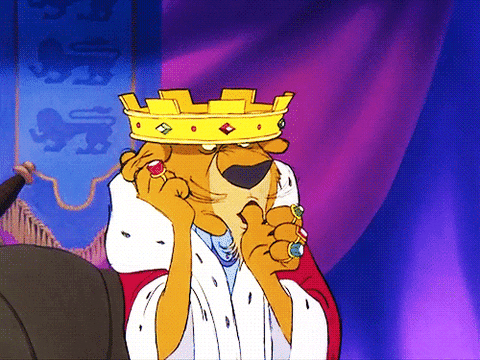 A renowned filmmaker, theater and opera director, stage designer, author, screenwriter, comedian, humorist, newspaper and magazine columnist, broadcaster, and presenter, Peter Ustinov was a noted and celebrated entertainer who won several awards for his work in entertainment. After his humorous work as Prince John and King Richard in Robin Hood, he continued acting in films, receiving Best Supporting Actor Oscars for his roles in Spartacus and Topkapi. His autobiography, Dear Me, came out in 1977 and was well received by critics. The later part of his life was spent working for various organizations, including UNICEF, for which he was a Goodwill Ambassador and fundraiser. Fluent in English, French, Spanish, Italian, German, and Russian, he also spoke some Turkish and modern Greek. Ustinov was also proficient in accents and dialects in all his fluent languages. He passed away in March 2004 from heart failure.
Madame Medusa
The Rescuers (1977)
Voiced By: Geraldine Page
Geraldine Page was a celebrated actress who was nominated for Academy Awards eight times between 1953 and 1985. She finally won an Oscar for Best Actress for her performance in The Trip to Bountiful. After her work as Madame Medusa in The Rescuers, she starred in several Broadway shows and was inducted into the American Theater Hall of Fame in 1983. She has worked with Tennessee Williams, Truman Capote, Maya Angelou, Lee Strasberg, and several other well-known stars of the theater and stage. After winning her Academy Award in 1986, Page was cast in a revival of Blithe Spirit, a role that landed her a Tony Award nomination. She did not win the award and passed away several days after the ceremony.
Ratigan
The Great Mouse Detective (1986)
Voiced By: Vincent Price
A stable in the horror genre, Vincent Price had an illustrious career in TV and film. Before his work on The Great Mouse Detective, Price starred in several popular films, including House of Wax, The Fly, House on Haunted Hill, Laura, and much more. Around 1975, after the horror film genre suffered a huge slump, Price transitioned to voice over work and theater. His role as Professor Ratigan was one of his last major roles, and one of his favorites. After The Great Mouse Detective, he did some small work on TV before passing away in October 1993. Price was also a noted gourmet cook and art collector and authored several cookbooks with his wife.
Ursula
The Little Mermaid (1989)
Voiced By: Pat Carroll
An Emmy, Drama Desk, and Grammy Award-winning actress, Pat Carroll is a voice actress who has enjoyed a long career on radio, film, and TV. Another regular on the sitcom, Make Room for Daddy, Carroll also appeared on several variety shows and even had a one-woman show on Gertrude Stein. In 1989, Carroll was cast as Ursula, a role she has referred to as one of her favorites. She has reprised the role in several video games and spin-offs as well. Currently Carroll can be seen on various game shows and theater productions.
Gaston
Beauty and the Beast (1991)
Voiced By: Richard White
A native of Tennessee, Richard White is an actor, opera singer, and voice actor best known for his role as Gaston in Beauty and the Beast.  He was nominated for a 1985 Joseph Jefferson Award for his role in Carousel at the Marriott Theater in Chicago (REPRESENT!!) and was in a national tour and Broadway revival of Jekyll and Hyde from 2012 to 2013.  White has starred in several regional and off-Broadway productions and most recently was in a Broadway production of GIGI.
Jafar
Aladdin (1992)
Voiced By: Jonathan Freeman
Johnathan Freeman is best known for his role as Jafar in the Aladdin franchise, as well as in the Kingdom Hearts video game series and the 2011 Aladdin Broadway musical. Before his work on Aladdin, Freeman was a puppeteer for Shining Time Station and appeared in several Broadway revivals, including How to Succeed in Business Without Really Trying, The Producers, On the Town, and 42nd Street. Currently, Freeman is starring as Jafar in the musical adaptation of Aladdin on Broadway.
Scar
The Lion King (1994)
Voiced By: Jeremy Irons
A golden child of the theater, Jeremy Irons has appeared in several Shakespearean shows and other Broadway productions. He has a long award-winning film career, filled with several movies where he played a villain. After his work on The Lion King, he won an Emmy and Golden Globe Award for his role in the TV mini-series, Elizabeth I. Despite his long and colorful career, he's perhaps best known for his role as Scar. He has provided voice overs for three Disney World attractions and reprised his role as Scar in Fantasmic. Another fun fact…a 2008 study found "the perfect male voice" to be a combination of Jeremy Irons and Alan Rickman, both of whom played brothers in the Die Hard films. An advocate for several causes, Irons is celebrated both politically and professionally. Currently, Irons is performing in Long Day's Journey into the Night at the Bristol Old Vic theater and has two movies coming out in 2016 and 2017: Assassin's Creed and Justice League.
Governor Ratcliffe
Pocahontas (1995)
Voiced By: David Ogden Stiers
A native of Peoria, Illinois, David Ogden Stiers attended high school with film critic Roger Ebert and attended Julliard. He has performed with the California Shakespeare Theater, San Francisco Actor's Workshop, and the improv group, The Committee. Before his work with Disney, Stiers was an actor on M*A*S*H, a role for which he received two Emmy nominations. After his work on Pocahontas, Stiers did additional voice work on The Hunchback of Notre Dame, Atlantis: The Lost Empire, Lilo & Stitch, Hoodwinked, and voiced several characters in various video games. He is the associate conductor for the Newport Symphony Orchestra and has guest-conducted more than 70 orchestras around the world.
Hades
Hercules (1997)
Voiced By: James Woods
Yet another actor who got his start on stage, James Woods appeared in 36 plays before finally making his Broadway debut in 1970. If he has a familiar face, that might be because he's appeared in more than 130 films as of 2013 and has had several roles doing voice over work, including his favorite role, that of Hades in Hercules. After Hercules, he had roles in several other movies, including The Virgin Suicides, Any Given Sunday, Riding in Cars with Boys, John Q, and most recently, Jamesy Boy and Bling. Currently he plays the voice of Lex Luthor in Justice League Action.
Shan Yu
Mulan (1998)
Voiced By: Miguel Ferrer
Another actor known for playing villains, Miguel Ferrer has starred as the guy you love to hate in several TV shows and movies. After his work on Mulan, he had roles in Traffic, Sunshine State, The Manchurian Candidate, Iron Man 3, and Rio 2. Currently he plays the voice of Death in Adventure Time. One of five children of the lovely Rosemary Clooney, Ferrer is also first-cousins with fellow actor George Clooney.
Dr. Facilier
The Princess and the Frog (2009)
Voiced By: Keith David
A fellow graduate of Julliard School, Keith David is an actor praised for his voice over work. He has appeared in several films and TV shows, including Armageddon, There's Something About Mary, Barbershop, Crash, and Requiem for a Dream. He has narrated Ken Burns, The War, as well as several other Burns films. He's voiced video games characters and was cast in the leading role in the 2015 drama series, Greenleaf.
Mother Gothel
Tangled (2010)
Voiced By: Donna Murphy
A five-time Tony Award nominee, Donna Murphy is a celebrated actress of the stage. She has won Tonys for her roles in Passion and The King and I and has appeared in a handful of films and TV shows. After her work on Tangled, Murphy appeared in the films Higher Ground, Dark Horse, The Bourne Legacy, and House of Versache. She's also had roles on The Good Wife, Royal Pains, and Resurrection. She won a Drama Desk Award for LoveMusik in 2007 and was nominated for several awards in 2011 for her work in The People in the Picture.
Sometimes you just need a little fun in your life! Check back every week for a new "Just Bee-cause" post, where I discuss everything from celebrity news to favorite videos and websites!