Tis the season for thick and cozy yarn, but here's the problem…that warm, thick, chunky blanket yarn can run you about 12 bucks a skein…and not only that, but you get WAY less than you think you do. So, here's the simple solution – make your own!
Yes, it does take some time, but with all the Christmas movies you have yet to watch, it can go a lot faster than you think.
For my chunky yarn, I used Lion Brand Homespun Thick and Quick Yarn (Tudor – #315), which was on sale at my local Hobby Lobby.
Now all you do to turn this thin yarn into thick yarn is you start chaining, and then you keep going until you're done. Yup, this thick and cozy yarn is just one super long chain!  For reference, here's the comparison in thickness (chain on the left, yarn on the right):
I bought four skeins and turned them all into thick yarn…then I think I'm going to braid them together and sew them into a big cozy blanket because – after all –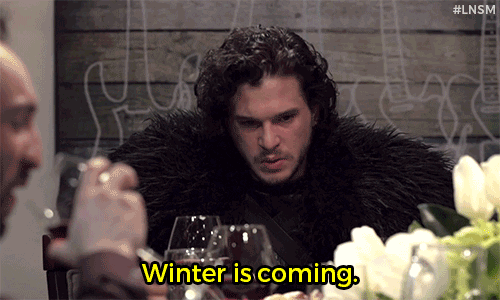 You could also use an extra large crochet hook or big knitting needles to make something with your extra thick yarn.
Happy Crocheting!
Celebrate creativity every Wednesday with a "Creativi-bee" post, where I share easy craft tutorials, project ideas, and craft collections.