I don't know about you, but it's just not the holiday season unless I've watched White Christmas at least 10 times.  I'm not even kidding.  I'm OBSESSED with this movie.  Amazing music, a fantastic cast, and DROP DEAD GORGEOUS COSTUMES make this an anticipated classic year after year.
White Christmas was released in 1954, following the success of the film, Holiday Inn, released about 12 years before.  Both staring Bing Crosby and featuring the song, "White Christmas", these movies were a welcome relief from a world broken by war and violence.  White Christmas was actually the most successful movie in 1954, bringing in millions of dollars and securing "White Christmas" as a beloved song by kids and adults of all ages.
Starring Bing Crosby, Rosemary Clooney, Vera-Ellen, and Danny Kaye, White Christmas tells the story of two pairs of entertainers and their quest to bring a little holiday magic to a small town in Vermont.  A sweet and heartwarming film that will tug at your heartstrings, White Christmas always brings me to tears with its sweet and simple message of hope and good cheer.
So pour yourself  a nice cup of milk and whip up a liverwurst sandwich…because here are 23 Fun Facts about White Christmas!
Rosemary Clooney has revealed that she only accepted the role in White Christmas so she could perform with Bing Crosby.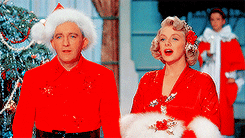 White Christmas is the third of three films to feature Bing Crosby singing "White Christmas".  The other two movies are Holiday Inn and Blue Skies.

According to Clooney, the midnight snack scene, in which Bing Crosby expounds on his theory of what foods cause what dreams, was almost entirely improvised.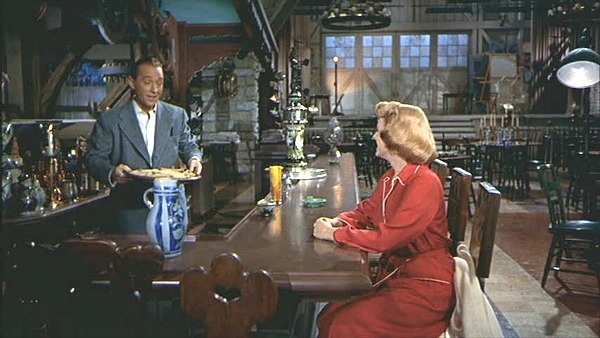 The "Sisters" performance done by Bing Crosby and Danny Kaye was originally not in the script.  The two were clowning around on set and director Michael Curtiz thought it was so funny that he decided to film it.  The laughs in the scene are genuine and unscripted.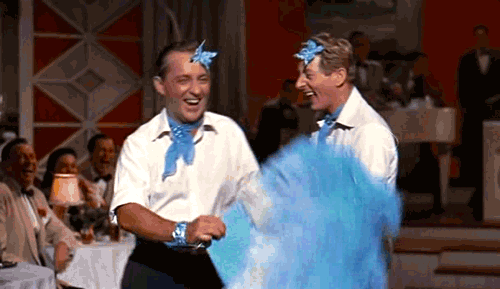 The photo that Vera-Ellen shows to Bing Crosby and Danny Kay of her brother, Bennie, is actually a photo of Carl Switzer, known for his role as Alfalfa in Our Gang.  Switzer also appeared in It's a Wonderful Life as the boy who opens up the gym floor during the high school dance scene.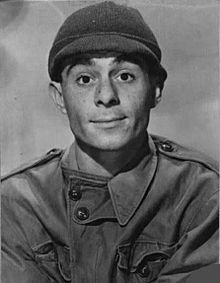 Both Fred Astaire and Donald O'Connor were in the running to play Phil Davis.  Astaire turned the role down, as he was in temporary retirement, and O'Connor was cast but had to pull out at the last minute due to a horrible fever.  Danny Kaye was cast as a last minute replacement.

Vera-Ellen's singing was dubbed by Rosemary Clooney's friend, Trudy Stevens.

Both Rosemary Clooney and Vera-Ellen were from Cincinnati, OH.  And though Rosemary played the elder of the sisters, she was actually 7 years younger than Vera-Ellen.

In Rosemary Clooney's number, "Love, You Didn't Do Right By Me", she can be seen dancing with George Chakiris.  He would go on to win an Academy Award for Best Actor in a Supporting Role 7 years later for his part as Bernardo in West Side Story.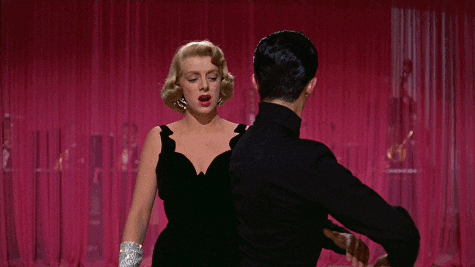 Although this is a beloved holiday film with fantastic music, there is no official soundtrack.  Decca controlled soundtrack rights for the film, but Rosemary Clooney was under exclusive contract to Columbia and was unable to perform on a competitor's label.  As a result, both Decca and Columbia each released their own White Christmas album in 1954.  Peggy Lee filled in for Rosemary Clooney's voice on the Decca album and Rosemary's own sister, Betty Clooney, sang for Vera-Ellen on the Columbia version.

White Christmas was the first film to be produced in Paramount's wide screen process, "VistaVision".

Bob Fosse was the uncredited choreographer for White Christmas.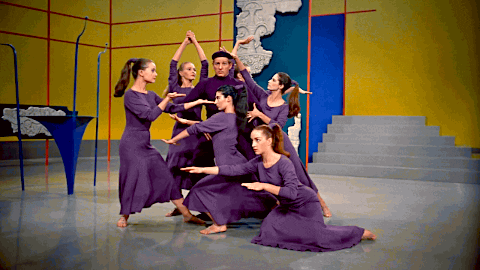 The Vermont Inn is the remodeled Connecticut Inn set from the earlier holiday film, Holiday Inn.

That's not the only connection.  Tunes from Holiday Inn can be heard at various times in White Christmas.  Besides the title song, Bing Crosby plays a part of "Washington's Birthday" at the beginning of the midnight snack scene and Vera-Ellen dances to a quick version of "Abraham" in the scene with the yellow dress.

Rosemary Clooney and Bing Crosby, though romantically entwined in the movie, had a 25-year age gap between them, Crosby being 51 and Clooney being 26.  Ironically they both died at the same age of 74.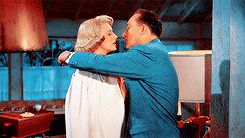 At 18 years old, Vera-Ellen became one of the youngest ever Rockettes at Radio City Music Hall.  White Christmas does wonders in showing off this girl's dance moves!  The film also premiered at Radio City.

The fabulous costumes in White Christmas were designed by fame costume designer, Edith Head.  Head has won 8 Academy Awards for her costumes, including awards for All About Eve, A Place in the Sun, Roman Holiday, The Facts of Life, and many others.

Yes, Rosemary Clooney is related to actor George Clooney.  Rosemary is George's aunt.

White Christmas was the most financially successful movie of 1954, bringing in $12 million, which is about $106 million today.  WOW!
After the final shot wrapped, the actors were told that they needed to redo the final scene, since the King and Queen of Greece were visiting the set and the producer hoped to "give them something to remember".  The entire scene was "reshot", but without film in the camera.  Bing Crosby was also not on set, as he had already left to play golf.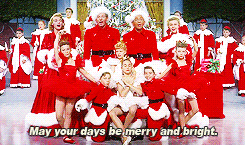 Before the release of the movie, the song "White Christmas" won an Academy Award for Best Song and was a hit single almost every year from 1942 to 1962.  It's also the best-selling single of ALL TIME.

The duet that Bing Crosby and Rosemary Clooney sing together, "Count Your Blessings Instead of Sheep", was nominated for a Best Song Oscar, but lost to "Three Coins in the Fountain".

The director of White Christmas, Michael Curtiz, also directed Casablanca, Yankee Doodle Dandy, Captain Blood, Angels with Dirty Faces, Four Daughters and many more.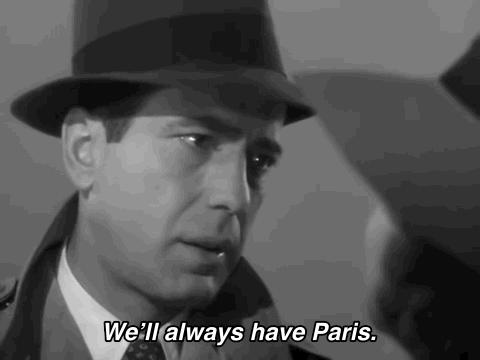 Sometimes you just need a little fun in your life! Check back every week for a new "Just Bee-cause" post, where I discuss everything from celebrity news to favorite videos and websites!