Let's face facts…by now you've probably seen A Christmas Story at least 100 times.  It's on a continual loop around the holiday season and almost every Christmas-loving family owns a copy of this cult classic…but I bet there are at least a few things you may NOT know about this movie we've all seen a bijillion times.
Filmed mainly in Cleveland and Toronto, A Christmas Story opened on November 18, 1983 and starred Peter Billingsley as Ralphie, Melinda Dillon as Mrs. Parker, and Darren McGavin as Mr. Parker.  Based on the book, In God We Trust: All Others Pay Cash by Jean Shepherd, A Christmas Story tells the tale of a little boy who will stop at nothing to get his Red Ryder Carbine Action 200-Shot Range Air Rifle with a Compass in the Stock and this Thing Which Tells Time!
Filled with memorable scenes, quotes, and characters, A Christmas Story has become a holiday favorite and can be seen airing on TV for 24 hours the day before Christmas.  You may know the lines…you may know the scenes…hell, you may have even visited the museum (if you haven't, you must!  A truly amazing experience for any fan!), but there are lots of other fun facts that you may not have known about this holiday classic!
To help get you in the Christmas spirit (and to help you impress your friends and family with movie trivia as you watch this flick for the 100th time), here are 24 Fun Facts about A Christmas Story!
Curious where the cast ended up?  Check out A Christmas Story: Where Are They Now? for an update!
24 Fun Facts about A Christmas Story
Jack Nicholson was originally interested in the role of The Old Man, but the film's budget was too small to afford him. Peter Billingsley, the actor who played Ralphie, was the first child to audition for the part.  Director Bob Clark didn't want to cast the first kid he saw, so he auditioned thousands more before deciding to cast Billingsley anyway.
One of the actors who auditioned for Ralphie was a young Sean Astin, who would go on to star in The Goonies.
A Christmas Story is based on Jean Shepherd's 1966 book, In God We Trust: All Others Pay Cash.  The book started as a series of short stories published in Playboy magazine.
Author Jean Shepherd was also the narrator of the film and made a brief cameo in the movie as the man who told Ralphie and Randy where the back of the line was while visiting Santa.  The woman in the photo is also his wife.
In the scene when Ralphie is shooting bandits outside his window chewing tobacco, he actually is chewing tobacco.  Billingsley said he started getting dizzy and his lips started burning.
Jon Favreau had Billingsley sign a Red Ryder BB Gun for him when they worked together on the set of Swingers.
In 2004, a man named Brian Jones bought the house in Cleveland where A Christmas Story was filmed for $150,000 on eBay.  He then spent $240,000 restoring the house into a near exact copy of the movie set.  It's now a museum you can visit and explore!
In the scene when Flick freezes his tongue to the flagpole, the actor originally just put his tongue through a small hole in the pole; however, actor Scott Schwartz was such a prankster on set that the director decided to get back at him by adding a suction tube inside the pole to really make his tongue stick.  Schwartz freaked out and his reaction made it to the final cut of the film!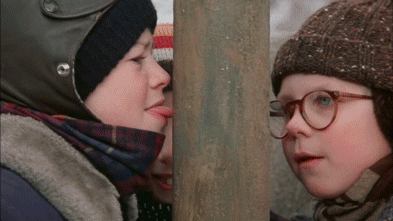 Actor Scott Schwartz has also appeared in several adult films under the name Scotty Schwartz.
Three iconic leg lamps were made for filming, and all three were broken during production.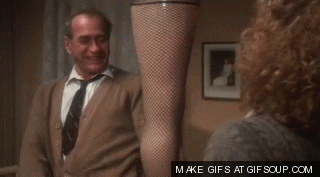 Billingsley owns the iconic pink bunny suit and BB gun, and the glasses that get broken after he "shoots his eye out" were also his own.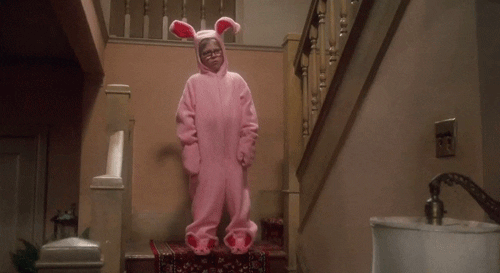 The boy in the goggles who is waiting next to Ralphie in line to see Santa is not an actor.  He was a real kid in the department store and the director decided to use him in the scene.
The snow in the movie was made using mashed potato flakes.
Ralphie says he wants the Red Ryder BB Gun 28 times throughout the course of the movie.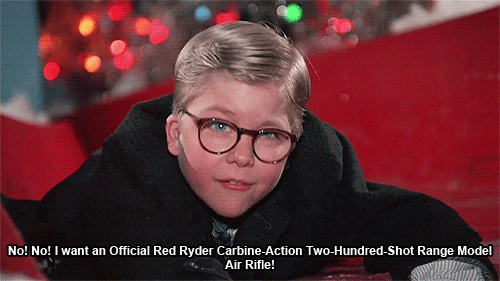 The Wonder Years was semi-inspired by A Christmas Story.  In fact, Peter Billingsley appears as one of Kevin Arnold's roommates in one of the last few episodes of The Wonder Years.
Special versions of the BB gun had to be made for the film.  The Red Ryder BB Gun did exist at the time and was first made in 1938; however it lacked the compass and sundial that the movie version mentioned.
Though it takes place in Indiana, the movie split its filming between locations in Cleveland and Toronto.
None of the actors get royalty payments when A Christmas Story airs on TV, making it basically free to show continually for 24 hours.
The villain, Scott Farkus, is meant to be a wolf, of sorts.  Farkus means "wolf" in Hungarian and his 'theme song' is Prokofiev's Peter and the Wolf.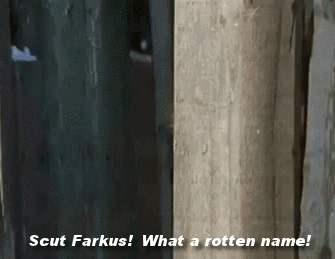 The leg lamp was inspired by an old soda pop ad for Nehi soda.
Ralphie's rant when he's beating up Farkus was actually scripted word for word.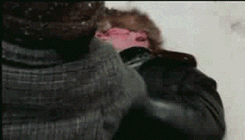 Similarly, the rants made by the Old Man were also scripted.
The popular Chinese dinner scene was also unscripted.  Melinda Dillon had no idea they were going to chop off the head of the duck, inspiring this candid reaction!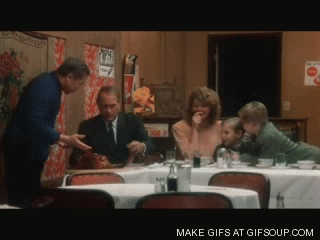 Sometimes you just need a little fun in your life! Check back every week for a new "Just Bee-cause" post, where I discuss everything from celebrity news to favorite videos and websites!