IT'S FINALLY AWARDS SEASON!!  Which means it's time for a lot of this…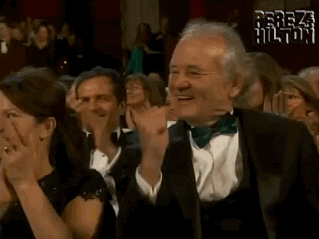 But also a lot of this…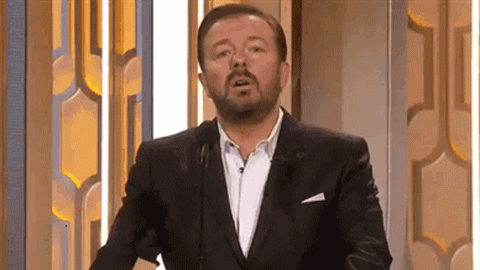 I gotta be honest, though, I'm a total sucker for these awards shows…even if the commercials seem to take FO-FREAKING-EVER.  The Golden Globes, the Oscars, the Emmy's, the Tony's…I love them all. With the Golden Globes airing on NBC next weekend, I'm getting extra pumped to see a few of my favorite celebs walk the red carpet!
If you haven't taken a look at the nominations this year, you can see the full list on the Golden Globes website. I have my fingers crossed for Game of Thrones and Loving!
Thought to be one of the most entertaining and casual of the awards shows, the Golden Globes started in 1943 and were originally just 5 awards given out by a group of foreign journalists. Now the show is broadcast on national TV and we get to witness our favorite celebrities drunkenly stumble up to the stage to blabber on and on about how amazing they are. It's fantastic!
To help get you in the mood for watching this year's Golden Globes, here are 26 super fun and interesting facts about this amazing awards show…so pour yourself a glass of wine…dig out those classy PJ's…and join me in watching the 74th annual Golden Globe Awards!
The first Golden Globes ceremony was held during a luncheon at 20th Century Fox in 1943, founded by a group of foreign journalists.  It had only five categories:  Best Motion Picture, Best Actor, Best Actress, Best Supporting Actor, and Best Supporting Actress.  Instead of statuettes, the winners were given scrolls.
The actual award we know today didn't come about until 1946 when former Hollywood Foreign Press Association president, Marina Cisternas, suggested creating statuettes that resembled an actual golden globe.
The Golden Globe statuettes are estimated to cost about $800 each and are plated in 24-karat gold.

Winners of the award receive their statuette in a red velvet-lined, leather-bound chest with the HFPA logo stamped in gold.
Meryl Streep holds the record for most Golden Globe nominations, with 29.  She also holds the record for most Golden Globe wins, at 8 awards.

The youngest person ever to win a Golden Globe was Ricky Schroder.  At 9 years old, he won the award for Best New Star of the Year for his role in the 1980 movie, The Champ.

In 2008 the Golden Globes ceremony was cancelled due to the Writer's Guild strike.  Celebrities refused to show up to the ceremony, so winners were announced January 13th during a press conference.
In 1973, Marlon Brando refused to accept his Golden Globe for Best Actor for his role in The Godfather because he was protesting "imperialism and racism".
The tradition of having celebrities hand out awards didn't start until 1958, when The Rat Pack rushed the stage with whiskeys and cigars to give them out.  Before that, members of the HFPA handed out the awards.

The Golden Globes used to only be televised in Los Angeles.  It wasn't until parts of it aired on The Andy Williams Show in 1965 that it was broadcast for the whole world to see.
The elegant 3-course meal begins for attendees at 3:30 p.m.  Celebrities can eat before the show, but once it starts, everyone is limited to champagne only…which clearly makes for an interesting night!

The first actor to win the Golden Globe award for Best Actor was Paul Lukas for Watch on the Rhine in 1944.

Jamie Foxx has the record for most nominations in one year, with three nominations.

In 1962, Judy Garland became the first woman to take home the Cecil B. DeMille Award, which is given for "outstanding contributions to the world of entertainment."  Past winners have included Jack Nicholson, Barbra Streisand, Harrison Ford, Morgan Freeman, Woody Allen, George Clooney, and Denzel Washington.  Meryl Streep will take home the award in 2017.

One Flew Over the Cuckoo's Nest is the only film to win all five major Golden Globe awards (picture, director, actor, actress, screenplay).

In the history of the Golden Globes, only 6 celebrities have hosted the awards show.  Tina Fey, Amy Poehler, Andy Williams, John Larroquette, Janine Turner, and Ricky Gervais make up this exclusive club.  Late night host Jimmy Fallon will join those ranks soon, as he's set to host the awards show in 2017.

Unless you're a nominee, your chance of getting into the awards show is slim.  The event is held at the Hilton's International Ballroom, which only holds 111 tables.  With 10 to 12 people per table, that means only about 1,300 people will actually score in invitation.  In comparison, the Dolby Theater, which hosts the Academy Awards, seats about 3,400 people.

The Golden Globe statue clocks in at about 5.5 pounds.
Doctor Zhivago, One Flew Over the Cuckoo's Nest, A Star is Born were all clean sweeps, meaning they all won in the categories there were nominated in.
About 9,000 glasses of champagne are usually drunk at the awards show.

The most Golden Globes won in one night is a five-way tie:  Doctor Zhivago, Love Story, The Godfather, One Flew Over the Cuckoo's Nest, and A Star is Born all won five Golden Globes in one night.

The award for most nominations goes to Nashville, which was nominated for 9 awards in 1976.  However it only took home one award, the Golden Globe for Best Song ("I'm Easy" by Keith Carradine).

Who's Afraid of Virginia Woolf? And The Godfather, Part III each received 7 nominations each but never won a single Golden Globe award.
In 1989, there was a three-way tie for Best Actress, with Jodie Foster (The Accused), Shirley MacLaine (Madame Sousatzka) and Sigourney Weaver (Gorillas in the Mist) each taking home an award in that category.

The red carpet that's used to welcome celebrities into the venue is contains more than 30,000 square feet of red carpet and measures almost 500 feet long!
Three lovely ladies hold the record for most acting Globes in the same year.  Sigourney Weaver won Best Actress (Gorillas in the Mist) and Best Supporting Actress (Working Girl) in 1989, Joan Plowright won Best Supporting Actress (Enchanted April and Stalin) in 1993, and Kate Winslet won Best Actress (Revolutionary Road) and Best Supporting Actress (The Reader) in 2009.

Sometimes you just need a little fun in your life! Check back every week for a new "Just Bee-cause" post, where I discuss everything from celebrity news to favorite videos and websites!