SUMMER IS COMING.
In all honesty, I never find myself looking forward to summer…but summer 2017 is going to be EPIC.
If you're not caught up with Game of Thrones, you have about 6 months to binge-watch before season 7 – the FINAL SEASON – airs on HBO.
It's going to be hard letting this show go…I've come to love so many of these characters and, as any fan will tell you, no one is safe under the pen of George R.R. Martin. But let's be honest…there's only one character that just HAS to be safe…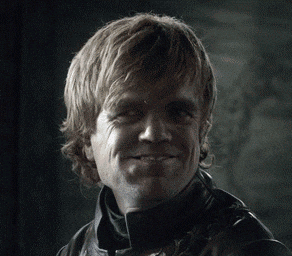 or else riot will ensue…
So, to prevent myself from falling into a depressive state over losing all my favorite fictional characters, come summer 2017 I'll be drowning my sorrows in food and wine.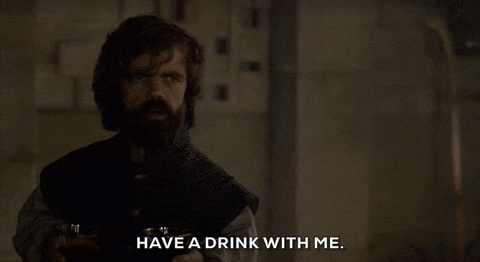 Oh HELL F&*KING YES.
Though it may be hard to cook up some Dothraki horse meat or dive into a bleeding heart, there are a few recipes you can make that are pulled right from the pages of Game of Thrones, and will certainly help comfort you as we all power through these final episodes together.
From Sansa's lemon cakes to Tyrion's leg of lamb, this collection of 8 Game of Thrones-Inspired recipes are sure impress any Stark or Lannister royalty. So get out that flagon of wine (and perhaps some chocolate)…while 2016 may have been the Battle of the Bastards, summer 2017 is sure to become the Battle of the Bitches. TEAM DAENERYS ALL THE WAY!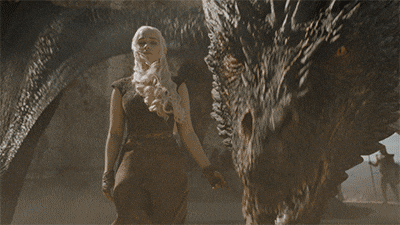 Until summer 2017…
8 Game of Thrones-Inspired Recipes
Direwolf Bread
bonappetit.com

Sansa's Lemon Cakes
sugarandsoul.co
"Sansa was so stuffed that she could not manage more than two little lemon cakes, as much as she loved them." — A Game of Thrones

Beef and Barley Stew
afarmgirlsdabbles.com
"'Maybe they don't have sheep and cattle,' Bran thought. He commanded the serving men to bring them mutton chops and a slice off the aurochs and fill their trenchers with beef-and-barley stew. They seemed to like that well…" -A Clash of Kings

Honeyed Chicken
feastofstarlight.com
"'Hungry again?' he asked. There was still half a honeyed chicken in the center of the table. Jon reached out to tear off a leg, then had a better idea. He knifed the bird whole and let the carcass slide to the floor between his legs. Ghost ripped into it in savage silence." -A Game of Thrones
Salad with Apples and Pine Nuts
theblackpeppercorn.com
"Cersei set a tasty table, that could not be denied. They started with a creamy chestnut soup, crusty hot bread, and greens dressed with apples and pine nuts." -A Clash of Kings
Hot Spiced Wine
food52.com
"The Old Bear was particular about his hot spiced wine. So much cinnamon and so much nutmeg and so much honey, not a drop more. Raisins and nuts and dried berries, but no lemon, that was the rankest sort of southron heresy." — A Clash of Kings
Roasted Leg of Lamb
seriouseats.com
"A leg of lamb would be nice… Perhaps a dish of peas and onions, some fresh baked bread with butter, and a flagon of mulled wine to wash it down. Or beer, if that's easier. I try not to be overly particular." – A Game of Thrones

Baked Apples
natashaskichen.com
"Later came sweetbread and pigeon pie and baked apples fragrant with cinnamon." — A Game of Thrones
Every Monday is a "Reci-bee" post, where I share my favorite recipes, recipe collections, and cooking and baking hints and tips.