Oh salad…how I love and hate you.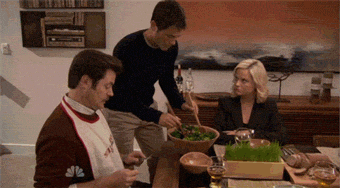 I know they're health and all that, but seriously…WHERE'S THE FLAVOR??  Salads often come drenched in dressing and are packed with veggies that are bland and water-logged.  No. Thanks.
If I'm gonna jump aboard the salad train, I'm making it myself…and these five stunningly beautiful winter salads are just the ticket!
Packed with flavor, color, and nutrients, these salads make great lunches or dinners…or could even be served alongside a chicken breast or pork chop.
The great thing about these winter salads is that they're packed with seasonal ingredients…no where will you find meely tomatoes and soggy cucumbers that are all out of season…these salads feature bright and juicy pomegranate seeds, seasonal nuts and berries, Brussels sprouts, kale, and a whole slew of other vegetables that you can easily find at the store during these cold winter months.
So keep in mind that not all salad is created alike.  You CAN have a healthy salad that actually tastes GOOD with these tasty and easy winter salad recipes!
Warm Brussels Sprouts and Pear Salad
Butternut Squash and Bacon Salad

Mandarin Pomegranate Spinach Salad
Pomegranate Pecan Salad with Cinnamon Apples
Every Monday is a "Reci-bee" post, where I share my favorite recipes, recipe collections, and cooking and baking hints and tips.