The first time I ever watched Gene Kelly dance was in Take Me Out to the Ball Game.  A wonderfully cheesy picture starring Gene Kelly, Frank Sinatra, and Esther Williams, TMOTTBG is about a terrible baseball team that is instantly improved when their new coach, (A WOMAN), whips them into shape.  Featuring lovely dance numbers, including several where Esther Williams is in the water, of course, Take Me Out to the Ball Game is a gem of a film, and happened to be one of my grandma's favorites.
I was at her house when we watched it together for the first time.  She knew I loved Sinatra and thought this would be a great way for us to spend some time together.  Granted, I did love Sinatra's numbers, but I remember my 10-year-old self being completely mystified and enchanted by Gene Kelly.
After TMOTTBG, I dove into Gene's other films, including the other two he made with Frank (Anchors Aweigh and On the Town), as well as the films that shot him into stardom, including An American in Paris, Cover Girl, and of course, Singin' in the Rain.  I was glued on him.  He made it look so easy!  The fluidity of his movements and his drop-dead gorgeous smile…he lit up the screen in every way possible and to this day he remains as one of my favorite performers.
On this day 21 years ago, Gene Kelly passed away from complications from a stroke.  He was 83 years old and had nearly 30 movies under his belt by the time he passed.  He was a powerhouse both on stage and on screen and completely changed the way theater and moviegoers reacted to tap, ballet, and modern dance.  Many of his methods are still used to this day and his impact on Hollywood certainly does not go unnoticed.
Unlike his colleagues of the day, Gene didn't actually get his start until much later in his life and was near 40 years old when he had his breakthrough role in Singin' in the Rain.  But despite his late start to the game, Gene turned MGM and Hollywood upside down when he started dancing…and his dedication, near obsession, to his craft has earned him a glowing star amidst the glamour and glitz of the golden age of Hollywood.
If you're looking to learn a little bit more about Gene Kelly, here are about 28 fun facts about the man who taught the world to love dance.
28 Fun Facts About Gene Kelly
Gene Kelly was one of five children born and raised in Pittsburgh, Pennsylvania.
Like most young boys at the time, Gene's dream was to be a professional baseball player for his hometown.  He's quoted as saying he "wanted to be a shortstop for the Pittsburgh Pirates."
Gene entered Pennsylvania State College as a journalism major, but the 1929 Stock Market Crash forced him to work to help his family.  He and his brother Fred would earn money creating dance routines for local talent contests and nightclubs.
Two years after he left Penn State, Gene enrolled at the University of Pittsburgh to study economics and received a degree in the subject.
While at University, Gene joined the Cap and Gown Club, which staged original musical productions.  After graduating in 1933, he continued to work with the Cap and Gown Club, serving as their director until 1938.
Gene's family opened a dance studio in Pittsburgh titled The Gene Kelly Studio of the Dance.  Gene taught there while attending college and working towards a law degree, a path he had to drop after two months when he decided to move to New York and pursue dancing full time…But NY was a bust.  Gene decided to move back to PA and teach dance wherever he could, as well as perform in a few local shows.
His first career breakthrough came in 1939 at the age of 27 when he was cast in the Pulitzer-Prize winning Broadway show, The Time of Your Life.
The following year, Gene was cast as the lead role in the stage production of Pal Joey, a role that shot him into stardom.
After Pal Joey, offers from Hollywood began pouring in…and in 1941, Gene decided to move back to New York and try his luck on the big screen.
Gene's first movie was For Me and My Gal in 1942, starring box-office champion, Judy Garland.  Judy and Gene would go on to be very close friends the rest of their lives.
He achieved another successful breakthrough in 1944 for his work with Rita Hayworth in Cover Girl.  This film features one of Gene's most memorable scenes, where he dances with himself – NO CGI USED HERE – to highlight his characters internal struggle.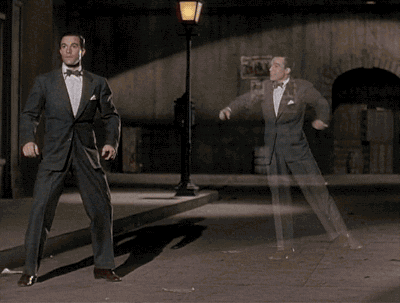 At the end of the same year, Gene enlisted in the US Naval Air Service and was stationed in Washington DC, where he was involved in writing and directing a range of documentaries.
Ironically Gene's next film, Anchors Aweigh, cast him and heartthrob Frank Sinatra as two young and strapping Navy men.  MGM gave Gene a free hand to devise a range of dance routines, including one of Gene's most popular dance scenes with Jerry the Mouse.  Though the scene only lasts about 4 minutes, it took months to complete.  Kelly's movements were filmed first, then there were 10,000 painted frames of Jerry the mouse to synchronize with Kelly's movements.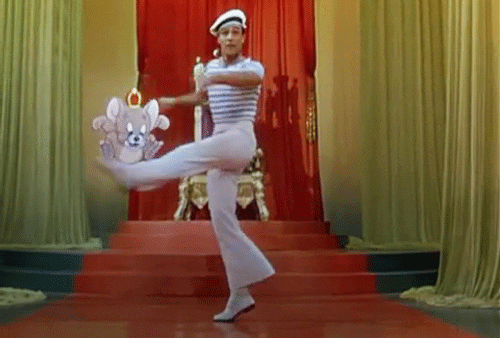 This scene was recreated recently on Family Guy with Stewie acting the part of Jerry.  Gene lives on!
Anchors Aweigh (one of my personal favorites!) was one of three movies starring Gene Kelly and Frank Sinatra and was one of the most successful films of 1945.  It garnered Gene his first and only Academy Award nomination for Best Actor, which he lost to Ray Milland for The Lost Weekend.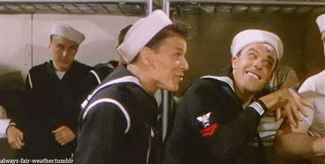 After a few flops, Gene wanted to return to safer and more commercial projects.  After a few smaller roles here and there, Gene starred in Take Me Out to the Ball Game, another film with Sinatra, in 1949.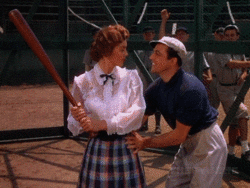 Their final pairing was in On the Town, a breakthrough in the musical film genre and probably one of my favorite musicals.  It has been described as "the most inventive and effervescent musical thus far produced in Hollywood."  Great music, amazing dancing, and an all-star cast helped turn this film into Hollywood gold.
If Gene wasn't comfortable enough at the top, by 1952, he was a Hollywood All-Star.  In early 1951, Gene starred in the breathtaking An American in Paris, a film which won six Academy Awards, including Best Picture.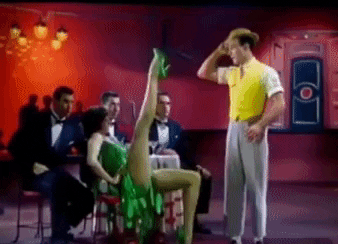 An American in Paris also starred newcomer Leslie Caron, who Gene spotted in Paris and brought to Hollywood specifically for this role.  Their dream ballet sequence, lasting an unprecedented 17 minutes, was the most expensive production number ever filmed at the time.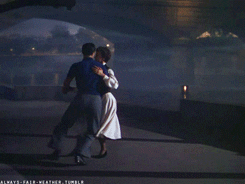 The following year, Gene was cast in what may be his most iconic role.  As co-director, lead, and choreographer, Gene was a driving force behind Singin' in the Rain and several of his numbers from this movie cemented his place at the top among filmgoers and critics alike.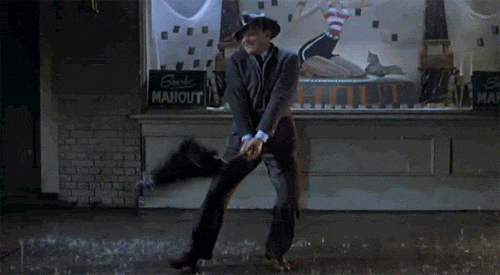 Unfortunately his time at the top was short-lived.  After Singin' in the Rain, Gene was in a few more movie musicals, including Invitation to Dance and Brigadoon, as well as a few non-musical pictures; however, the decline of the Hollywood musical left Gene in the dust…and after a handful of box office bombs, Gene decided to return to the stage.
Into the 60's, Gene made a handful of movie appearances, but most of his efforts were concentrated on production and directing.  He was asked to direct the film version of The Sound of Music starring Julie Andrews, but told the producer to "go find someone else to direct this piece of shit."  Oops.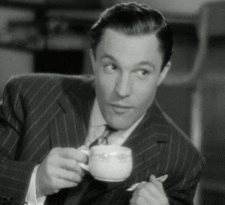 After a few years acting in and directing some TV specials and shows, Gene was commissioned to direct Hello, Dolly! starring Barbara Streisand, Walter Matthau, and Louis Armstrong.  It was nominated for seven Academy Awards, including a Best Picture Oscar in 1969, but lost to Midnight Cowboy.
By the 70's and 80's, Gene's work was few and far between.  He was in a few TV specials and variety shows, and appeared in the surprising hits, That's Entertainment!, That's Entertainment, Part II, and That's Entertainment, Part III, all a collection of amazing musical numbers from some of MGM's best musicals of the time.
His final film project was in 1994 for the animated film Cats Don't Dance, released in 1997 and dedicated to him.
Not surprisingly, Gene's influence on the art of dance is monumental.  He brought the art of ballet to the big screen, created some of the most amazing dance numbers we've seen in film, and even coined his own type of dance, appropriately named "cine-dance".
To help add to his on-screen performances, Gene wanted to make the camera movements serve the choreography, thus coining the term, "cine-dance".  He defined cine-dance (cinema + dance) as "any dancing choreographed specifically and particularly to be filmed or televised."  This meant that not only did Kelly's movements have to be choreographed, but the camera movements had to be choreographed as well.  This was showcased several times in his career, notably in this number from Singin' in the Rain.  The zoom of the camera onto Kelly's face as he sings, "I've a smile on my face" is a movement that is specifically choreographed as part of the dance to add to the number and would be near impossible to do on stage…thus, cine-dance.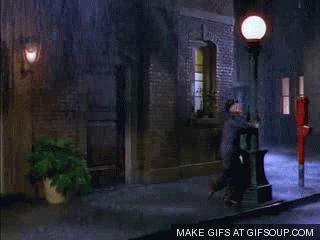 By the late 1980's, Gene's health was declining.  He had a stroke in 1994, and another in 1995, leaving him mostly bedridden.  He passed away on February 2, 1996 and was cremated, without funeral or memorial services.
Sometimes you just need a little fun in your life! Check back every week for a new "Just Bee-cause" post, where I discuss everything from celebrity news to favorite videos and websites!