To think that I even have to write about Alan Rickman in the past tense is breaking my heart.  A true gem of a human being and one of the finest actors the stage and screen has ever seen, Alan Rickman was a brilliant and talented performer.  On the day he died, I just sat in my car and cried a long, ugly cry…for what was, what will never be…
Most people today know Alan Rickman from the Harry Potter franchise, but those die-hard (see?  See what I did there??) Rickman fans know he's been around long before Severus Snape.
A product of the theater, Rickman started acting in various plays in England before moving to America to star in his first Hollywood movie, Die Hard.  His deadpan humor, sultry voice, and Jimmy Stewart-like charm made him a favorite among his fans and colleagues.
I have been a fan of Rickman since I first saw him in Sense and Sensibility (easily one of my favorites!).  I loved his sad and loveable portrayal of one of my favorite Austen men, Colonel Brandon.  After SaS, he blew me away in Snowcake and, of course, there was no better choice for Snape in the Harry Potter films!
An actor who loved what he did because of the true passion of telling a story, Rickman wasn't in it for the money or the fame…he didn't care about the show or the awards or the hullabaloo of it all…he just truly, and honestly, loved acting.  He was selective with his roles, picking parts that meant something to him and that challenged him as a performer.  He was often typecast as a villain, which was ironic considering he was a man with a loving and giving heart.
Several of Rickman's fellow actors and friends, namely Kate Winslet, Emma Thompson, and Daniel Radcliffe, to name just a few, do nothing but sing his praises.  He was a man who loved fully and gave back in any way he could.  He was honest and true and grateful for what he was able to achieve in his short life.
Two days ago would have been Alan Rickman's 70th birthday.  He had an all-too short acting career that only spanned about 30 years.  He brought some of our most memorable characters to life and he will remain in the hearts of those that loved and respected him…always.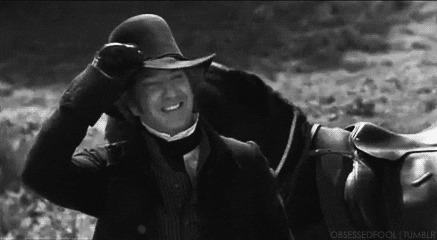 I'M NOT CRYING…YOU'RE CRYING!
25 Fun Facts About Alan Rickman
Rickman studied graphic design at The Royal College of Art in London in the late 1960's.  He opened a studio in SoHo, called Graphiti, where he helped design book jackets, album sleeves, ads, and layouts for magazines.
Rickman rarely, if ever, watched his own performances on screen.
He's quoted as saying the Australian outback is the most beautiful place he's ever visited.
Rickman was an avid bird lover.
Before his first motion picture role in Die Hard, Rickman was an actor with the Royal Shakespeare Company, appearing in The Tempest and Love's Labour's Lost.
Rickman earned a Tony Award nomination for his performance as Vicomte de Valmont in Les Liaisons Dangereuses in 1985.  When the play hit the big screen three years later as Dangerous Liaisons, John Malkovich played the role of Valmont.
Rickman dated his teenage sweetheart, Rima Horton, from 1965 until 2012, when they got married in a super-secret ceremony, followed by a lunch date and a walk around New York.
Horton was adamant against having children, though Rickman has stated several times that he would have liked to have had a family.
Rickman's final job was doing a voiceover for the short film, This Tortoise Could Save a Life, for the Save the Children and Refugee Council.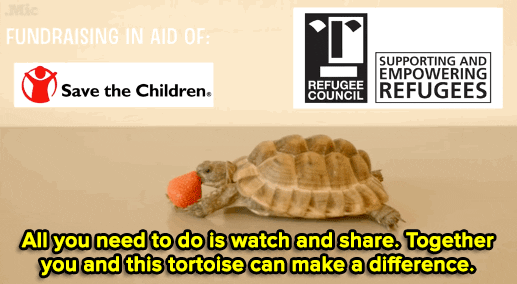 Rickman was also the Honorary President of the International Performers Aid Trust, an organization assisting artists and performers challenged by poverty.
In 1995, Rickman was chosen by Empire magazine as one of the 100 Sexiest Stars in Film History (#34) and was ranked again at #83 in 2007.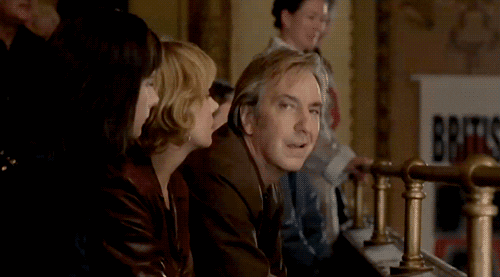 Rickman did not start acting until he was almost 30 years old.
For his role as Severus Snape, J.K. Rowling told Rickman the fate of Snape's character and of his love for Lilly before anyone else in the world knew.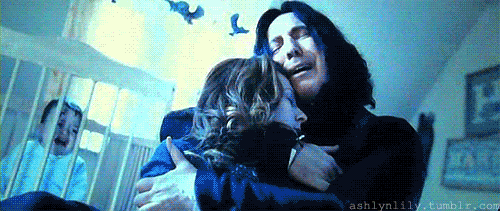 The sexy, languid tone of Rickman's voice was the result of a speech impediment, caused by not being able to move his jaw properly.
Though several fans believe Rickman deserved at least ONE Oscar nomination, he never got one…and he didn't care.  "Parts win prizes, not actors," he said.  Rickman did, however, win a Golden Globe Award, an Emmy Award, a BAFTA Award and several others throughout his career.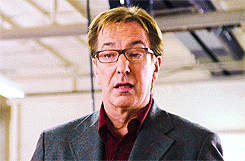 Even though he appeared in several plays in his lifetime, Rickman suffered from crippling stage fright.
Rickman was a student at Latymer Upper School in Hammersmith, the same school attended by fellow Brit, Hugh Grant.
Like his character in Bottle Shock, Rickman was a win connoisseur.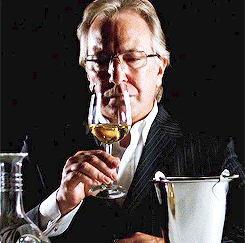 Actor Tom Burke is Rickman's Godson.
Though J.K. Rowling has said that she even had Rickman in mind when writing the character of Severus Snape, Warner Brothers preferred Tim Roth for the role and only agreed to cast Rickman after Roth backed out in order to do Planet of the Apes.
Rickman and Warwick Davis both starred in the Harry Potter films together (Warwick was Professor Flitwick).  The two also played the part of Marvin in The Hitchhiker's Guide to the Galaxy in 2005, Davis wearing the suit and Rickman providing the voice.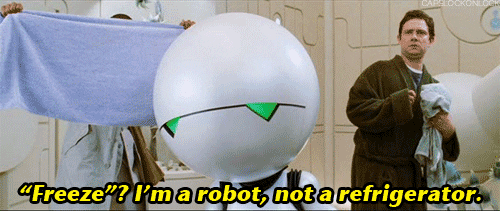 His first role as Hans Gruber in Die Hard earned him a spot on the American Film Institute's list of the "100 Best Villains" (he came in at #46).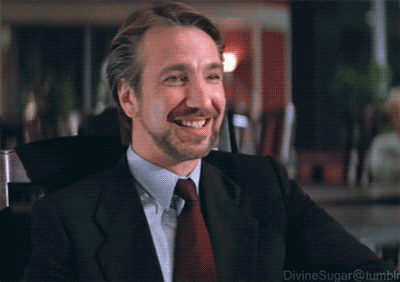 J.K. Rowling wasn't the only one inspired by Rickman.  Author Angela Pell stated that she wrote the role of Alex Hughes in Snowcake with Rickman in mind.  The character's name was actually originally Alan, but Rickman convinced her to change it to Alex.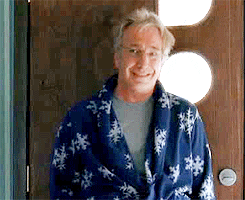 Rickman said that the film Nashville was the one that ultimately changed his life and made him decide to be an actor.
Rickman and fellow Harry Potter actor Daniel Radcliffe remained very close up until Rickman's passing.  Rickman would attend all of Radcliffe's shows in London and New York and kept in touch with his co-star long after his filming on the series ended.
Sometimes you just need a little fun in your life! Check back every week for a new "Just Bee-cause" post, where I discuss everything from celebrity news to favorite videos and websites!