You love it or hate it, but there's no denying that Reno 911! was good for a laugh at least once or twice!  I have to say, the first time I watched this show, I just didn't get it…the humor was way over my head…but in time, I came to love it…and now I can't get enough!
The thing I love about Reno 911! is that you can just watch any episode at random and still enjoy the show.  There are some continual storylines but, for the most part, everything wraps up nice and neat in about 30 minutes.
Starring an amazing cast of comedians, writers, and improve actors, Reno 911! introduced the world to actress Wendi McLendon-Covey (Bridesmaids, The Goldbergs) and helped put the writing team of Tom Lennon and Robert Ben Garant (Night at the Museum, The Pacifier) on the map.
Before it was ultimately cancelled, Reno enjoyed a nice run on Comedy Central and still has a cult following of those who just can't get enough of Lieutenant Jim Dangle and the gang.
A few days ago I was talking to a friend about what ever happened to the cast of Reno 911!, so I decided to dive in and find out!  Still writing, acting, and making us laugh, here's what Dangle, Trudy, Travis, Jones, and the rest of the crew are up to these days…
The Cast of Reno 911: Where Are They Now?
Thomas Lennon
Lieutenant Jim Dangle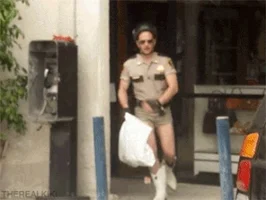 A native of Oak Park, IL, Lennon was a born comedy writer and performer.  He met fellow co-worker, Kerri Kennedy-Silver while at theatre camp at Northwestern University and the two later attended NYU together, where Lennon joined a comedy troupe called The New Group.  He later joined forces again with Kennedy-Silver and writing pal, Robert Ben Garant, to write and star in Comedy Central's Reno 911!.  After Reno ended, Lennon went on to appear in dozens of TV shows, including New Girl, How I Met Your Mother, Don't Trust the B—- in Apartment 23, and Friends.  He also appeared in several films, including Memento, How to Lose a Guy in 10 Days, and The Dark Knight Rises.  In 2008, Lennon started doing stand-up, occasionally playing guitar and incorporating music into his routine.  Currently, Lennon is working as a screenwriter and script consultant.  Most of his screenplays are written in collaboration with Garant and their films (Night at the Museum, The Pacifier, Let's Go To Prison) have earned more than $1.4 billion worldwide.  He and Garant also wrote a book (Writing Movies for Fun and Profit: How We Made a Billion Dollars at the Box Office and You Can Too!) and they continue to work on various projects to this day, most recently writing Hell Baby, which premiered at the 2013 Sundance Film Festival.  Lennon can also be seen occasionally performing with the 'Sweet and Tender Hooligans', a The Smiths tribute band, as a guest guitarist.
Robert Ben Garant
Deputy Travis Junior A native of Tennessee, Garant is best known for his role on Reno 911!.  As stated above, he's partnered with Thomas Lennon on several projects and screenplays, including the box office hit, Night at the Museum.  Most recently he's serving as the director for the comedy series, Bijillion Dollar Propertie$, and was a writer on the 2016 film, The Veil.
Kerri Kennedy-Silver
Deputy Trudy Wiegel


Having worked with fellow co-stars Thomas Lennon and Robert Ben Garant on several projects before Reno, Kennedy-Silver was no stranger to comedy.  The daughter of a popular voice actor, Kennedy-Silver did some voice over work after her run on Reno 911! and went on to appear in a few TV shows and movies, including Still Standing, All About Steve, Balls of Fury, Role Models, and Wanderlust.  In 2015, she began voicing the character of Miriam in the Nickelodeon series Harvey Beaks and can currently be seen in in the Netflix original series, Love.
Niecy Nash
Deputy Raineesha Williams


A beloved, loud, and exuberant character on Reno 911!, Nash made audiences fall in love with her with her portrayal of Raineesha Williams.  An outspoken activist for anti-violence in schools after the shooting death her younger brother, Nash has made several guest appearances on various TV shows and programs.  She also played civil rights activist Richie Jean Jackson in the historical film, Selma.  Nash was also on the tenth season of Dancing with the Stars and left taking 5th place in the competition.  In 2013, Nash starred in the HBO comedy series, Getting On, a role which scored her a Primetime Emmy Award for Outstanding Supporting Actress in a Comedy Series, as well as a Critics Choice Award for Best Supporting Actress in a Comedy Series.  Nash has also made appearances on The Mindy Project and Scream Queens, a role she holds currently.
Cedric Yarbrough
Deputy S. Jones


A native of Burnsville, Minnesota, Yarbrough attended high school and college in his local home state.  After his hilarious portrayal as Deputy Jones on Reno 911!, Yarbrough went on to appear in a variety of TV shows and movies, including Arrested Development, Meet the Fockers, The 40-Year-Old Virgin, Get Smart, The Penguins of Madagascar, and BoJack Horseman, among many others.  Most currently he's worked with fellow co-star, Robert Ben Garant, in Bijillion Dollar Propertie$ and can be seen on the ABC sitcom, Speechless.
Carlos Alazraqui
Deputy James Garcia


You may not recognize Alazraqui's face, but his voice acting resume will certainly bring back all the warm and fuzzy memories of your childhood.  Most notably, Alazraqui is known for his role as the voice of Rocko and Spunky in Rocko's Modern Life, and has also voiced the Taco Bell Chihuahua, Bobbi Fabulous on Phineas and Ferb, and has done work for Family Guy and The Fairly OddParents, as well as a whole slew of popular Nickelodeon cartoons (CatDog, Cow and Chicken, I Am Weasel).  After Reno 911!, Alazraqui went back to his roots and can now be heard voicing the character of Tio Tortuga in the new Disney Junior show, Sheriff Callie's Wild West.
Wendi McLendon-Covey
Deputy Clementine Johnson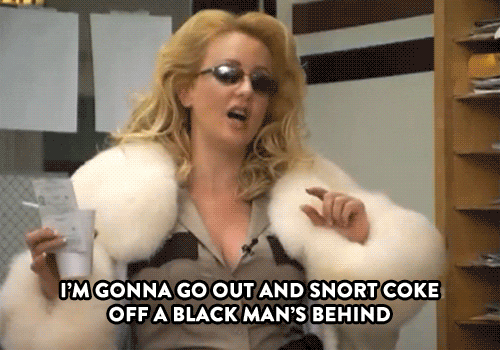 A native of The Groundlings Theater company, McLendon-Covey was classmates with Melissa McCarthy and Kristen Wiig during her time with the troupe (she would later work with both of them again in her blockbuster film, Bridesmaids).  Hard to believe, but Reno 911! was actually McLendon-Covey's first professional acting gig, and she'd go on to star in the Lifetime comedy show, Lovespring International and provide commentary for E!, TV Guide Channel, and VH1.  Besides Bridesmaids, recent projects have also included The Office, What to Expect When You're Expecting, and Cougar Town.  In 2014, McLendon-Covey was cast in the lead role of the ABC series The Goldbergs, a role which earned her a nomination for a Critics' Choice Award for Best Actress in a Comedy Series.  McLendon-Covey has a variety of films coming out in 2017, including Speech & Debate and Felt, a film that's also set to star Liam Neeson, Diane Lane, and Kate Walsh.
Mary Birdsong
Deputy Cherisha Kimball A former correspondent on The Daily Show and Crossballs, Birdsong felt right at home when she was brought on as Deputy Kimball on Reno 911!.  A popular voice actress, Birdsong has offered her voice to such shows as Goldie and Bear, Stroker and Hoop, T.U.F.F. Puppy, as well as the video game, Grand Theft Auto: Vice City.  From July 2006 to January 2007, Birdsong performed alongside Martin Short in the comedy musical, Martin Short: Fame Becomes Me and won a Theatre World Award in 2007 for her role in the show.  In January of 2008, Birdsong joined the Broadway cast of Hairspray, playing the role of Velma Von Tussle and has also done one-woman shows and performed in comedy showcases.
Nick Swardson
Terry Bernadino The recurring troublemaker, Terry, has to be everyone's favorite goof ball.  Constantly getting under the skin of the Reno squad, Swardon's Terry character has become one of his most famous roles.  After his great work on Reno 911!, Swardson went on to partner with friend Adam Sandler on the 2006 film Grandma's Boy.  Four years later, he came out with a sketch comedy show, Nick Swardson's Pretend Time, on Comedy Central, which was run by Adam Sandler's Happy Madison Productions.  His recent projects have included Pixels, The Do-Over, and Sandy Wexler, which is due for release in 2017.
Sometimes you just need a little fun in your life! Check back every week for a new "Just Bee-cause" post, where I discuss everything from celebrity news to favorite videos and websites!