Whether they make you cry, laugh, or hug your toys just a little bit tighter, there's no denying that Pixar has a way of tugging at the heartstrings.  Movies like Toy Story, Finding Nemo, Monsters Inc., Up, and WALL-E have earned their spots on favorite film lists, Oscar lists, and on several "go-to-movies-when-you-need-an-ugly-cry" lists…I mean, if that opening marriage montage from Up doesn't rip your heart out and feed it to the dogs…
Stah-ha-ha-ha-ha-haaaap!!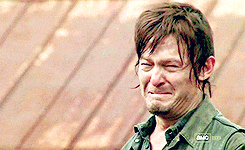 Though each movie is a rollercoaster of emotions, whenever I see a preview with that little bouncing Luxo Jr., I instantly find myself smiling.  I have always enjoyed Pixar movies and a few Pixar films (Toy Story for sure!) would easily make it on my list of desert island flicks.
Of course there's no denying that a TON of work goes into making these amazing movies…and teams of animators and designers often spend upwards of 5 years working on each Pixar film….and in those 5 years, a lot can go on behind the scenes!
For lovers of any Pixar film or just Pixar in general, here are 51 fun facts about Pixar's movie collection!  Plus, scroll down for even MORE Pixar fun!
51 Fun Facts About Pixar Movies
Toy Story (1995)
The toolbox on top of the milk crate that Woody is trapped in is a Binford, the same type of tool that Tim Allen used on his TV show, Home Improvement.
The carpet in Sid's house has the same hexagonal pattern as the carpet in the Overlook Hotel from The Shining.
Billy Crystal was originally offered the chance to voice Buzz Lightyear, but declined.  After seeing the finished film, he said the decision was the biggest mistake of his career.  Jim Carrey and Chevy Chase were also offered the part, but were unable to sign due to the movie's small budget.
A Bug's Life (1998)
The character of Thumper is named after Thumper the Rabbit from Bambi, one of John Lasseter's favorite characters.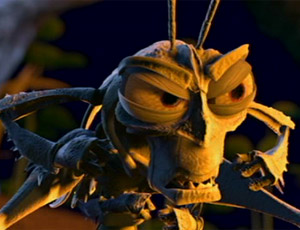 A Bug's Life only took three years to make, the shortest of all the Pixar film cycles to date.
The two mosquitoes trapped in the light of the bug zapper are the voices of the co-directors of the film, John Lasseter and Andrew Stanton.
Toy Story 2 (1999)
Toy Story 2 is one of three Disney movies to win a Golden Globe for Best Picture.  The other two are Beauty and the Beast and The Lion King.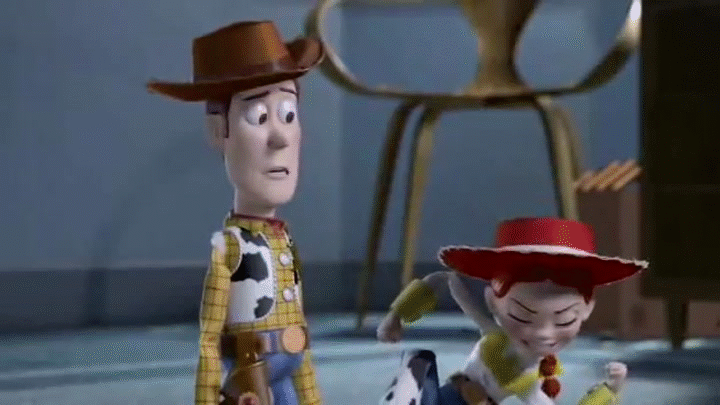 For the scene where Woody looks at the merchandise from "Woody's Roundup", mockups of the toys were shown to Tom Hanks in the recording studio.  His spontaneous reactions to the toys were recorded and used for Woody's dialogue in the scene.
The dust in the scene where Woody meets Wheezy set a record for number of particles animated for a movie by a computer.
Monsters, Inc. (2001)
Sully had 2,320,413 animated hair strands!  It often took 11 to 12 hours to render a single frame of him for that reason.
Monster's Inc. is the first Pixar film to tease their next film by including a small cameo (in this case, their next film would be Finding Nemo).
Unlike previous Pixar productions, each of the main characters (Sully, Mike, and Boo) were assigned their own individual animator.
Finding Nemo (2003)
As of September 2015, Finding Nemo is the bestselling DVD of all time, with 41 million copies sold.
The role of Dory the fish was specifically written for Ellen DeGeneres.
Despite the fact that Marlin and Dory spend a good portion of the movie together, Dory never says Marlin's name.  The two also have opposite personalities and are opposite colors on the color wheel.
The Incredibles (2004)
The Incredibles is perhaps one of the most violet Pixar films, with 35 explosions, 189 buttons being pressed, and approximately 640 gunshots.
The line Syndrome says to Mr. Incredible ("Too late!  Fifteen years too late!") holds special meaning, as the sequel to The Incredibles is set to release 14 years after the first.
Want to steal all of Edna's fashionable costumes?  The code to her lab is 6395742.
Cars (2006)
This was the last feature film of celebrities Paul Newman and George Carlin.  Both died shortly after the movie was released and, ironically, Cars would turn out to be Newman's highest-grossing film of his career.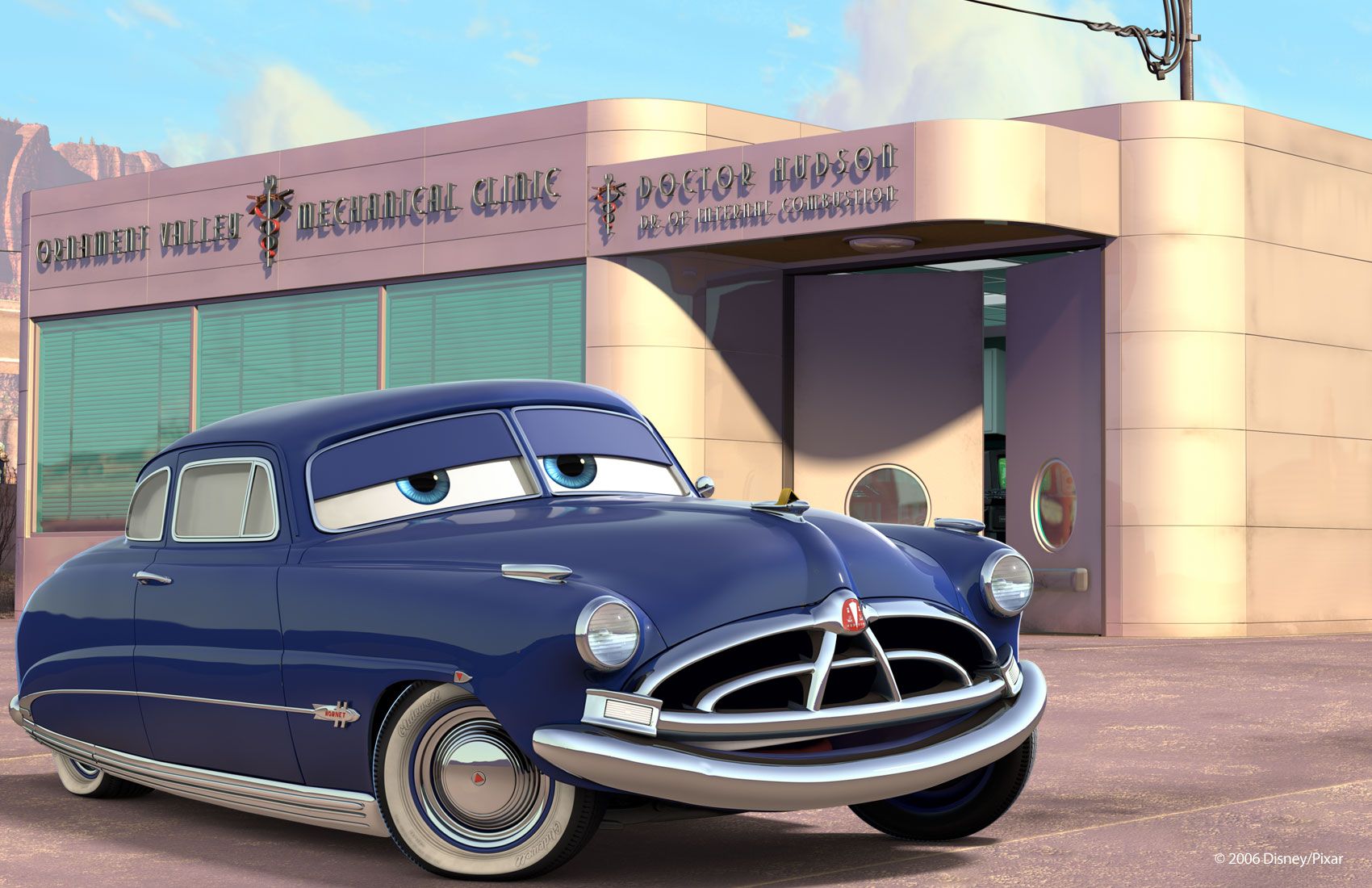 More than 100 unique car characters were created for the film and the merchandising.
One of the racing cars is white and sports an Apple logo with the number 84.  A nod to then Pixar owner, Steve Jobs, this racing car pays homage to the Apple Macintosh computer, which came out in 1984.
Ratatouille (2007)
In order to nail down the movements of rats, Pixar animators kept rats as pets for more than a year to better study the movement of their fur, noses, ears, paws and tails.
Director Brad Bird cast Patton Oswalt in the main role after hearing his stand-up routine about the menu at the Black Angus Steakhouse.
The window shop displaying dead rats actually exists.  It is the window of Destruction des Animaux Nuisibles, an exterminator established in 1872 located in France.
WALL-E (2008)
Coincidently, composer Thomas Newman's uncle, Lionel Newman, worked on the film, Hello, Dolly!.
WALL-E takes place 700 years in the future.
Andrew Stanton and the Pixar team watched every single Charles Chaplin and Buster Keaton movie during lunch breaks for about a year and a half to inspire the possibilities of pure visual storytelling.
Up (2009)
Though only 20,622 balloons appear on the house when it first lifts off, Carl's house would actually need 12,658,392 balloons to lift off the ground.
Carl's face and body were modeled after squares.  This was to emphasize how boxed in he was in life and in his home.
Were you a hot mess watching that marriage montage in Up?  You're not alone.  Even in storyboard form, the married life sequence that opens the film brought members of the production team to tears.
Toy Story 3 (2010)
Tom Hanks and Tim Allen, both in love with the chemistry their characters shared on screen, insisted that they record their lines together in the same room, a style of recording rarely done with animated films.  Voice actors John Goodman and Billy Crystal did the same in Monsters, Inc.
There are 302 characters in Toy Story 3 and it was the first animated film ever to make more than $1 billion worldwide.
When Barbie is going through Ken's closet, she comes across a blue and gold Letterman jacket with a "K" embroidered on it and a "State" pennant lying across the front.  Michael Keaton, who voiced Ken, graduated from Kent State University, whose colors are blue and gold.
Cars 2 (2011)
Cars 2 was the first Pixar film not to be nominated for an Academy Award for Best Animated Film.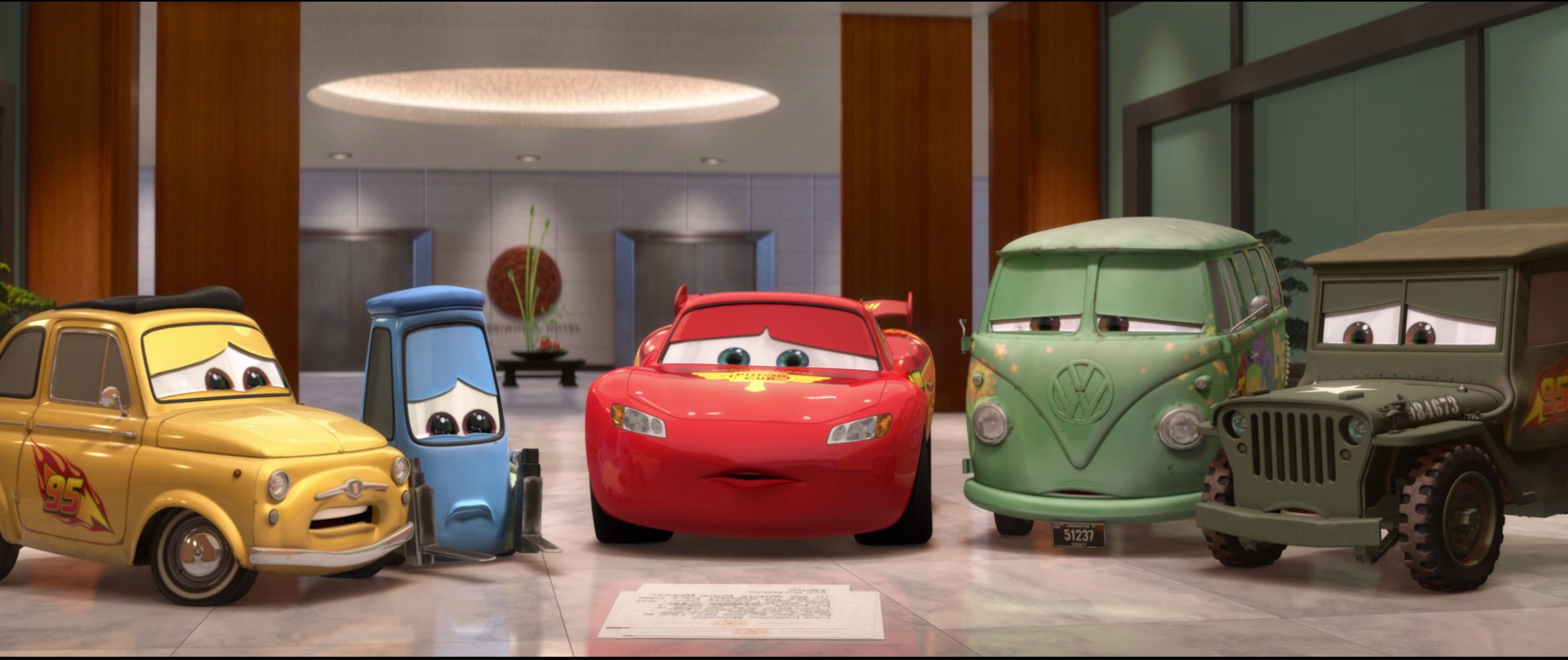 After Mater and McQueen are done "cow tipping", you can see them drive past the Drive-In.  The movie being shown in the Drive-In is The Incredimobiles, the cars version of The Incredibles.
The British Intelligence seal in the private jet that McMissile and Shiftwell use says "Honor, Animus, Vis Equorum", meaning "Honor, Spirit, Horse Power".
Brave (2012)
Even though she does not have a love interest, Merida was granted the status of Disney Princess, an honor that upset a lot of true Disney fans.  She's the first Disney princess not to be based on any pre-existing character or historical figure and is the first princess to be represented from Pixar.
Kelly Macdonald, Robbie Coltrane, Emma Thompson, and Julie Walters, who all starred in Brave, also had roles in the Harry Potter films.
The only thing we ever see Merida eat is apples.  This might be a dedication to Steve Jobs, who passed away during production of this film.  Brave is also dedicated to him.
Monsters University (2013)
When Sully enters Mike and Randall's room with Fear Tech's pig, a motivational poster can be seen above Randall's bed that reads, "Winds of Change: Shh…Can you hear them?".  Randall says this same line to Mike in the locker room in Monsters, Inc.
Monsters University, along with Cars 2, are the only Pixar films not nominated for Best Animated Feature at the Oscars.  Both of their predecessors, Monsters, Inc. and Cars are the only Pixar films not to win Oscars.
As the students enter the School of Scaring building, they all touch the front paw of the statue in front of the building.  This is a reference to a tradition at Harvard University where students touch the left foot of the statue of John Harvard for good luck.  As a result, the foot of the statue of Harvard is shiny and polished down.  The animators included that on the statue in the movie as well.
Inside Out (2015)
According to director Pete Docter, each emotion in Inside Out is based on a shape:  Joy on a star, sadness on a teardrop, anger on a fire brick, fear on a raw nerve, and disgust on broccoli.
When Pete Docter and Jonas Rivera pitched the film to Mindy Kaling (Disgust), she was moved to tears and said, "I think it's great that you guys are making a film that shows it's difficult to grow up and that it's okay to be sad about it."
Lewis Black was the studio's first, and only choice to play Anger.
The Good Dinosaur (2015)
Perhaps since it closely followed the release of Inside Out, The Good Dinosaur is the lowest-grossing Pixar movie ever, both domestically and worldwide.
The Good Dinosaur is one of the few dinosaur films where T-Rex's are not portrayed as villains.
Since there were no dinosaurs to study while animating this film, young Arlo's movements were based on those of young elephants.
Finding Dory (2016)
The setting of the film was changed from an aquatic park to a Marine Biology Institute after the crew of Pixar screened the controversial documentary, Blackfish.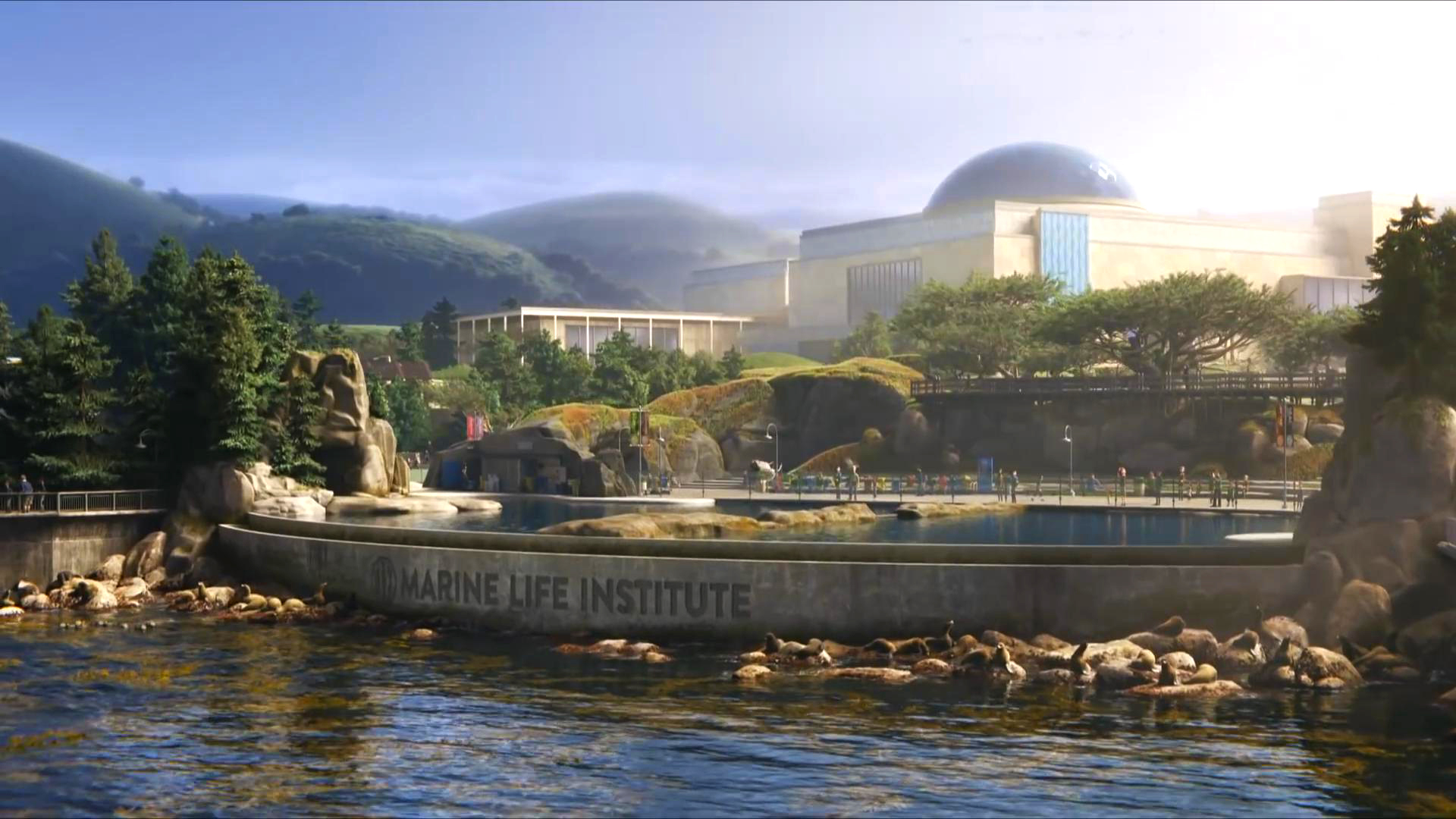 Despite the 13 year gap between Finding Nemo and Finding Dory, Finding Dory only takes place 1 year after the prequel.
Hank the octopus only has seven tentacles because the animators realized they could not fit eight onto his body.  His backstory was rewritten to account for the missing limb.
Want even MORE Pixar?  Check out these other fun posts!
Sometimes you just need a little fun in your life! Check back every week for a new "Just Bee-cause" post, where I discuss everything from celebrity news to favorite videos and websites!