This is Michael Bluth.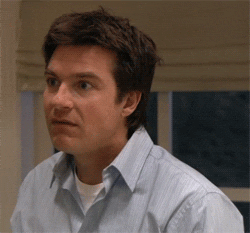 As the brains behind his dysfunctional family, Michael is tasked with keeping his mother from spending all the family money, keeping his dad in (or out) of jail, and preventing his sister and two brothers from completely destroying everything the family has built.
Besides dealing with the failing family business, Michael – a recent widower – is also raising a son by the name of George Michael.  Together, they navigate their way through the maze of insanity the Bluth family has created…and so begins Fox's Arrested Development.
A cult classic in every way, shape, and form, Arrested Development was a beacon in the realm of amazing TV writing and producing.  Starring Jessica Walter, Michael Cera, Ron Howard, Jason Bateman, Will Arnett, David Cross, Jeffrey Tambour, and many more, Arrested Development was cancelled after just three seasons.  After backlash from fans, showrunners decided to release a fourth season exclusively on Netflix (which was OK) and the crew is looking to continue with season five in the near future.
The thing I love the most about AD is that I catch new things every time I watch it.  Subtle jokes, hilarious gags and simple word play easily make this one of the best-written shows I've ever seen…and I continue to find little gems even after watching seasons 1-3 a good handful of times.
I'm sure I'm not alone in finding new things every time I watch this show, as that was intended when the show was in production.  Showrunners wanted a sitcom that encouraged rewatching and boy did they deliver!  And for all you never-nudes, banana grabbers, and Bluth-lovers out there, here are 18 more Fun Facts About Arrested Development!
18 Fun Facts About Arrested Development
Ron Howard is to thank for the unique shooting concept of Arrested Development.  He wanted a sitcom that had the documentary style of reality TV, but with a sharp script riddled with clever jokes and gags.
His voice as the narrator was also an accident.  He was filling in for the narrator part when filming the pilot, but his voice just "worked"…and he was cast.
Part of the "riches to rags" storyline of the Bluth family was inspired by the Enron scandal.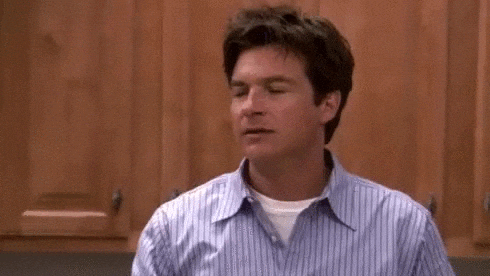 Originally George Sr. was only supposed to appear in the pilot.  He was supposed to be locked up and be out of the show, which urged producers to go after big-name celebrities to play the part…namely Robert DeNiro.  However, Jeffrey Tambor was ultimately cast and the crew liked him so much that they bumped him up to a series regular.
Comedians Andy Kindler and Rainn Wilson were both up for the part of GOB Bluth before Will Arnett was cast.
Producers were having a hard time casting the part of Lucille 2…when Howard asked his childhood babysitter, Liza Minelli, to do it, she agreed.
David Cross (Tobias Funke) was originally offered the role of Buster Bluth, which he turned down because he preferred the role of Tobias.  Tobias was also supposed to be a minor character, but audiences loved him so much that he was promoted to the regular cast.
The real life inspiration for the frozen banana stand was a chocolate chip cookie business that showrunner Mitch Hurwitz and his brother Michael started in 1976.  They renovated a former taco stand on Newport Beach, CA…where Arrested Development takes place.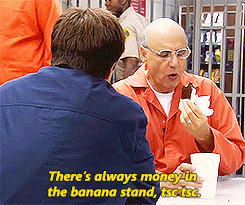 While the cut-offs may be a bit of a stretch, Tobias's fear of being naked is a real thing…it's called gymnophobia.
The hip hop group of the same named used Arrested Development producers over "confusion of brand dilution".  The case settled out of court and was later referenced in the episode "Motherboy XXX" where the narrator explains the Motherboy show was "legally required to make a distinction" from the band of the same name.
Ricky Gervais, Sacha Baron Cohen, and Christopher Walken all wanted to be on the show, but Arrested Development was canceled before producers could find roles for them.
Alia Shawkat's (Maeby Funke) first kiss was on-screen with co-star, Michael Cera (George Michael Bluth).
As a Canadian, Cera had issues getting a work visa to shoot the pilot.  As a backup, producers brought in Michael Angarano to play George Michael if Cera's complications couldn't be worked out in time.
Every character on the show has a different impression of what a chicken sounds and looks like.
Whenever GOB approaches someone on his Segway, he always segues the conversation to what he wants to talk about.
There are SEVERAL clues throughout the series that Buster would lose his hand to a seal. When GOB hastily marries a seal seller, the roll of his new bride was played by his then-wife, Amy Poehler.  Jason Bateman's (Michael Bluth) sister also played Michael's possible sister, Nellie.
Recurring Fox 6 anchorman John Beard is actually a real news anchor.  He has also played a newscaster on the Spider-Man animated series. Sometimes you just need a little fun in your life! Check back every week for a new "Just Bee-cause" post, where I discuss everything from celebrity news to favorite videos and websites!