The sole reason I love Harry Potter and the Chamber of Secrets is Gildroy Lockhart.  He's one of my favorite Harry Potter characters…you guys, I even got his card in my chocolate frog from Harry Potter World…this is not a joke.
So I was super pumped to dive back into Chamber of Secrets…and, per usual, Lockhart did not disappoint!
And since my random thoughts about Sorcerer's Stone was so well-received (thanks, guys!!), I decided to continue tracking my thoughts of randomness as I dived into Chamber of Secrets.  If you missed Part 1, be sure to check out my article on thoughts I've had reading Harry Potter and the Sorcerer's Stone.
Now, without further ado…
Thoughts I've Had Reading Harry Potter Again as a 30-Something
Part 2:  Harry Potter and the Chamber of Secrets
I wonder if Dudley ever got his pink tail removed…oh to be a fly on the wall during that examination…

How do Quidditch players practice Quiddich outside of school?
There is such beauty in the words used to describe the Dursley's.
Dobby is like the Jar-Jar Binks of Harry Potter.  Yes, yes he is.

Does the Weasley house look different to Muggles?  Cuz if I came across this house on a jog…I'd have some questions…

But I have to say…the first visit to the Burrow makes me wanna be a Weasley…
WHY WAS THIS DEGNOMING SCENE NOT IN THE MOVIE?

"Arthur Weasley, you made sure there was a loophole when you wrote that law…just so you could carry on tinkering with all that Muggle rubbish in your shed!"  Seems the Wizarding World is just as corrupt as the Muggle world!

GILDROY LOCKHART!

What did Hermione do on the train when Harry and Ron were flying the car to Hogwarts?  Did she go compartment to compartment looking for them?
So what exactly happens when you ignore a Howler?

"Why," demanded Ron, seizing her timetable, "have you outlined all Lockhart's lessons in little hearts?"
I still love this line and chuckle every time I read it.
Can we just stop for a minute and really consider how terrifying mandrakes are?  Like, really…

So there's no amazing spell that Hermione can do to fix Ron's wand?  Nothing?  Could he at least pull a Hagrid and put the pieces of his wand into a cane or an umbrella or something?
So how do families with non-wizard blood, like Hermione's for example, know about Hogwarts?  How did she know her letter from Hogwarts wasn't just junk mail?
I wonder what else Hagrid has used his Engorgement charm on…

"What's that funny clicking noise?" called Fred, as they hurtled around the corner.

So food appears out of nowhere in the Great Hall…but they still need Filch to clean and polish everything?  I mean, even Molly Weasley has cleaning spells in her house!

I wanna go to a Death Day Party!

HOW DID GILDROY LOCKHART GET THIS JOB?

So Harry finds out he's a Parselmouth and all the professors are just gonna let this go?  No one's gonna say anything?  No?  OK, moving on…

Oh the innuendos in this book…

So what are the rules with this Polyjuice potion?  How much of you REALLY changes?  Like, if Hermione wanted to turn into Harry, would she grow a penis?  And if she did, would she be able to…use it?  Would she have sperm?  Could she get someone pregnant?  Also, how much do you need for a full transformation?  What's the equivalent of "1 cup" in the Wizarding World?  A goblet?  A toadstool?  A pically?  A flibbityjibbit?  Though, they are British so they probably use the metric system…ugh so many questions!

FURTHERMORE, since Harry and Ron had Crabbe and Goyle's voice when they changed, wouldn't Hermione have the voice of a cat after her transformation?

Also, these kids had a MONTH to brew this potion…it never occurred to them to MAYBE investigate where the Slytherin common room was ahead of time?

"The moment their acne clears up, they'll be ready for repotting again," Harry heard her telling Filch kindly one afternoon.  "And after that, it won't be long until we're cutting them up and stewing them."
But seriously…these mandrakes!  Messed. Up.

ARAGOG – AND THIS ENTIRE SCENE – IS LITERALLY THE WORST.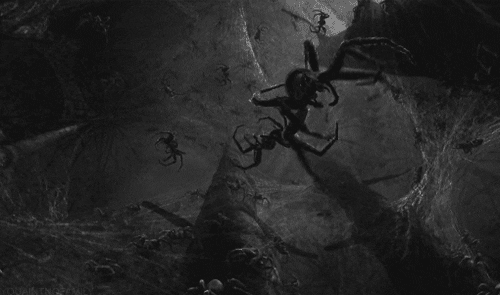 How did NO ONE see the basilisk just slithering around the hallways of Hogwarts?  I know it moved around in the pipes…but it attacked people IN THE HALLWAYS OF THE SCHOOL.  How does this happen??

So…clearly these professors knew about the Chamber of Secrets – therefore knew about the basilisk – so why not just fill the school with roosters since their call is deadly to the snake?
OK, I know it's revealed later that Percy was just making out with a girl, but can we talk about the phrasing here?  I mean…this certainly implies he was by himself…stroking his wand or whatever euphemism they have for masturbating in the Wizarding World:

OOOOH SO THE FACE IN THE CHAMBER OF SECRETS IS SALAZAR SLYTHERIN'S FACE!!!  Don't know how I missed that the first go-around.
"It's our choices, Harry, that show what we truly are, far more than our abilities."
Smartest quote in this book.

Sometimes you just need a little fun in your life! Check back every week for a new "Just Bee-cause" post, where I discuss everything from celebrity news to favorite videos and websites!