The Office is one of the first shows I remember watching religiously when it was on TV.  Every Thursday night, I'd make dinner, turn my phone on silent, and tune into NBC to catch The Office, Parks and Recreation, and Outsourced (remember that one!?).
After the seasons came out on DVD, I bought them all (Black Friday Deal!) and I've easily watched the series a good three or four times now.  I still laugh at the stapler in the Jell-O…still cry when Jim and Pam get married…and my heart still breaks for Dwight after he kills Angela's cat.
The thing I loved the most about The Office was that the characters were real…they were relatable and flawed.  I loved Michael Scott because I had a boss just like him.  I had friends who had a relationship very similar to Jim and Pam…and of course, every office has at least one Creed!
The actors on the show were so invested in its success that several went on to be writers, directors, and producers for later Office episodes…and if you follow the cast on Instagram or Twitter, you can tell how much they STILL love each other (can we just talk about the fact that Jenna Fisher and Angela Kinsey are real-life BFF's and Jenna still wears the ring that Jim got for Pam!!  OMG WITH THIS, YOU GUYS!!).
If you miss the Dunder Mifflin crew as much as I do, here are 34 Fun Facts about The Office that will make you feel all the warm fuzzies!
34 Fun Facts About The Office
Though Ricky Gervais made fun of the American version of The Office time and time again, he and fellow The Office UK creator Stephen Merchant actually helped creator Greg Daniels write the pilot of the American version.  Gervais also played one of the people interviewing for Michael Scott's job after Michael leaves.
The initial team of writers for The Office included four cast members:  Mindy Kaling (Kelly Kapoor), B.J. Novak (Ryan Howard), Paul Lieberstein (Toby Flenderson), Mike Schur (Dwight's cousin, Mose) and Greg Daniels.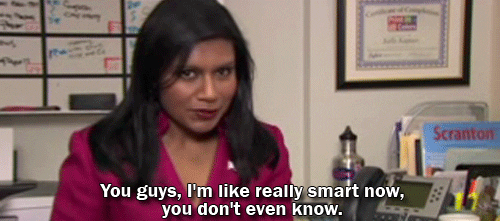 Mindy Kaling was hired on for The Office after Greg Daniels saw her perform her two-woman show, Matt & Ben (about Matt Damon and Ben Affleck) with her roommate.  You can read all about this amazing experience in Kaling's book, Is Everyone Hanging Out Without Me?.
Mindy's roommate, Brenda Withers, actually made a cameo in the "Booze Cruise" episode as corporate representative, Brenda Matlowe.
Producers originally wanted John Krasinski to read for Dwight…but Krasinski felt Jim Halpert was a better fit for him.  He turned down the option to read for Dwight and told producers, "If you can't find a Jim, I'll come in and read for that."  THANK GOD!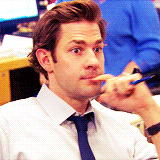 YOU GUYS – When Krasinski got the part of Jim, the first thing he asked was if Jenna Fisher got the part of Pam.  When Fisher got the part of Pam, the first thing she asked was if Krazinski got the part of Jim.  MY HEART!!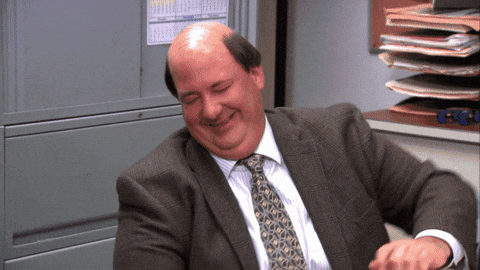 Bob Odenkirk (Better Call Saul, Breaking Bad) actually auditioned for the part of Michael Scott.  He was originally cast, but was obviously beat out by Steve Carell when Carell's other project fell apart, but Odenkirk would make a guest appearance later on in season 9 as the "Michael Scott" of the office where Pam interviews.
Krasinski and Novak played little league together as kids and also knew each other in high school.
Ed Helms (Andy Bernard) and Brian Baumgartner (Kevin Malone) also attended high school together in Georgia.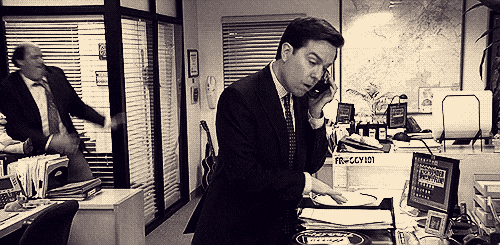 Phyllis Smith (Phyllis Lapin-Vance) was actually working as a casting associate on the show and would read lines with actors.  At one point, producers asked her to do some more reading and she had no idea she was actually auditioning for the part that was created specifically for her.
Creed Bratton's name is actually Creed Bratton IRL.  He was also a musician in the band, The Grass Roots.
Steve Carell has written two episodes of The Office: "Casino Night" and "Survivor Man".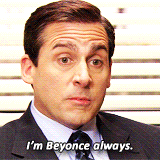 Carell actually won a Writer's Guild of America Award for "Casino Night" (also known as the one where Pam and Jim kiss!).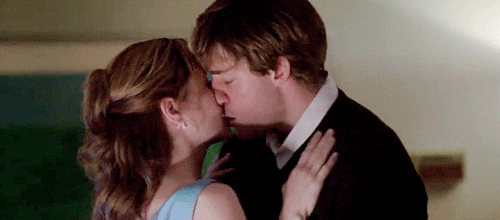 Michael Scott's kiss with Oscar in "Gay Witch Hunt" was actually improvised by Carell.  The shocked faces of the cast were real reactions.
Angela Kinsey (Angela Martin) was working at 1-800-DENTIST when she was cast on the show.  Anything is possible, you guys!
Not only are Fisher and Martin BFF's in real life and have Target shopping dates together, Fisher is also godmother of Kinsey's daughter, Isabel.
Paul Giamatti was NBC's first choice to play Michael Scott; he turned down the role.  Good thing, or else we wouldn't have this magical moment:
The paper that is highlighted during the opening credits of The Office is actually a Los Angeles Department of City Planning document.
After season 1 of The Office, reviews were mixed and the show was facing cancellation.  It was Carell's film, The 40-Year-Old Virgin that shot Carell into stardom and ended up saving the show.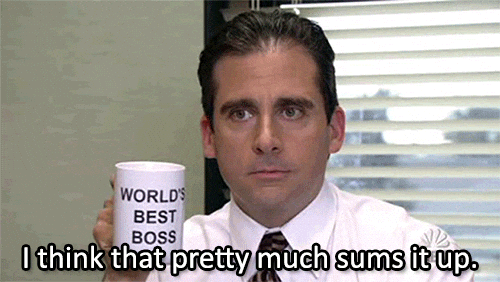 Jenna Fisher was really pregnant during Pam's pregnancy story line.
In the episode "The Launch Party", Krasinski accidentally signs his real name on Meredith's pelvic cast instead of Jim's. Although Dunder Mifflin is a fictitious company, it is recognized by the Scranton Chamber of Commerce because of all the tourism it has given to the city.  Quill.com also sells Dunder Mifflin-branded paper.
Steve Carell's real-life wife, Nancy Walls, guest-starred on The Office as Michael's realtor, Carol Stills.
In the episode, "Basketball", Daryl mentioned that the winner of the basketball game gets "dinner at Farley's".  Farley's was an actual restaurant in Scranton and had a Michael Scott burger on their menu.
The Scranton branch of Dunder Mifflin is located at 1725 Slough Avenue.  That's not a real street in Scranton, PA, though it is a reference to the UK version of the show, which takes place in Slough, England.  CLEVER!
The computers on set really worked.  Cast members would surf the web and play games during filming, which helped the cast feel like they were in a real office.
Originally, Parks and Recreation was supposed to be a spin-off of The Office, with Rashida Jones' character, Karen, bridging the gap between the two shows.  That idea was ultimately scrapped.
The character of Jim Halpert was also originally supposed to be played by Adam Scott, who would go on to star in Parks and Recreation as Ben Wyatt.  Amy Pohler was also set to play Jan Levenson-Gould before she was cast as Leslie Knope on P&R.  #JimFace
The opening shots of Scranton in The Office credits were actually shot by John Krasinski.  He visited Scranton for research after landing the part of Jim and filmed various areas around town, as well as interviewed people who worked at paper companies.
Pam's lactation consultant after she gives birth in "The Delivery" is actually Fisher's real-life husband, Lee Kirk.
Krasinski, Kaling, and Ellie Kemper (Erin) were all previously interns at Late Night with Conan O'Brien.
Fischer has never revealed what Steve Carell whispered to her during Pam and Michael's airport farewell, but the sentiments they shared were real, as Fischer was told to just "say goodbye to Steve".
Amy Adams was a relatively unknown actress when she played the purse girl in "Hot Girl".
Steve Carell's return in the series finale was kept a secret from network executives to avoid any possibility of spoilers.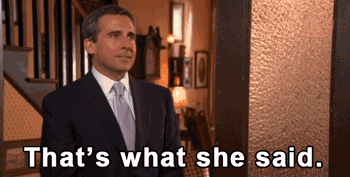 Sometimes you just need a little fun in your life! Check back every week for a new "Just Bee-cause" post, where I discuss everything from celebrity news to favorite videos and websites!