I ain't afraid of no ghosts!
It was 33 years ago today that the monster hit Ghostbusters hit the big screen.  Starring Dan Aykroyd, Bill Murray, Rick Moranis, Harold Ramis and many more, this iconic cult classic has been a fan favorite since the 1980's and has been the inspiration for a handful of sequels, parodies, and skits.
If you're a fan of the Ghostbusters franchise and watch the original at least once a summer, then today's post is for you!  Scroll on down to see 14 Fun Facts about the making of Ghostbusters!
14 Fun Facts About Ghostbusters
The idea for Ghostbusters came about thanks to Dan Aykroyd's family history.  Growing up surrounded by spiritualists, Aykroyd was inspired to create the film after researching his father's collection of books, including his great-grandfather's notes and books about conducting his own séances.
The character of Peter Venkman, ironically played by Bill Murray, was originally meant for fellow SNL alum, John Belushi.  However, after Belushi's tragic death, Aykroyd decided to cast Murray in the part instead.  Belushi's likeness still made it into the film, though.  Aykroyd conceived a gross-looking, gluttonous, party-guy persona as a homage to his friend…and thus Slimer was born.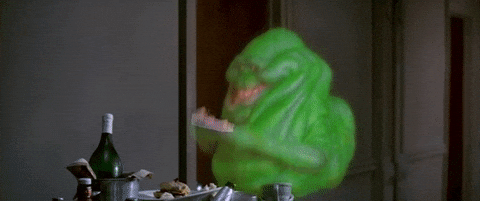 Additionally, Chevy Chase and Michael Keaton turned down the role of Peter Venkman.  Eddie Murphy was also supposed to be cast, but was starring in Beverly Hills Cop at the time.
Eager to work on a fun project after completing her role as Ripley Scott in Alien, Sigourney Weaver tried a unique approach to her audition for Ghostbusters.  Rather than impress the director with jokes, she decided to do a wordless scene where she turned into one of the grotesque dogs that do Gozer's bidding.
Rick Moranis's role as Louis Tully was originally meant for another late SNL alum, John Candy.  Candy wanted the part rewritten and turned into a major role and wanted to turn Tully into a stern German man with a thick accent.  Aykroyd vetoed the idea and the part went to Moranis.
The marshmallow goo that rains down on New York after The Marshmallow Man explodes is actually shaving cream.
Ron Jeremy was an extra in the film and later starred in a porn parody titled This Ain't Ghostbusters XXX.
Most of Bill Murray's lines in the film are ad-lib.
Originally, Ghostbusters was supposed to take place in the future…an idea that would come with a $300 million price tag (in the 1980's!!).  Fellow actor Harold Ramis rewrote the script to take place in modern time and brought the budget down to about $30 million.
The original trailer for the film featured a 1-800 number.  If anyone called it, they would hear a prerecording of Bill Murray and Dan Aykroyd.  The number got about 1,000 calls an hour, 24 hours a day, for 6 weeks before it was changed to a 555 number. All the Marshmallow Man suits cost about $20,000 each (there were three made)…and were all destroyed during filming. The jail scene in the movie was filmed in a real prison.  Aykroyd was convinced it was haunted.
The party scene with Moranis and his guests is almost entirely improvised.
Until it was beat out by Home Alone, Ghostbusters was the highest grossing comedy of all time.  In 1984, it made $240 million domestically, which equates to about $580 when adjusted for inflation.
Sometimes you just need a little fun in your life! Check back every week for a new "Just Bee-cause" post, where I discuss everything from celebrity news to favorite videos and websites!