I know I've said it before, but The Princess Bride is easily one of my all-time favorite movies.  It's my go-to when I'm sick…but I'd really watch it anytime, anywhere.  Wanna come over for a movie night?  Chances are that'll be my suggestion…and don't worry, I won't quote the movie to you, I promise!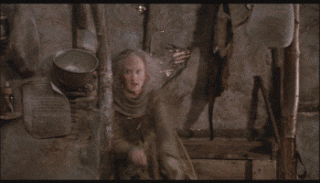 OK, I might quote a few things…
The Princess Bride is celebrating its 30th anniversary this September and, to celebrate, I thought we'd have some fun this week and honor The Princess Bride with all kinds of fun recipes, crafts, and activities!
NO!!  IT'S FOR REAL!!
To get started, I wanted to make a treat that played to the romance and the whimsy of The Princess Bride, while still following the theme because, you know, I'm all about themes…so for today, I have a Princess Buttercup Cupcake with "Anybody want a Peanut?" Butter Filling!
And if you get all the references, well,
Topped with a royal icing buttercup flower and filled with tasty peanut butter frosting, these chocolate cupcakes are a dream come true…even dreamer than Westley's eyes or Inigo Montoya's sexy AF sword-fighting skills.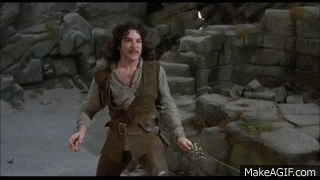 A great way to kick off a Princess Bride viewing party, these tasty cupcakes are INCONCEIVABLE-ly good!
Princess Buttercup Cupcakes with "Anybody want a Peanut?" Butter Filling
Ingredients:
Meringue Powder
4 cups Confectioners' Sugar
Color Right Performance Color System, or Yellow Food Coloring
Chocolate Cake Mix
1 teaspoon Vanilla Extract (optional)
Peanut Butter Frosting
Whipped White Vanilla Frosting
Tools:
Disposable Decorating Bag
Petal Decorating Tip 104
Coupler (optional)
No. 7 Flower Nail
Wax Paper Squares
Cake Board or Cookie Sheet
Muffin Pan
Standard Baking Cups
Star Decorating Tip 1M
Instructions:
Since your buttercup flowers will have to set up in the freezer, make these one day in advance.  Using the meringue powder, make royal icing.  I followed the instructions on wilton.com for Royal Icing, combining 3 tablespoons meringue powder, confectioners' sugar, and 4 tablespoons warm water.  Mix for at least 7 to 10 minutes, until your icing is thick and white, like this:
To color my icing, I used the Color Right Performance Color System, combining 10 drops YELLOW and 2 drops ORANGE.  You can also create your own yellow icing using food coloring or whatever you have available.
Remember that royal icing also dries quickly, so keep your bowl of icing covered with a wet paper towel when not using.
Prepare decorating bag with coupler and tip 104.  Technically, a coupler is not NEEDED for this, but I like using one, as it offers more support for my tip.  Using the flower nail and the wax paper squares, begin piping flowers.  I just made 6 to 7 petals of varying sizes.  Transfer flowers on wax paper to cake board or cookie sheet.  Don't forget to make extras in case any flowers break!  Freeze flowers for at least 8 to 10 hours.
Bake your cupcakes following the package instructions.  To give your cakes a bakery taste, you can add a little teaspoon of GOOD vanilla extract to the batter, but it's not essential.  Bake your cupcakes in cupcake liners.
Once your cupcakes have cooled completely, use the large side of tip 1M to remove the center from each cupcake:
Consume the centers as you finish!  😉  This is a very important step, you guys…you must test your baking…for science.
Prepare decorating bag with peanut butter frosting, trying not to eat it right out of the container as you go.  I didn't use a tip for this, just cut a small hole in the tip of the bag, but you can easily use a round tip of any size if you want.  Fill in the centers with the peanut butter frosting:
To pipe the frosting on top, I just used the tip 1M since I had it out, but you could use whatever large tip you'd like.  Pipe a swirl on each cupcake, then top with a flower.
And there you have it!  Princess Buttercup Cupcakes with (Anybody want a Peanut?)Butter Filling!
Every Monday is a "Reci-bee" post, where I share my favorite recipes, recipe collections, and cooking and baking hints and tips.