Lez be honest…summer is the worst sometimes.  Here in Chicago, we've been pushing temperatures north of 90 degrees F even AFTER THE FREAKING SUN GOES DOWN.  Sure, with an amazing air conditioning system, summer can be a breeze for us Midwesterners…but for those of us getting by on one tiny air conditioner that doesn't cool any room in the house except the room it's in, well, summer sucks.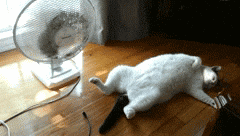 Because my kitchen is in the back of my apartment, it hardly ever gets cool air from the air conditioner, so cooking in the summer is usually a ton of salads and dinners spent in air conditioned restaurants…and when it comes to dessert, the oven RARELY goes on in the summer.
Thankfully, there are a ton of delicious no-bake summer desserts that can quench your sweet-tooth without heating up your kitchen.  Cool, refreshing, and often infused with alcohol and fruit, these no-bake summer desserts are a great way to cool off without heating up your house.
9 Delicious No-Bake Summer Desserts
No-Bake Mini Cheesecakes
lovefromtheoven.com
No-Bake Pistachio Coconut Pie
togetherasfamily.com
No-Bake Strawberry Jell-O Lasagna
omgchocolatedesserts.com
No-Bake Lemon Blueberry Parfaits
bakingamoment.com
No-Bake Cookie Dough Dip
homemadehooplah.com
No-Bake Pineapple Dream Dessert
meatloafandmelodrama.com
No-Bake Chocolate Peanut Butter Dessert
cakescottage.com
No-Bake Rum Cheesecake Stuffed Strawberries
thebewitchinkitchen.com
No-Bake Strawberry Daiquiri Cheesecake
insidebrucrewlife.com
Every Monday is a "Reci-bee" post, where I share my favorite recipes, recipe collections, and cooking and baking hints and tips.