It was the angsty teen show to end all angsty teen shows.  With a cast of supposed 15-year-olds who spoke with more eloquence than my grandparents, Dawson's Creek was THE SHOW for us 90's girls.  It taught us everything we wanted to know about life, love, friendship, sex, and – of course – BOYZ.  Who was #TeamDawson?  Who was #TeamPacey?  Would Joey and Pacey ever make it work (YES, THANK GOD)?  Would Dawson ever get over losing the love of his life?  Ugh the teenage drama was real, people!
But suuriously…CAN WE TALK ABOUT THIS ENTIRE SCENE??  DAAAUUUMMMNNN.  #TeamPacey all the way!
Starring James Van Der Beek (Dawson Leery), Joshua Jackson (Pacey Witter), Katie Holmes (Joey Potter), and Michelle Williams (Jen Lindley), Dawson's Creek was one of my all-time favorite shows when I was young…and I will forever be jealous of Joey and Pacey's relationship and how they could just leave their lives behind and go on a sailing trip around the world because why the F not…
Hard to believe, but DC has been off the air about 14 years now (!!).  While we still see the cast now and then in movies and shows, I'll forever know them as the crew from Capeside…sitting on the pier, climbing through windows, and having intense and emotional conversations between classes at Capeside High.
You may not remember it now, but DC actually dealt with some pretty tough stuff while it was on…depression, divorce, death of a parent, mental illness, drugs, and alcohol were all a part of this 6-year story line…however it also brought the first male gay kiss to primetime TV and was one of the first shows to really explore a gay character.
But, all things considered, life on the Creek was pretty peachy for this group of seaside teens…and if you tuned in to The WB on Wednesdays to catch up with Dawson and the rest of the gang, then you're going to love this little collection of 15 Fun Facts about Dawson's Creek.
15 Fun Facts about Dawson's Creek
Nearly 500 actors tried out for the part of Dawson, including the frontrunner, Adrian Grenier.  James Van Der Beek was only BARELY cast after show creator Kevin Williamson had to basically beg them to cast him as Dawson.  He got the job two days before filming began.  Grenier would go on to star in Entourage.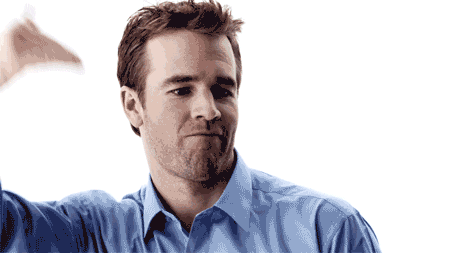 Katie Holmes sent in an audition tape with her mom acting as Dawson.  She couldn't fly out for the actual audition, as she was in her high school production of Damn Yankees at the time, so she filmed a scene and sent it in…and the rest was history!
Jason Biggs was also up for the role of Pacey…but no one can deny…Jackson's got dat swagger!
The episode "True Love" contained the first male gay kiss on U.S. primetime TV (between Jack [Kerr Smith] and his boyfriend, Ethan).
Meredith Monroe was 29 when she played 16-year-old Andie.  Her on-screen brother, Jack, was 27.
James Van Der Beek's meme-worthy cry was actually an ad lib.  It wasn't scripted, he just lost it in the moment.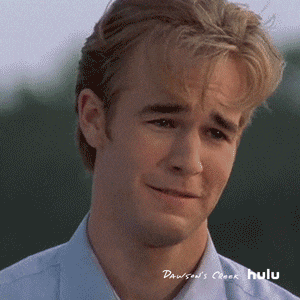 In 1998, the Creek cast did a photoshoot for J. Crew.  See the pics here.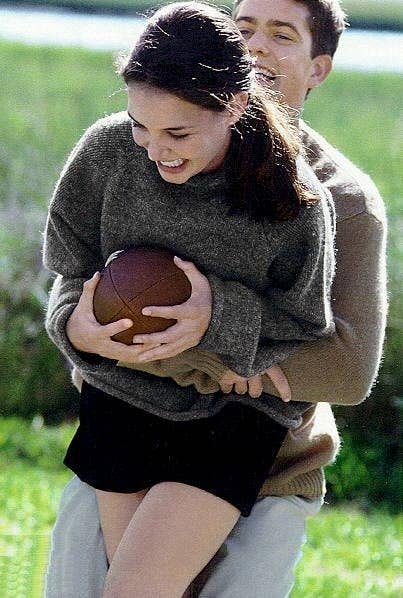 There were six head-writers for Dawson's Creek, one for each season.
Though Michelle Williams didn't want her character Jen to die in the end of the series, the writers felt that Jen's death was "…that last bit of growth that pushed [the characters] into adulthood."
Van Der Beek's luscious locks were inspired by Brad Pitt's hair in The Devil's Own.
In the most meta episode ever, "High Risk Behavior", Joey draws Jack naked – a la Jack and Rose – as they discuss Titanic.
Want to visit the real Dawson's Creek?  There's an actual place in Canada called Dawson's Creek…and despite taking place in fictional Capeside, MA, most of the episodes were actually filmed in Wilmington, North Carolina.
Joey (Katie Holmes) was the only character to appear in all 128 episodes.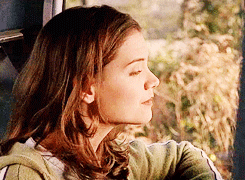 Joshua Jackson and James Van Der Beek actually lived together for a while during filming.  Aww!!  Bros for life!
Katie Holmes and Joshua Jackson actually dated IRL when they were filming Dawson's Creek.  Katie once told US Weekly that Joshua was her first love!!  OMG I CAN'T STAND IT!  PACEY AND JOEY FOREVER!!!!
Sometimes you just need a little fun in your life! Check back every week for a new "Just Bee-cause" post, where I discuss everything from celebrity news to favorite videos and websites!