So it seems that watermelon was the new cupcake…and now pineapple is the new watermelon.  There's pineapple stuff everywhere!
But, IMHO, the most important place for pineapple to be is in my face.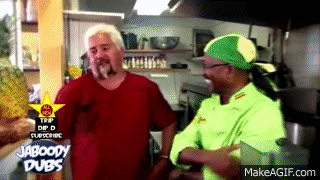 And if you're a fellow pineapple lover, here are 12 scrumptious and delicious pineapple recipes to get you through the rest of summer!
12 Pineapple Recipes for Summer
Pineapple Salsa
The Gunny Sack

Brown Sugar Pineapple Chicken
Carlsbad Cravings

Bacon Wrapped Pineapple
Delish D'Lites

Pineapple Bars
Mandy's Recipe Box

Pineapple Popsicle
Mama Loves Food!

Pineapple Fluff Salad
The Country Cook

Pineapple Pancakes
The Stay at Home Chef

Pineapple Cooler
Pizzazzerie

Pineapple Chicken Salad
The Kitchen is my Playground

Pineapple Coconut Thumbrint Cookies
Cooking Classy

Pineapple Empanadas
Kitchen Gadget

Pineapple Upside Down Doughnuts
Baker by Nature

 Every Monday is a "Reci-bee" post, where I share my favorite recipes, recipe collections, and cooking and baking hints and tips.