Dust off those driving moccasins… Jess and the gang will be back for the final season of New Girl!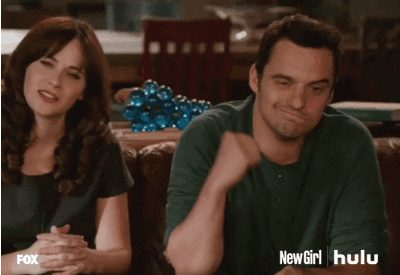 With only eight episodes lined up, season 7 was picked up in May of this year and supposedly will feature a jump in time.  Starting three years after the season 6 finale (Jess and Nick rekindle their romance, Schmidt and Cece learn they're pregnant, and Winston reconnects with his father), season 7 will feature major milestones for all the main characters over the period of one year, including a big one in the series finale…MAYBE JESS AND NICK TIE THE KNOT!!?!!?  OMG.
DAMN THAT F*$&ING KISS!!
Still no word on a release date, but the cast and crew are super excited, and so am I!!  I love New Girl and hope that this show gets the ending it deserves.  I'll certainly miss Prank Sinatra, Jess's AMAZING wardrobe, and all of Schmidt's jar-worthy one-liners, but we know all good things must come to an end.
I've recently rewatched New Girl for the third time and just love it more and more.  If you can't get enough of Jess and the gang, here are 21 Fun Facts about New Girl that will have you loving this adorkable show more and more!
21 Fun Facts About New Girl
Originally titled Chicks & Dicks, New Girl creator Elizabeth Meriwether was 29 when her idea for a theatrical production was turned into a TV show.  She had never worked on TV before and decided to pitch a sitcom based on her experience of spending four years moving from one Craigslist sublet to another.
Though he's portrayed as a lazy slob in the show, actor Jake Johnson (Nick Miller) actually had to lose 15 pounds before the pilot episode started filming.
When ABC's Happy Endings was thought to have a not-so-happy ending, actor Damon Wayans Jr. (Coach) decided to take the role on New Girl instead.  His sudden departure was due to the fact that Happy Endings was actually not cancelled, so Wayans was contractually obligated to return to the series.  This prompted the introduction of another character, Winston (Lamorne Morris), in the second episode.  When Happy Endings finally did end, Wayans returned to New Girl.
Coach and Jess may have gotten off to a rocky start in the show, but actors Wayans and Zooey Deschanel actually go way back…they went to high school together at Crossroads School in Santa Monica.

Jake Kasdan, who directed Freaks and Geeks, directed the pilot of New Girl, as well as a handful of other episodes.  He's also an executive producer on the show.
According to the show producers, it's their goal to actually make the game of "True American" impossible to understand…so good luck, dedicated patriots.
Dennis Farina, who played Nick's father Walt, actually passed away a few months after his character was killed off.
In episode 2 of season 2, the actress who play's Winston's sister (Keenyah Hill) was previously on America's Next Top Model.  Schmidt (Max Greenfield) actually makes a reference to Tyra Banks when he is hitting on her.
All of the male actors have played police officers at some time in their careers: Lamorne Morris on New Girl, Max Greenfield on Veronica Mars, and Jake Johnson and Damon Wayans Jr. in Let's Be Cops.
Deschanel's random leave (when Jess serves a few months on jury duty) was written into the script because Deschanel was pregnant at the time.
The exterior shot of Nick's bar is actually called "The Griffin".  It's located in L.A. on Los Feliz Blvd.
Hannah Simone (Cece) studied international relations and political science at the University of British Columbia.  Before acting, she was working with the UN in London, where she was born.  Dis lady is beautiful and smart!
Just like their characters, both Jake Johnson (Nick) and Lamorne Morris (Winston) are from Chicago.
Max Greenfield is scared of birds.
If Damon Wayans Jr. looks familiar, it may be because he is!  His dad is Damon Wayans Sr. and his brothers are Marlon and Shawn Wayans.
Zooey Deschanel is in a band called "She & Him".  She's also the co-founder of "Hello Giggles", a blog that celebrates all things adorable and trendy.
Not surprisingly, a lot of the best parts of New Girl are actually improvised.  The writers encourage the cast to riff off each other and they just let the cameras roll.
Originally Amanda Bynes was up for the role of Jessica Day.  #eww  Thankfully Deschanel fell in love with the series after reading the script and made it a point to get the project.
Max Greenfield and Jake Johnson actually auditioned together and became fast friends through the audition process.  BROS FOR LIFE!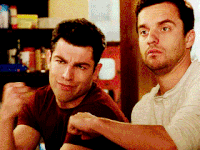 Bears are mentioned in some way in every episode.
Exterior shots of the loft apartment building are of a building located on the corner of Avery St. and Traction Ave. in L.A.
Sometimes you just need a little fun in your life! Check back every week for a new "Just Bee-cause" post, where I discuss everything from celebrity news to favorite videos and websites!