You may know her from Sense and Sensibility, Eternal Sunshine of the Spotless Mind, or maybe this little film she did called Titanic…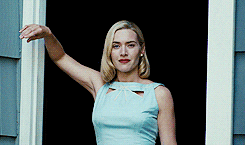 Based on her resume, there's no denying that Kate Winslet is an amazing actress.  She's talented, kind, humble, and not to mention, ONE OF THE MOST BEAUTIFUL PEOPLE IN THE WORLD (even PEOPLE Magazine says so!).
Today is Kate Winslet's birthday, and to celebrate this amazing woman, here are 17 Fun Facts about Kate Winslet!
17 Fun Facts About Kate Winslet
Kate got an early start to acting. She began intensive training as a 10-year-old at the Redroofs Drama School in England.
Her first major role was in a television mini-series called Anglo Saxon Attitudes at the age of 17.
While Kate was working on her acting chops, she was also slinging pork chops in a deli in England. She was actually working there when her agent called and told her she got the role of Juliet Hulme in Heavenly Creatures (a role that won her the British Film Actress of the Year Award in 1996).
Kate was the only one not wearing a wet suit during those water scenes in Titanic. PRO.
And it should come as no surprise that her and Leo have remained life-long friends. Kate has mentioned in interviews that they talk every night, her kids call him "Uncle Leo" (OMG!), and he even walked her down the aisle during her marriage to Ned Rocknroll.
Kate's Oscar for The Reader made her the youngest actor to have been nominated six times for an Oscar at just 33 years old.
Kate keeps an Oscar in her bathroom so friends can practice their 'win speech' in the mirror…serious BFF goals.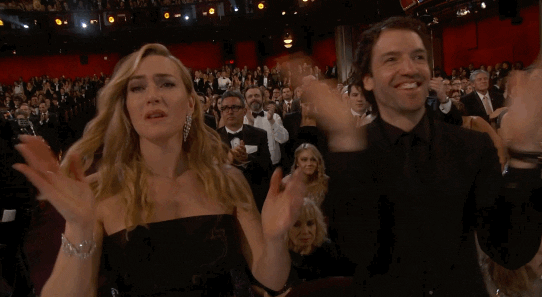 Kate is such a good actress that she won an Emmy for playing…herself. She played a comedic version of herself in the British show, Extras (this is also one of the best episodes of this series, BTW).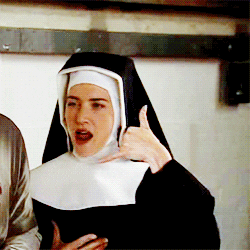 After she was cast as Rose DeWitt Bukater in Titanic, she sent James Cameron a bunch of roses to thank him for casting her. Class move, Kate!
She also recorded a song for the movie, Christmas Carol: The Movie called "What If?". It was released as a single and reached the top ten in the United Kingdom.
Kate was originally cast as Nola Rice in Woody Allen's Match Point, but had to drop out at the last minute. The role then went to Scarlett Johansson.
The film Revolutionary Road, which reunited her with Leo, was directed by her then-husband, Sam Mendes. The various sex scenes between her and Leo had to be filmed in front of her husband…which she said was a "profoundly weird experience".  Ya don't say?!
Her role in The Reader helped her become one of only about 9 actresses to have won the Academy Award, BAFTA Award, Critics' Choice Award, Golden Globe Award, and SAG Award for the same performance.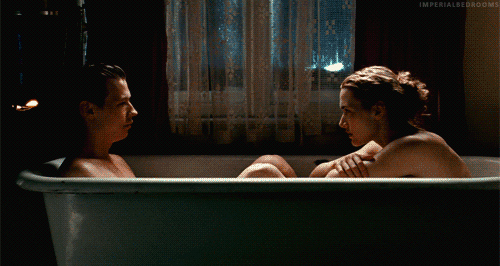 Kate also has a Grammy for Best Spoken Word Album for Children for her reading of Listen to the Storyteller.
Kate has no shame about her body. She's appeared nude in more than 15 movies.
Of all the movies she's done, she feels the most pride for her performance in Eternal Sunshine of the Spotless Mind.
Acting also runs in Kate's blood. Her parents, Roger and Sally Winslet, are both actors and her grandparents founded the Reading Repertory Theatre.
Sometimes you just need a little fun in your life! Check back every week for a new "Just Bee-cause" post, where I discuss everything from celebrity news to favorite videos and websites!