Up your cake decorating game with this collection of 20 Next Level Baking HACKS!  Whether you want your boxed cake to taste like it was professionally made or you need a replacement for sugar or butter, this assortment of tips, printables, charts and more will help your cakes, cookies, brownies, and cupcakes look (and taste) better!
20 Next Level Baking HACKS!
Want to make a boxed cake taste better?  Add one more egg than listed on the box, replace oil with melted butter and double the amount, replace water with an equal amount of milk, then mix and bake according to package instructions.  If that's too much work, just combine all the listed ingredients and add a teaspoon of vanilla extract.
Keep this list of baking swaps handy for last-minute changes.
Use toothpicks to attach bread to a sliced cake to keep every piece nice and fresh.
You can also use a slice of bread to keep your freshly baked cookies nice and soft.
When using a hand mixer, use a paper plate to prevent batter from splattering your kitchen.
Are you terrified to write on a cake?  I AM!  To limit the stress, use a toothpick to outline your lettering or design before piping.
Keep chocolate chips suspended in your cookies by rolling them in flour first.  You can also keep berries suspended in cakes or blueberries suspended in muffins by rolling them in flour as well.
Use unflavored dental floss to evenly slice a cake in half.  I LOVE this hack and use it all the time!  Just place toothpicks evenly around the cake to help guide and line up the floss.
Flip a muffin tin over to make edible chocolate chip cookie bowls.
Create the ultimate non-stick release by combining flour, shortening, and vegetable oil.  Find the exact recipe at ifyougiveablondeakitchen.com.
Use a piece of masking tape to help level off cocoa powder.
Here's a helpful chart with conversions on how to change metric to standard.
Get room temp butter lickety split by pouring boiling hot water into a glass.  Dump out the water and flip it over your stick of butter.  Let it sit for a few minutes and your butter will be softened in no time.
Here's a helpful chart for replacing sugar with honey in your baked recipes.
Use this helpful guide to create a perfect circle of parchment paper for your round cakes.
One cup sifted all-purpose flour does NOT mean the same as on cup all-purpose flour, sifted.  One cup sifted all-purpose flour means you sift the flour BEFORE you measure it.  One cup all-purpose flour, sifted means you sift the flour AFTER you measure it.
Speaking of flour, the perfect cake and cookie comes from measuring your flour correctly.  Avoid scooping flour out of the bag with your measuring cup.  This often results in getting more flour than you need.  Instead spoon the flour into the measuring up, then level off with a knife.
Spray your measuring cups with non-stick spray before measuring out sticky substances, like honey, syrup, and molasses.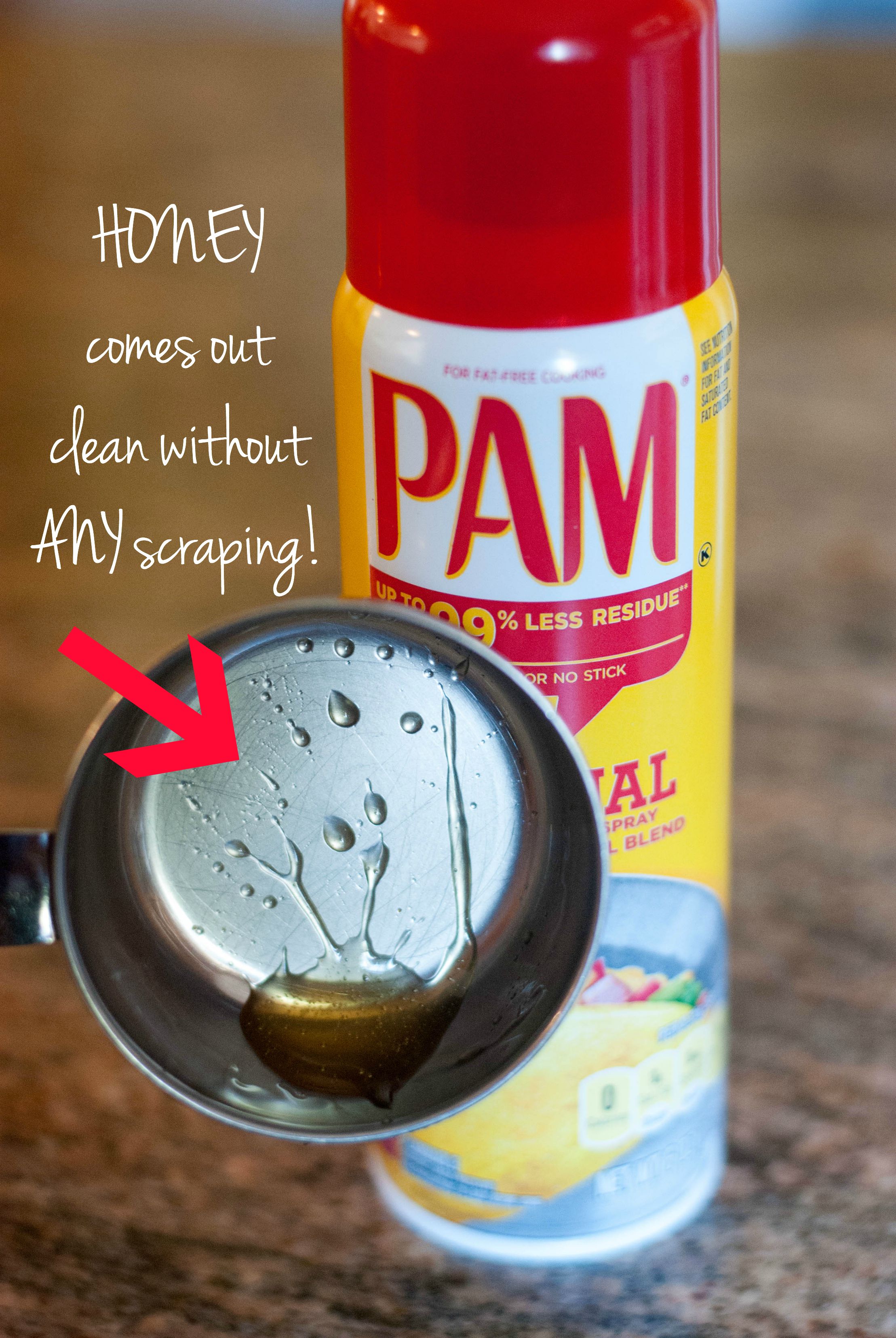 Here are some great cookie substitutions.  Replace 1 egg with 1 banana or 1 cup butter with 1 cup apple sauce.  You can also replace 1 cup butter with 1 avocado for chocolate cookies, or 1 cup butter with 1 cup Greek yogurt.
Here's a list of temperature conversions if you need to convert Celsius to Fahrenheit or visa versa.
Every Monday is a "Reci-bee" post, where I share my favorite recipes, recipe collections, and cooking and baking hints and tips.