Put on your yamacha, it's time to celebrate Hanukkah!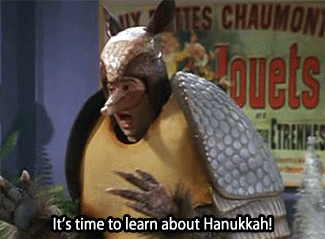 Like almost EVERY JEWISH HOLIDAY, Hanukkah is commemorated by eating food…lots and lots and lots of food.  We play dreidel for chocolate coins, we eat potato pancakes and donuts fried in oil, and if we're really lucky, we get to dine on brisket, mandel bread, and rugulah cookies (or as we call them in our house, JEW-galah cookies!).
While lighting the menorah and playing dreidel are important traditional rituals that make this holiday so fun, you really can't celebrate Hanukkah without eating some tasty food…so here are 15 delicious recipes that you can make for Hanukkah, or any day!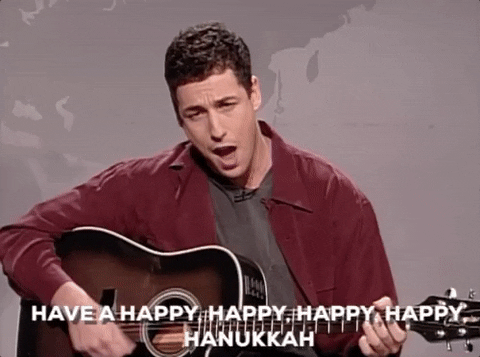 15 Recipes for Hanukkah
Jumbo Potato Pancake with Sage
Crispy Potato Latkes
Caramel Apple Upside Down Noodle Kugel
Olive Oil Cake
Pinata Dreidel Cookies
Mandel Bread
Chocolate Pumpkin Almond Rugelach
Perfect Potato Latkes
Jelly Doughnuts (Sufganiyot)
Salted Chocolate Caramel Tart
Gingerbread Hanukkah Cookies
Stained Glass Hanukkah Cookies
Homemade Hanukkah Gelt
Jelly Doughnut Muffins
Hanukkah White Hot Chocolate
Every Monday is a "Reci-bee" post, where I share my favorite recipes, recipe collections, and cooking and baking hints and tips.