While several holiday movies can bring a tear to my eye (A Charlie Brown Christmas, ami right!?), there's only one that makes me break down and weep like a disturbed child…
THE FAMILY F*CKING STONE.
If you haven't seen this movie, it's totally worth seeing…but I urge you to have the following on hand:
Tissues
More tissues
EVEN MORE TISSUES
All the comfort food to warm your soul
Coffee (THEY DRINK SO MUCH COFFEE IN THIS MOVIE)
I can't watch this movie more than one time during the Christmas season, but it's still one of my favorite holiday flicks.
With an all-star cast (Diane Keaton, Rachel McAdams, Sarah Jessica Parker, Dermot Mulroney, Claire Danes, Craig T. Nelson, Luke Wilson), this movie doesn't skimp on amazing acting performances. It's sad, it's happy, it's bittersweet in that holiday-magic-Christmas-movie kind of way…and, maybe most importantly, it's relatable.
Since it's the holiday season, I will commit to watching The Family Stone ONCE, and I fully expect a plate of mac and cheese and double-stuffed OREOS when it's over.
Now celebrating it's 12th year as one of the must-watch holiday movies, The Family Stone is bound to become a holiday favorite…so let's dive in and take a look at what this cast of characters has been up to recently…
The Family Stone: Where Are They Now?
Sarah Jessica Parker (Meredith Morton)
Probably best known for her role as Carrie Bradshaw in Sex and the City, Sarah Jessica Parker has been acting in movies and TV since she was a child. She spent a good portion of her years after SatC on stage…and in 2005 made her return to film after a hiatus from Hollywood in the movie, The Family Stone. Parker actually received a Golden Globe nomination for Best Actress in a Comedy for her role as the uptight Meredith Morton. Parker went on to guest-star on Glee in a role very similar to the one that put her on the map. Currently Parker runs her own production company, Pretty Matches, which has been creating content for HBO and other channels since 2009. The company is currently running a web series called "City.Ballet", which takes viewers behind the scenes with dancers of the New York City Ballet. In 2017, Parker announced that she will be partnering with the American Library Association to create Book Club Central, a new online platform that will provide reading resources, including recommendations, expert-curated book lists, and other content for book clubs and readers. Parker will serve as the honorary chair and will choose the books for the platform, as well as post discussion topics.
Rachel McAdams (Amy Stone)
Rachel McAdams is a product of the great land of Canada. After getting her start in Canadian TV, McAdams made the jump to Hollywood around 2004 with her landmark roles in Mean Girls and The Notebook. After her work as Amy in The Family Stone, she was hailed by the media as Hollywood's new "it girl", and received a BAFTA nomination for Best Rising Star. After a brief brak from acting, McAdams came back with powerhouse roles in True Detective and Spotlight, a role which earned her an Academy Award nomination for Best Supporting Actress. In 2017, she appeared in the film, Disobedience and you can see her again in 2018 in the film, Game Night, which is a murder mystery party-style thriller that will also star Jason Bateman.
Diane Keaton (Sybil Stone)
No stranger to the screen and stage, it's no surprise that Diane Keaton blew us away with her portrayal of Sybil Stone in The Family Stone. The role earned her a Satellite Award nomination. For the rest of the 2000's, Keaton did a handful of rom-com's and comedies that all earned medium success. In 2010, she reunited with her Family Stone co-star, Rachel McAdams, for the film, Morning Glory. As of 2016, Keaton has a variety of film projects in different states of production. She's set to appear in a British romance, Hampstead, also starring Brendan Gleeson, and the Netflix comedy, Divanation, which will reunite her with her First Wives Club co-stars, Bett Midler and Goldie Hawn, to portray a singing group that reconnects after a volatile split 30 years prior.
Dermot Mulroney (Everett Stone)
A staple in the rom-com genre, Dermot Mulroney is maybe best known for his part opposite Julia Roberts in My Best Friend's Wedding. Mulroney has also appeared in many westerns, either playing an outlaw or a gunman. After his role as Everett Stone, he appeared in a few other films and had reoccurring role as Zooey Deschanel's "fancyman" boyfriend, Russel in the Fox series, New Girl. Mulroney is also an accomplished cellist and has appeared alongside Alanis Morissette and Melissa Etheridge. He also played the cello in the film, Samantha. In 2017, Mulroney had a role in the film, The Mountain Between Us, and is expected to return to TV next spring for New Girl's final season.
Claire Danes (Julie Morton)
Claire Danes is a celebrated (and well-educated) actress. After her role as SJP's sister, Julie Morton, in The Family Stone, Danes went on to appear in a few more films, including Evening, Stardust, and Me and Orson Welles. However her best work was on TV. She starred as Temple Grandin in the 2010 made-for-TV movie, Temple Grandin, and since 2011 has played Carrie Mathison on the series, Homeland.
Luke Wilson (Ben Stone)
One half of the famous Wilson brothers duo (there are actually three brothers, though Luke and Owen share the most fame), Luke Wilson was the comic relief The Family Stone needed. After his portrayal as the fun-loving Ben Stone, Wilson appeared in 3:10 to Yuma, Blades of Glory, Concussion, Rock Dog, and most recently, Measure of a Man in 2017. Wilson and his brother, Owen, have also co-written a Wright Brothers biopic, in which they both plan to star. There has been no release date yet for that film.
Craig T. Nelson (Kelly Stone)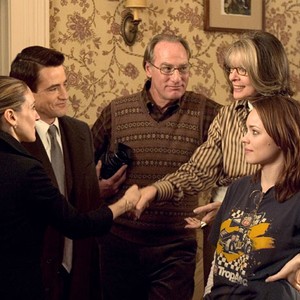 An early member of The Groundlings comedy troupe, Craig T. Nelson was a regular performer at The Comedy Store. In 1973, he left the world of comedy, saying it left him "unfulfilled" and made the shift to dramas. As was the case with his co-star, Diane Keaton, Nelson was also nominated for a Satellite Award for his portrayal as Kelly in The Family Stone. After that, he reunited with Luke Wilson in Blades of Glory and made a name for himself in the series, Parenthood, as Ezekiel Braverman. Nelson also voiced the character of Mr. Incredible in Disney Pixar's The Incredibles, a role which he plans to revisit for The Incredibles 2, due out in 2018.
Tyrone Giordano (Thad Stone)
Like his character in The Family Stone, Tyrone Giordano is deaf in real life. After his role as Thad, the deaf and gay member of the Stone family, Giordano played the deaf brother of Ashton Kutcher's character in the film, A Lot Like Love. He can also be seen in the 2008 film, Untraceable, starring Diane Lane. Giordano was recently on stage in Pippin and in the 2010 film, The Next Three Days.
Elizabeth Reaser (Suzannah Stone)
You may know her from Twilight or Grey's Anatomy, but Elizabeth Reaser has had quite the career. After her small but meaningful role as Suzannah Stone, Reaser went to star in the Twilight series, as well as several other films, including Puccini for Beginners, Hello, My Name is Doris, and Ouija: Origin of Evil. She also had a long-standing run as Ava/Rebecca in Grey's Anatomy and also had roles in True Detective, Mad Men, and most recently, The Haunting of Hill House, a miniseries due out in 2018 (Netflix original).
Brian J. White (Patrick Thomas)
Brian J. White, who played Thad's partner, Patrick Thomas, is a graduate of Dartmouth College. He got his start in TV, appearing in Moesha, The Parkers, and The Shield before moving to films. After The Family Stone, White had a handful of other movie roles, as well as having a regular role in the series Men of a Certain Age. He has appeared in the series Scandal as the love interest of Olivia Pope and is currently acting in NBC's Chicago Fire.
Sometimes you just need a little fun in your life! Check back every week for a new "Just Bee-cause" post, where I discuss everything from celebrity news to favorite videos and websites!