You may know him from Juno or Spiderman…you may also know him from his Oscar-winning performance in Whiplash or his portrayal of a Nazi skinhead in HBO's Oz. Even if you've never seen him on screen, you surely know J.K. Simmon's voice.  Countless commercials, TV shows, and video games have used his sultry words to narrate their messages.
On January 9th, J.K. Simmons will celebrate his 63rd birthday…and I can't wait to see what 2018 has in store for him!
Easily one of my favorite actors, Simmons got a very late start acting, landing his first movie role at the age of 40. Since then, he's garnered hundreds of nominations, several awards, and a slew of roles that show what a versatile actor this man is…
In celebration of J.K. Simmons' upcoming birthday, here are 16 Fun Facts about J.K. Simmons!
16 Fun Facts about J.K. Simmons
J.K. Simmons' real name is Johnathan Kimble Simmons, Kimble being his mother's maiden name. Simmons wanted to keep his original name, however most variations of his name were already registered at the actors' unions when he was starting his career. He decided to go with J.K., noting that he chose the moniker "well before Ms. Rowling had her Potter books."
Simmons graduated from the University of Montana with a degree in music. His studies included voice, composition, and conducting. The background served him well for his Oscar-winning role as Terence Fletcher in Whiplash.
He can play every instrument in the orchestra, but none of them well.
Simmons also comes from a musical background…his father was a music educator and conductor.
Before he became an actor, Simmons worked for a company in Seattle that provided singing telegrams. He would get an address, grab a bunch of balloons, and show up to sing a telegram…in a tutu. He was one of several bearded or burly men who would sing (in falsetto) messages to people in tutus.
Simmons grew up in Ohio, where he played football for several years. When his knees became a problem and forced him to stop playing, he became a hippie instead, "…listening to my Jimi Hendrix and Janis Joplin and turning on, tuning in, and dropping out."
Simmons made his film debut in the 1994 movie, The Ref, making him just under 40 when he scored his first role.
Before switching to movies, Simmons was a man of the stage, performing in revivals of Peter Pan and Guys and Dolls. Once his children were born, he left theater permanently. However, now that his kids are heading off to college, he has hinted that he may return to the stage…FINGERS CROSSED!!
Simmons has appeared in every one of Jason Reitman's movies.
He has also voiced the Yellow M&M for more than 20 years.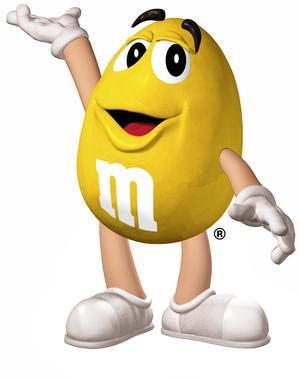 Simmons' wife, Michelle Schumacher, was also on Oz (she was the woman supposed to marry Agamemnon Busmalis). They married in 1996 and have two children together.
He has also appeared in five Best Picture Oscar-nominated films, including The Cider House Rules (1999), Juno (2007), Up in the Air (2009), True Grit (2010) and Whiplash (2014).
His role in Whiplash earned him 47 awards, including his first Oscar for Best Actor.
He's also one of three cast members to appear in every episode of HBO's Oz.
Simmons was so impressed with the Juno script that he was ready to play any character just to be part of the cast. He even offered to play the teacher, who didn't have any lines of dialogue in the film.
In 1999, Simmons played the manager of the Detroit Tigers baseball team in For the Love of the Game. Simmons was actually born in Detroit and is an avid fan of the Tigers.
Sometimes you just need a little fun in your life! Check back every week for a new "Just Bee-cause" post, where I discuss everything from celebrity news to favorite videos and websites!