If you haven't seen it by now, I highly suggest you find the time to check out Disney Pixar's newest masterpiece, Coco. A story about life, love, death and everything in between, this heartwarming movie stars an all-Latino cast…and is absolutely STUNNING to see in theaters!
Coco recently won the Golden Globe for Best Animated Movie (duh) and I wouldn't be surprised if it takes home at least a couple Academy Awards as well. If you've already seen Coco or are interested in learning a little bit more about how this movie came to be, here are 17 fun facts that may surprise you!
17 Fun Facts about Disney Pixar's Coco
Marigolds play a huge role in Dia de Los Muertos, helping to guide spirits home to their loved ones. Therefore, marigolds are the only living plants in The Land of the Dead.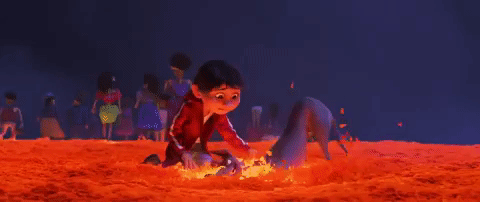 Dante's breed is Xoloitzcuintli, which is the national dog of Mexico.
When you see anyone playing the guitar in Coco, they are actually playing the correct notes. Animators studied videos of musicians to make the guitar playing as authentic as possible.
There were 500 individual pieces of clothing created for background characters.
The cleft that appears in Ernesto's chin when he is alive also appears in his chin when he is dead. His bones are so pristine because he's so well-remembered by family and friends.
The director of Coco (Lee Unkrich) also directed Toy Story 2, Monsters, Inc., Finding Nemo, and Toy Story 3.
In totality, the film took 7 years to make.
To stay true to the story, Coco features an all-Latino cast, including Benjamin Bratt, Gael Garcia, Bernal, Edward James Olmos, and Gabriel Iglesias.
Coco marks Anthony Gonzalez's (Miguel) first film. He was also 12 (just like Miguel) when recording his lines and has previously made TV appearances on Criminal Minds and Beyond Borders.
Unkrich's son was actually responsible for creating the design on Ernesto de la Cruz's guitar.
In true Pixar form, there are several Easter eggs in this movie, including an appearance by the Pizza Planet truck, Toy Story and Monsters, Inc. piñatas, and a poster for The Incredibles.
Just like his character, Anthony Gonzalez loves to sing. Every time he sang for the film, it reminded him of his grandpa, who passed away when Gonzalez was 6 years old.
Edward James Olmos accepted his part in the movie without even reading the script. The director pitched him the idea – that if you don't tell the stories of your loved ones, they cease to exist – and Olmos signed on immediately.
Coco opened in Mexico almost four weeks before it opened in the US. It quickly surpassed The Avengers (2012) as the country's highest-grossing film.
The Land of the Dead is inspired by the Mexican city of Guanajuato, which is known for its colorful houses that almost looked stacked.
The orchestra conductor for Ernesto's musical show, "Sunrise Spectacular", is a caricature of the film's composer, Michael Giacchino.
Despite the film's predominately Latino cast, John Ratzenberger continues his streak of appearing in every one of the studio's feature films. In Coco, Ratzenberger plays a ghost named Juan Ortodoncia. He is allowed to cross over to the land of the living because his dentist remembers him.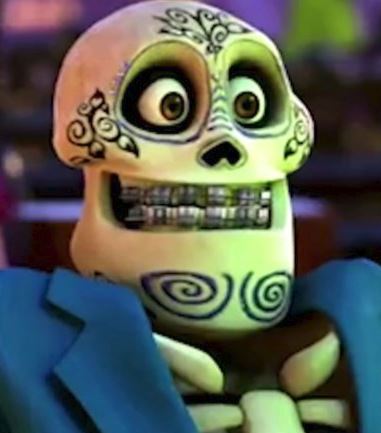 Sometimes you just need a little fun in your life! Check back every week for a new "Just Bee-cause" post, where I discuss everything from celebrity news to favorite videos and websites!