WOW…OK it's been WAY TOO LONG since I've continued this project but hey, book four in the Harry Potter series is a freaking BEAST…so, just calm down.
Let me just say something…Harry Potter and the Goblet of Fire used to be my favorite Harry Potter book. It was the first book I bought at the midnight release and I walked all over The Taste of Chicago the next day reading it (and if you've seen this book IRL, you know how challenging that must have been).
Every time I re-read Harry Potter, I loved book four…except this time. Was it just overexposure? Am I reacting to the story differently now? Whatever the reason, I just didn't find myself loving this book as much as I remember loving it in the past.
Of course, that's not to say I didn't like it. I still love this book (I mean, Mad Eye Moody is pretty much one of my favorite characters), but as seen in other areas of this project, I guess some stories that have become such a part of your life change along with you…often in unexpected ways…
Check out parts 1, 2 and 3 of this project here:
Thoughts I've Had Reading Harry Potter Again as a 30-Something
OK, let's make like Victor Krum and dive into this…
d
Thoughts I've Had Reading Harry Potter Again as a 30-Something
Part 4: Harry Potter and the Goblet of Fire
 'The Riddle House' chapter still terrifies me.
'You will milk her before we retire, Wormtail,' said the second voice. 'I will need feeding in the night. The journey has tired me greatly.'
HOW do you milk a snake? You know what, I don't even want to know…
Wouldn't Frank the caretaker know just a TAAAAD about wizard life after living with the Riddle family for so long?
As for informing the Headmaster, Harry had no idea where Dumbledore went during the summer holidays. He amused himself for a moment, picturing Dumbledore, with his long silver beard, full-length wizard's robes and pointed hat, stretched out on a beach somewhere, rubbing suntan lotion into his long crooked nose.
I just can't get this out of my head:
I'm still mystified by how owls know how to find people…especially people that have gone into hiding.
He was tall, with long hair that he had tied back in a ponytail. He was wearing an earring with what looked like a fang dangling from it. His clothes would not have looked out of place at a rock concert, expect that Harry recognized his boots to be made, not of leather, but of dragon hide.
Can we just all agree that Bill is the hottest Weasley? Yes?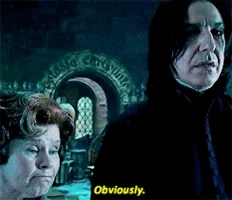 OK, moving on…
Why would anyone Apparate with the risk of being splinched?  Did we learn nothing from Willie Wonka?
So…technically…apperating and traveling via Portkey really aren't that different, right?  You just have to determine whether you're willing to risk having your body cut in half.
Do Veela work their enchant-magic on lesbian wizards, too?
I demand that we see a spectacle like the opening of the Quidditch world cup at all our culminating sporting events…just for the sake of interest.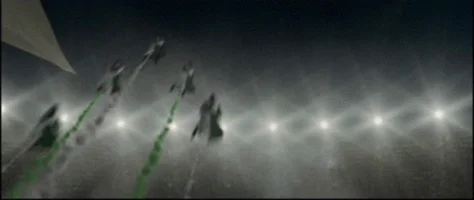 I wonder if J.K. Rowling has little cut-outs of these Quidditch players and actually plays the game in order to write it.
Does England or the US have a Quidditch team?
How did the conjuring of the Dark Mark not hurt Harry's scar?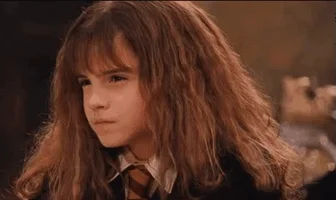 The film writers were wise to leave Percy out of the movies.  He's so insanely annoying.
We caught the Robertses before they hit the ground, though. They're having their memories modified right now.
What is this, Black Mirror? This is like the 10th time this guy has had his memory modified.
'Fine,' snapped Mrs. Weasley. 'Go naked. And Harry, make sure you get a picture of him. Goodness knows I could do with a laugh.'
That's a weird thing for a mom to say about her son.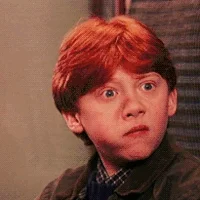 WHY do they still let Peeves haunt this school? Isn't here some magic priest or warlock who can come expel him? Do they not have sage in the magic kitchen?!
 'Twas Griffindor who found the way
He whipped me off his head
The founders put some brains in me
So I could choose instead!
WAAAAAIT, WHAT?! The Sorting Hat is filled with Abby Normal brains?!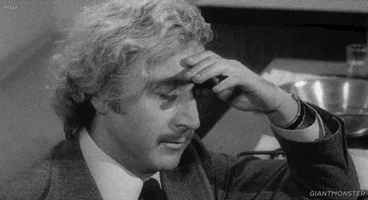 We have worked hard over the summer to ensure that, this time, no champion will find himself or herself in mortal danger.
So Dumbledore can use a spell to make sure people are of the right age to enter the Triwizard Tournament but there's no spell to make sure people are actually putting in their own names? Come on, Dumbly-dore!
'it is Uranus, my dear,' said Professor Trelawney, peering down the chart.
'Can I have a look at Uranus, too, Lavender?' said Ron.
Oh Ron…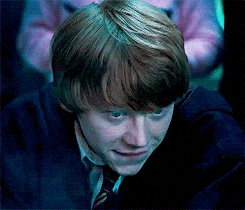 It wouldn't be the 1990's without some classic "yo mama" jokes:
The Owlery must smell god-awful.
OK I NEVER got as much homework as these poor kids get at Hogwarts.
The decorations in the Great Hall had changed this morning. As it was Hallowe'en, a cloud of live bats was fluttering around the enchanted ceiling, while hundreds of carved pumpkins leered from every corner.
Um…hell to the nah.
OK, so let's talk about the rules of this Triwizard Tournament. Since Harry's name was pulled from the Goblet, even though he didn't put his name in the Goblet and even though he's too young to even participate, he still HAS TO because the Gods of Magic will rain unholy hell on the school if he doesn't? So not only is Hogwarts the host school with home team advantage, but they also have 2 competitors?!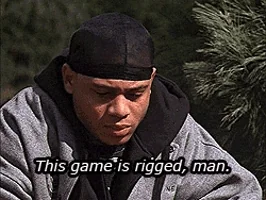 'Did you put your name into the Goblet of fire, Harry?' Dumbledore asked calmly.
EVERYTHING IS A LIE!!
Owing to the demanding and time-consuming nature of the Tournament, the champions are exempted from end-of-year tests.
Hogwarts: where students get 8 hours of homework every night but are somehow inevitably exempt from taking end-of-year exams EVERY FUCKING YEAR.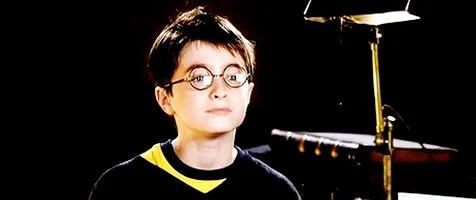 Mr. Ollivander spent much longer examining Harry's wand than anyone else's. Eventually, however, he made a fountain of wine shoot out of it, and handed it back to Harry, announcing that it was still in perfect condition.
Whoa, whoa, whoa…where the hell is THIS SPELL?!
They walked three times around the lake, trying all the way to think of a simple spell that would subdue a dragon.
Maybe they should give this gal a call…
'Let's try some simple spellbooks, then,' said Harry, throwing aside Men Who Love Dragons Too Much.
What, exactly, might this book entail?
Also, speaking of dragons, don't these flesh-eating monsters seem a bit harsh for the FIRST TASK in this tournament?
'Oh, don't mind me!' the Fat Lady called irritably after them. 'Don't apologize for bothering me! I'll just hang here, wide open, until you get back, shall I?'
Ron is kind of a little prat about finding a date to the Yule Ball. For someone who is so often judged about his looks, he's pretty freaking judgmental of everyone else.
Rita Skeeter is the definition of FAKE NEWS.
Do the Champions get to keep these screaming eggs?
So what are these Beauxbaton and Durmstrang kids doing all day when the Hogwarts kids are in lessons?
'Winky must not talk like that to Harry Potter!' said Dobby. 'Harry Potter is brave and noble and Harry Potter is not nosy!'
UM…I call bullshit. The entire existence of the series depends on Harry sticking his nose in where it doesn't belong.
NIFFLERS!!  I forgot they made an appearance in this book!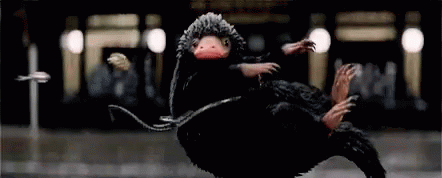 RIP, Cedric! For some reason, his death in the books is so much harder than in the movie…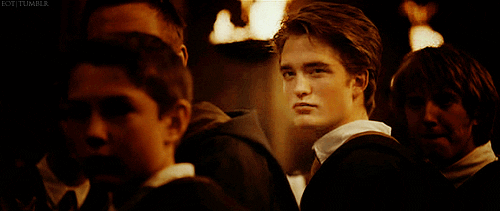 I mean, Voldemort is the worst and all, but nothing makes me hate him more than the fact that he talks about himself in the third person. That's SERIOUSLY one of my biggest pet peeves. He can join Elmo and Golem in the deep caves of hell for all I care.
'You all righ'?' he said gruffly.
'Yeah,' said Harry.
'No, yeh're not,' said Hagrid. 'Course yeh're not. But ye will be…what's comin' will come, and' we'll meet it when it does.'
Hagrid is the therapist we all need.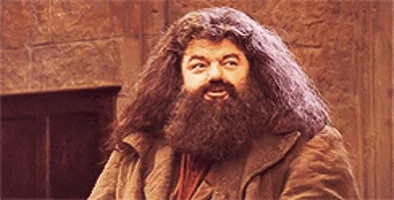 'Harry Potter managed to escape Lord Voldemort,' said Dumbledore. 'He risked his own life to return Cedric's body to Hogwarts. He showed, in every respect, the sort of bravery that few wizards have ever shown in facing Lord Voldemort, and for this, I honor him.'
Yuuuuuuup, same story, different day…
'…we are only as strong as we are united, as weak as we are divided.'
This quote is everything today. This should be our nation's mantra.
Hermione's revenge on Rita Skeeter is just so freaking satisfying.
'I don't want it and I don't need it. But I could do with a few laughs. We could all do with a few laughs. I've got a feeling we're going to need them more than usual before long.'
Oh Harry, how right you are…
Looking for a new book to read? Check in every Friday for a "Bee Happy" post, where I share reviews of books I've read or other book-themed lists.