Cranky! Today marks what would have been Steve Irwin's 56th birthday. Best known for his TV show The Crocodile Hunter, Irwin was a famous wildlife conservationist with a variety of TV shows and appearances. He and his wife, Terri owned and operated the Australia Zoo and appeared side by side in a collection of TV documentaries and specials about Australian wildlife.
On September 4, 2006, Irwin was pierced in the heart by a stingray barb while filming an underwater documentary film titled Ocean's Deadliest. His death was a shock to several fans, including our entire family. The Crocodile Hunter was as much a part of our Saturday morning ritual as was drinking coffee or eating breakfast together.
Thankfully, Irwin's family continues to carry on his legacy of wildlife conservation and, in order to celebrate Irwin's birthday and legacy, here are 14 snappy facts about The Crocodile Hunter himself!
14 Snappy Facts about Steve Irwin
Not surprisingly, Steve Irwin grew up at a zoo. His father was a wildlife expert (he studied reptiles) and his mother was a wildlife rehabilitator. When Irwin was a child, his family moved to Beerwah, Australia to open the Beerwah Reptile Park, which eventually became the Australia Zoo.
As a matter of fact, Irwin met his wife Terri at the Australia Zoo. Born in Eugene, Oregon, Terri was also passionate about wildlife conservation. She opened and ran Cougar Country, a facility that helped rehabilitate foxes, raccoons, bobcats, bears and more. On a trip to Australia to visit the zoo, Terri met Steve during one of his crocodile shows. She instantly fell for him and the couple got engaged just four months later.
The first episode of The Crocodile Hunter was filmed on Steve and Terri's honeymoon. The Irwin's were just as passionate about wildlife as the show portrayed them to be, so there was no question when they were planning their honeymoon…they just did what they loved to do.
While the show was popular in Australia, it was also extremely popular in America (duh), as well as 130 other countries around the world.
While Irwin would wrestle with some of the deadliest predators on the planet, he wasn't totally fearless when it came to the animal world. He had a slight fear of parrots and got some pretty horrible bites during his time working with wildlife.
While on a fishing trip with his dad, Irwin caught a turtle that didn't look like anything he had seen before. They sent a photo to a herpetologist who confirmed it was a new species never before seen. In honor of Irwin, the title was named Elseya irwini, or Irwin's snapping turtle. You can see one at the Baltimore National Aquarium if you're not an Aussie.
There's also a snail named after his famous catchphrase, "Crikey!", the crikey steveirwini.
Irwin's daughter, Bindi Sue, was named after two of his favorite pets – a saltwater crocodile named Bindi and a Staffordshire Bull Terrier named Sue.
Although the Irwin's were happily married, they did not wear wedding rings because they didn't want their jewelry to pose a hazard to them or the animals.
In 2005, Irwin provided the voice of an elephant seal named Trev for the 2006 animated film Happy Feet. The film was dedicated to him, as he died during post-production.
In 2017, it was announced that Irwin would receive a star on the Hollywood Walk of Fame posthumously.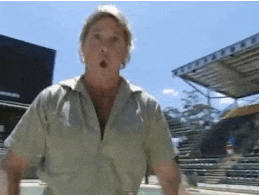 Irwin was buried in a private ceremony at the Australia Zoo. The gravesite is inaccessible to the zoo's visitors.
Irwin's best friend, Wes, is the director of the Australia Zoo. Irwin actually saved his life when Wes was attacked by a crocodile during a flood at the zoo.
Irwin died after being attacked by a stingray, however, his death was said to be only the third known fatal stingray attack in Australia and the 17th in the entire world. After his death, several stingray were found mutilated on the shores of Australia, most likely an act of violence by fans of his.
Sometimes you just need a little fun in your life! Check back every week for a new "Just Bee-cause" post, where I discuss everything from celebrity news to favorite videos and websites!