Rarely has a book come along that has impressed me quite like The Hitchhiker's Guide to the Galaxy. There's love! There's wit! There's humor! There's adventure! I've read the darn thing twice already and I still laugh out loud and find myself smiling through the entire story.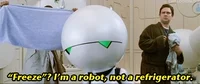 Hahahah, aww man…it's the simple humor that gets me every time.
Arguably one of the great parts of the book is when Deep Thought gives the answer – the BIG ANSWER – to Life, the Universe and Everything. Want to know what it is? Read on, weary travelers!
The Answer to the Great Question Necklace
Materials:
Jewelry chain
Jewelry wire cutters
Clasp (optional)
Jump rings
Jewelry pliers
Number charms
White clay
Long earring stem
Black clay
Green clay
Craft knife
Mod Podge
Painting brush
5-6 funky green beads
Jewelry wire (about 8-10 in.)
Directions:
Cut your jewelry chain to the desired length. If it's too small to fit over your head, you can add a clasp. Otherwise you can just join the two ends with a jump ring, up to you!
Lay your necklace out flat to find the center of the chain. Using jewelry pliers, attach a "4" and a "2" to the middle of the necklace, separated by about 3 or 4 chains.
To make your little Marvin, roll out a dime-sized piece of white clay into a ball. Insert long earring stem into bead to hold it while you work. Roll tiny amount of black clay into a log, then attach to bead to from mouth. Roll out green clay paper thin. Using craft knife, cut two tiny triangles. Attach to mouth as teeth. Bake your bead at 230 degrees F. for about 10 minutes (you can bake it on the earring stem, no need to remove it).
Once my bead was baked and cooled, I did a light coat of Mod Podge and let it dry.
Using pliers, create loop at end of jewelry wire. Place two funky green beads on jewelry wire, followed by Marvin bead, then three more funky beads. Feel free to switch this up however you like! Using pliers, create loop at top end of jewelry wire.
Lay wire with beads next to necklace wherever you'd like it to be. Using wire cutters, cut chain at top and bottom loop of wire with beads, then attach loops of wire to chain using jump rings.

And there you have it! A necklace showcasing the Answer to the Great Question…of Life, the Universe, and Everything (it's 42 in case that wasn't clear…the Answer is 42). 😉
Celebrate creativity every Wednesday with a "Creativi-bee" post, where I share easy craft tutorials, project ideas, and craft collections.