Yesterday commemorated Yom Hashoah, or Holocaust Remembrance Day. Usually a day filled with beautiful temple services, bittersweet music and showings of poetry and art created by those imprisoned in the death camps, Yom Hashoah is meant to be a day to remember those who perished so violently during World War II.
For years the Jewish people have said that, "to forget is to have let them die twice"…so we take at least one day a year to commemorate those who we've lost…not just our fellow Jewish relatives and friends, but also all the homosexuals, children, Gypsies and others who challenged Hitler's political and religious views.
While no one can truly understand why or how something like this could happen, it's important to know it did…and, in the words of Dwight Eisenhower, "if we do not know what we are fighting for, now we know what we're fighting against."
33 Important Facts about the Holocaust
*Warning – some of these images may be graphic for some viewers.
The Holocaust technically lasted about 12 years (from 1933 to 1945).
During that time, more than 11 million people were murdered…6 million of them were Jews and about 1.1 million were children.
More than half of all the people killed during the Holocaust were women.
And more than 1 million still remain unidentified.
One of the most brutal killings took place in September of 1941. At the Babi Yar Ravine, just outside of Kiev, Ukraine, more than 33,000 Jews were killed in just two days. Jews were forced to walk to the ravine's edge, where they were then shot and pushed into the abyss. The Nazis then pushed the wall of the ravine over, burying the dead and the living.
Prisoners in the camps, called Sonderkommando, were forced to bury and burn the dead so as to avoid the possibility of eyewitnesses. Most Sonderkommando were regularly gassed and fewer than 20 of the several thousand survived. Some Sonderkommando even buried their testimonies in jars before their deaths.
In the initial stages of the genocide, the Jews were forced into ghettos and denied the basic means of survival. The largest ghetto in Warsaw, Poland lost about 1% of the population each month.
The term "holocaust" comes from the Greek holo (whole) and kaustos (burnt). It refers to an animal sacrifice in which the entire animal is burned.
Jews weren't the only targets of the Nazi regime. Disabled people, those with differing political and religious views to Hitler, Jehovah's Witnesses and homosexuals were also targeted.
The majority of the people who were deported to death camps were transported in cattle wagons. These wagons did not have water, food, a toilet or ventilation. The longest transport took 18 days. When the doors opened, everyone was already dead.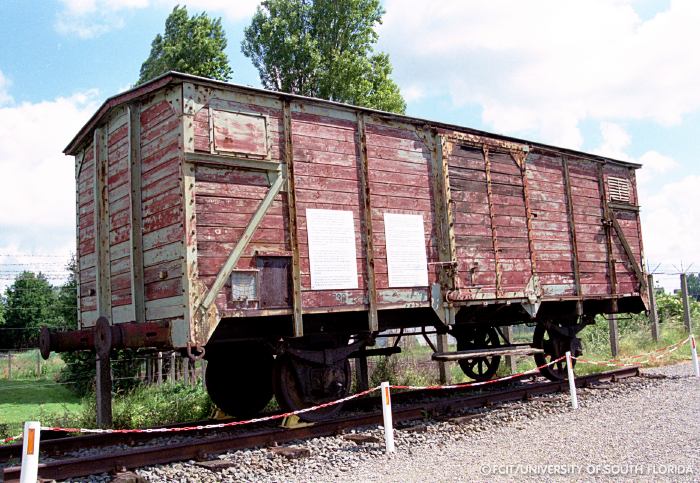 In 1935, Hitler introduced the Nuremberg Laws, which made it illegal for Germans to marry or have sex with Jews. It also deprived Jews of their German citizenship and most of their civil rights.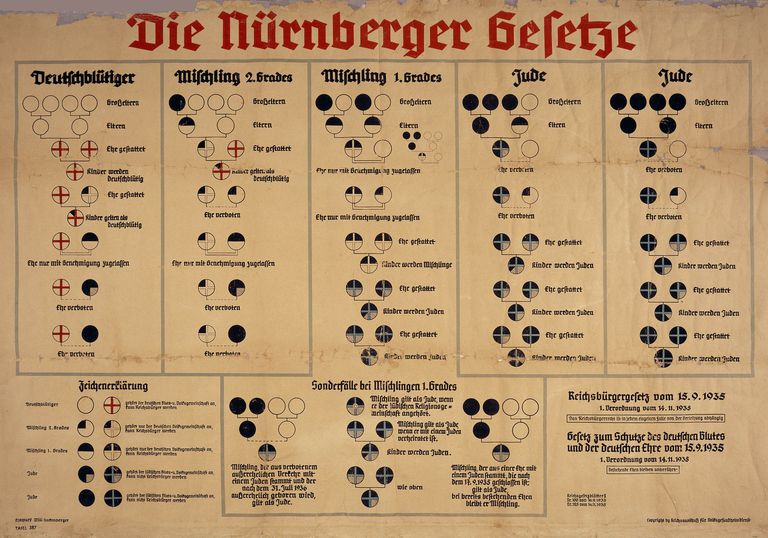 Muselmann, German for "Muslim", was slang for concentration camp victims who gave up any hope of survival. They would squat with their legs tucked in an "Oriental" fashion, with their shoulders curved and their head dropped. Jewish writer and Holocaust survivor Primo Levi stated that if he could "enclose all the evil of our time in one image, I would choose this image."
Carbon monoxide was originally used in gas chambers, but the Nazis eventually switched to a more toxic insecticide, Zyklon B. It took between 3 and 15 minutes to kill everyone in the gas chamber.
The company that created Zyklon B still exists as a pest control company.
The gas chambers at Auschwitz had the ability to kill up to 6,000 people a day.
There were several types of concentration camps all over Europe. Treblinka, Sobibor, Belzec, Chelmno, Auschwitz/Birkenau and Majdanek were the largest killing camps and were all located in Poland.
There was a selection process at the entrance to each death camp. Anyone who was pregnant, small children, sick passengers or anyone who was handicapped was almost immediately condemned to death.
Joseph Goebbels, the minister of propaganda and previous head of the Nazi organization, committed suicide along with his wife and six children in Berlin during the last week of the war.
After the war, the allies felt that the German people should know the crimes committed during the Holocaust. Many citizens were forced to view bodies found at the concentration camps.
General Eisenhower ordered every citizen of the German town of Gotha to tour the concentration camp Ohrdruf. After the mayor of the town and his wife did so, they went home and hanged themselves.
He also ordered every American soldier in the area who was not on the front lines to visit the camp as well. He said that if they did not know what they were fighting for, now they knew what they were fighting against.
To better mark who was who, Jews were forced to wear yellow stars and homosexuals were forced to wear pink triangles. They (falsely) offered homosexuals their freedom if they would agree to be castrated or submit themselves to sexual abuse and prostitution to help them with their research.
Auschwitz saw the most deaths during the duration of the Holocaust. More than 2 million people died there. The next closest camp with a high death count was Belzec, with 600,000 deaths.
The 'extermination' aspect of the Nazi death camps was kept under wraps. Very few outside Nazi Germany knew about the existence of these camps until a few years before the war ended…and even then, few believed it to be true. Most thought these 'rumors' were just more war propaganda.
Holocaust denial is now seen as an anti-semitic conspiracy and is illegal in 17 countries, including Germany, Israel, Poland and Austria.
The Nazis always used a code language in all the documents that were related to the Holocaust.
Anne Frank's concentration camp was liberated by British troops just weeks after her death.
Hitler planned to collect thousands of Jewish artifacts to build a "Museum of an Extinct Race" after the war.
The Leica Camera company helped hundreds of Jews before the Holocaust by hiring them and sending them abroad for work.
A Muslim family that saved Jews during the Holocaust was later saved by Israel during the genocide in Bosnia. They later converted to Judaism.
Dachau, the first Nazi concentration camp in Germany, opened six years before WWII officially started.
The SS officer who captured Anne Frank and her family later purchased her book to see if he was mentioned.
In Germany, there is a specific word for analyzing and learning to live with the past, specifically the Holocaust: "Vergangenheitsbewaltigung".