It's been about two weeks since John Krasinski's thriller, A Quiet Place, hit theaters…and if you still haven't seen this movie, you freaking need to sort out your life and just buy a ticket already.
Starring his real-life wife, Emily Blunt, along with somewhat newcomers Millicent Simmonds and Noah Jupe, A Quiet Place is the story about a family surviving in an post-apocalyptic world where they're hunted by monsters/aliens/creatures that use their incredible sense of hearing to find their next victim.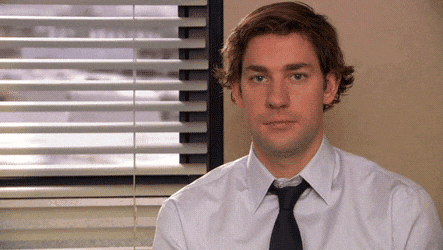 The few survivors must remain silent in order to survive in this world…so simple things like eating, talking, and just basically moving and living your life are virtually impossible.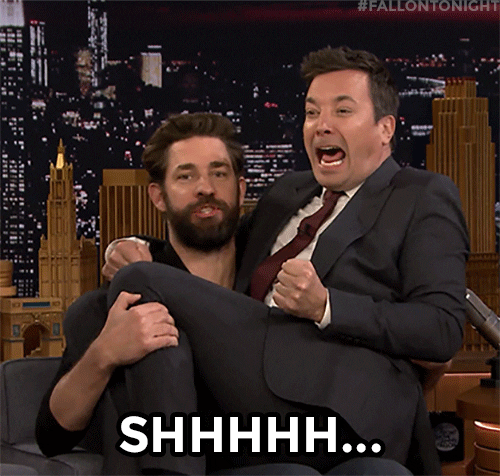 A movie that challenges audiences to heighten their senses, A Quiet Place will have you on the edge of your seat the entire time. While there are jump scares (they're few and far between and honestly you kinda see them coming), the true terror of this movie lies in the anticipation of the inevitable…
If you haven't seen A Quiet Place yet, stop reading now (or keep going if you don't mind spoilers!). WARNING – THERE ARE SPOILERS AHEAD. I won't ruin everything for you, but there are important plot points revealed here that might ruin the movie for you if you're looking for the full experience.
If you have seen it, OMG, RIGHT?! First off, Emily Blunt is beautiful in everything and anything she does. Second of all, I FULLY SUPPORT JOHN KRASINSKI KEEPING THAT SEXY AF BEARD FOREVER AND ALWAYS.
If you loved A Quiet Place and are looking for a reason to love it, and appreciate it, even more, here are 19 fun facts you're sure to love about A Quiet Place!
19 Fun Facts about A Quiet Place
There are real family photos of John Krasinski, Emily Blunt and their kids used in the background of the film.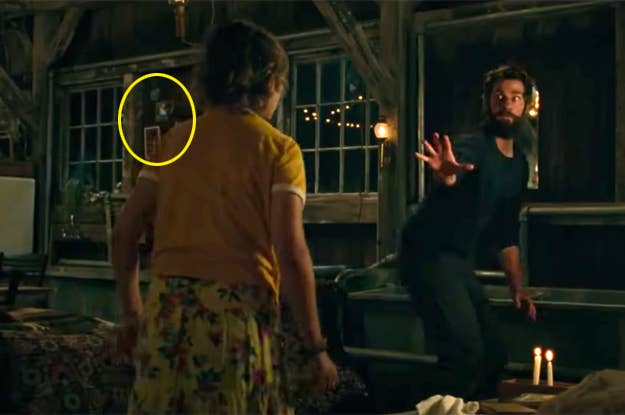 In the opening scene, the only food that remains on the shelves are chips…probably because they're too noisy to eat and open.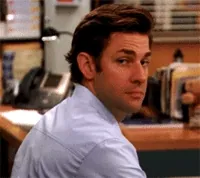 The actress who plays Regan (Millicent Simmonds) is deaf in real life. Krasinski said having a deaf actress play Regan was non-negotiable.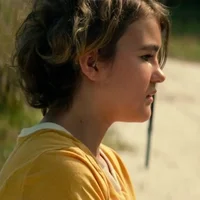 It was also Simmonds who suggested Krasinski sign "I've ALWAYS loved you" in that pivotal final scene, which made Krasinski cry.
The boy who plays Marcus (Noah Jupe) is British in real life. He was recommended to Krasinski by George Clooney, who had directed Jupe in Suburbicon.
Both Simmonds and Jupe would binge-watch The Office on the way to and from set. Honestly, I would, too.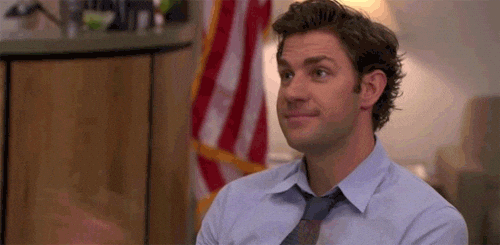 Someone made a mashup of A Quiet Place and The Office (because of course they did)…and it's everything you've ever dreamed.
The infamous bathtub scene was done in just one take.

The final look of the creatures in the film wasn't fully fledged out until pretty late in the process, during post production.
After reading the entire script, Emily Blunt told Krasinski he couldn't let anyone else but her play the role of Evelyn. Krasinski said it was "…the greatest compliment of my entire career." Seriously, how cute are these two?!?
Even the king of horror himself, Stephen King, had some encouraging words about the film: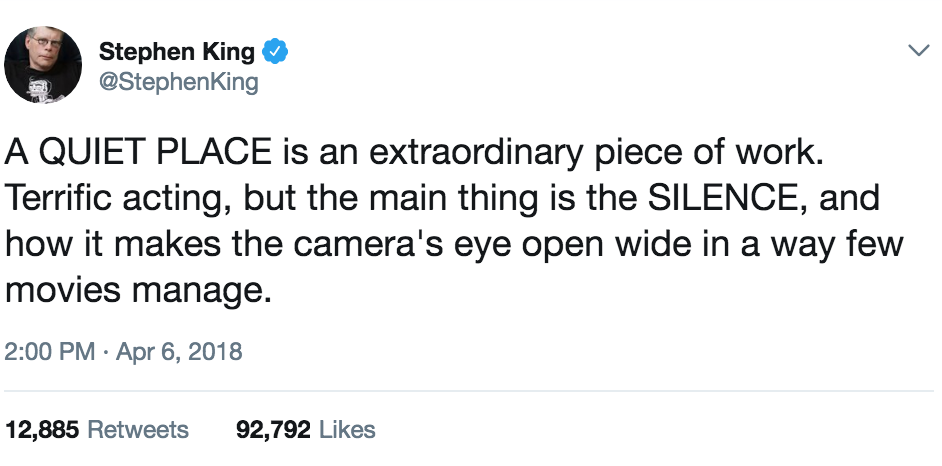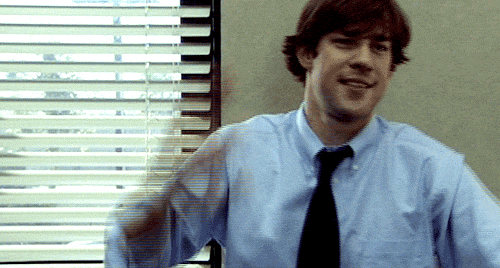 The removal of sound from this film was extremely important, so Krasinski went to the pros. Ethan Van Der Ryn and Eric Aadahl, who have worked on films like Godzilla and Transformers, were brought in to create "sound envelopes", putting audiences in a character's shoes to hear what they hear and how they might hear it.
When asked who their favorite actors were, Jupe said Leonardo DiCaprio (um, YAS) and Simmonds said Tom Hanks (ALSO YAS).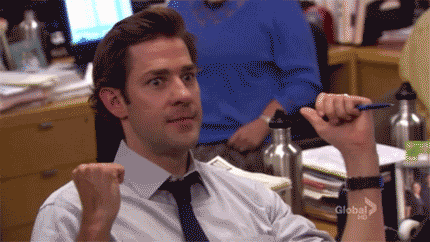 Jupe and Simmonds also said Krasinski and Blunt were super welcoming and encouraged them to share their opinions on certain scenes.
A Quiet Place marks Krasinski's third time directing, the first two being Brief Interviews with Hideous Men and The Hollars, both of which he also starred in.
The budget for the film was $18 million, with a portion of the budget being spent on the acquisition of 20 tons of corn. Farmers were hired to grow the corn at their main filming location of Dutchess County. I mean I'm just sayin' each ticket to this movie should have come with a voucher for free popcorn…
The original screenplay written by Bryan Woods and Scott Beck contained only one line of dialogue.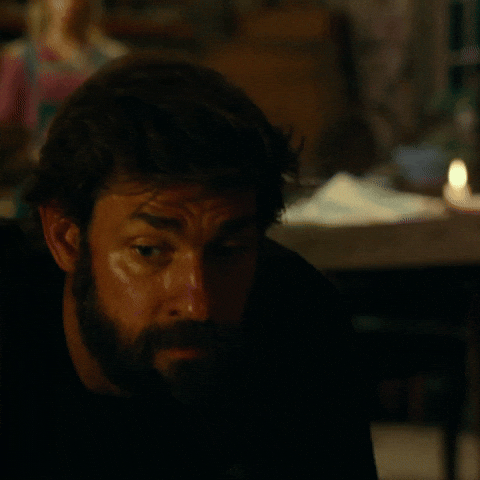 The entire film took 36 days to shoot.
The opening scene was actually the last one to be shot, as it required Krasinski to shave off most of his beard.
Sometimes you just need a little fun in your life! Check back every week for a new "Just Bee-cause" post, where I discuss everything from celebrity news to favorite videos and websites!