My movie taste is all over the damn place. I seem to love the stuff people hate and hate the stuff people love. I have yet to see any superhero movie that's come out since Wonder Woman, I haven't seen Black Panther, and I haven't even seen any of the new Star Wars movies…yet I'll watch movies like Fargo and Rushmore over and over and over again…I know, I know…what the F with myself?
It's not that I don't LIKE those movies, it's just I prefer the weird, awkward, dark humor of a classic Coen Brothers film. I always laugh when I'm not supposed to, but I love that. I love movies that make me think and maybe even make me a little uncomfortable. If I'm going to sit still for 2½ hours and stare at a screen, I want it to be worth my time.
That being said, when I first saw Fargo, I hated it. Granted I was probably 10 or 11 and that wood chipper scene basically scared me for life…but after having lived in the Midwest and the Upper Peninsula of Michigan for several years, I have to say that Fargo is maybe one of my absolute favorite films.
The attention to detail is amazing. The music is amazing. The cast is amazing. Even the costumes are so darn-tootin' amazing.
I literally laugh out loud every time I watch this movie and my husband and I quote it all the time (it's embarrassing how many times we've said, "Where is pancakes house?" when going out for breakfast).
Since I love learning all about the movies I love, I thought I'd share some fun facts I've found about the movie, Fargo. And before you ask, no, I haven't seen the show, but it's certainly in the ol' queue!  Just have to find the time to squeeze it in between re-watching SVU and finishing The Mindy Project. NOT ENOUGH HOURS IN THE DAY, GOSH DARN IT!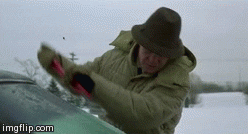 23 Fun Facts about Fargo
Before it became a TV show on FX, Fargo was originally meant to be a TV show back in 1997. The pilot, directed by Kathy Bates (yup, that Kathy Bates), starred a pre-Sopranos Edie Falco as Marge Gunderson. It was passed on by the major networks.
The 2014 independent film Kumiko, the Treasure Hunter is loosely based on the urban legend of Takako Konishi, a woman who had trekked from Tokyo to Fargo in search of the fictitious money hidden by Steve Buscemi's Fargo character, Carl. According to legend, she ended up freezing in the cold. This story proved to be false, made up by a police officer craving an interesting story. However, Konishi was a real person and she did indeed travel from Japan to Fargo…however she did so to commit suicide in her ex-lover's hometown.
Famed movie duo Siskel and Ebert gave Fargo way more than "two thumbs up". Ebert called Fargo "one of the best films [he's] ever seen" and added that "films like Fargo are why [he] loves movies".
At the 1997 Oscars, Fargo took home two Oscars: Best Original Screenplay (Coen Brothers) and Best Actress (Frances McDormand). Though nominated for several others, it lost the other major categories to The English Patient.
Fargo KILLED at the box office. The Coen Brothers worked with a small $7 million budget, but made a return investment of $60 million at the box office. Fargo is still their highest percentage return on investment at the box office to date.
The film's infamously lethal wood chipper is currently housed in the Fargo-Moorhead Visitors Center.
William H. Macy was so certain he was the man to play Jerry Lundegaard that he (jokingly) threatened to shoot the Coen Brother's dogs if they didn't cast him. He ended up getting an Academy Award nomination for the role, but lost to Cuba Gooding Jr. (Jerry Maguire).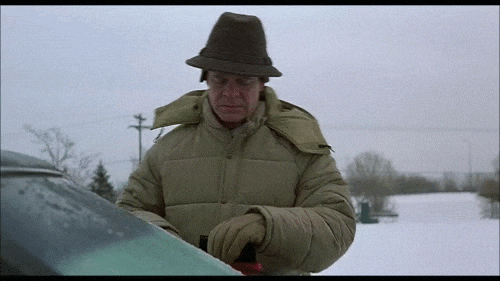 Despite the title, the only scene that actually takes place in Fargo is the opening scene, where Jerry meets with Carl and Gaear to reveal the plan to kidnap his wife. The rest of the movie takes place in either Brainerd or the Twin Cities area. Indecently, none of the filming was actually done in Fargo, MN.
Any fan of The Coen Brothers may notice that they are obsessed with missing money and kidnapping. These two plot devices appear in Fargo, as well as several of their other films (Blood Simple, The Big Lebowski, O Brother, Where Art Thou?, The Man Who Wasn't There, The Ladykillers, No Country for Old Men, Burn After Reading and Raising Arizona).
Every single one of Jerry Lundegaard's nervous stutters was carefully scripted. The simple inflections and stuttering that really made Macy's performance were mapped out by the brothers in the script.
To play pregnant Marge Gunderson, Frances McDormand sported prosthetic breasts and a faux-pregnant belly full of birdseed.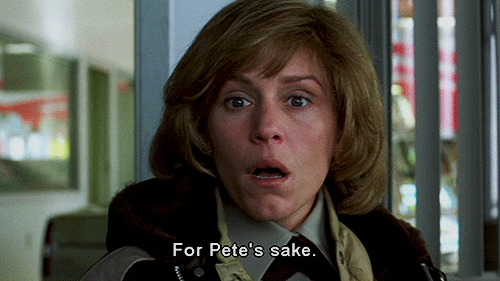 The picturesque scene at the opening of the movie with the bird in flight was unscripted, as were the other bird cameos in Barton Fink and Blood Simple.
Both Frances McDormand and William H. Macy had intense vocal coaching to get their accents just right. The actors were given copies of the scripts with extensive pronunciation notes. According to dialect coach, Larissa Kokernot, the "musicality" of the Minnesota accent comes from a place of "wanting people to agree with each other and get along", which is a dark and hilarious contrast to the ugly crimes committed throughout the movie.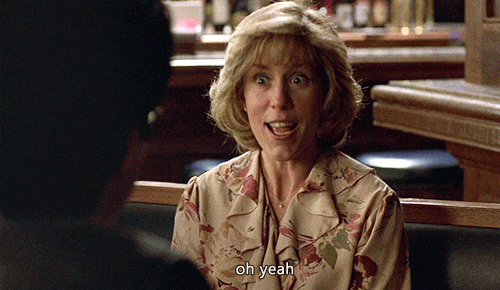 Not surprisingly, Fargo, MN has been voted the toughest weather city in America by the Weather Channel.
The Canadian Goose painting was borrowed from Jim and Bob Hautman, two of the US's most renowned painters of ducks. The Hautman's are childhood friends of the Coen's and their paintings have been featured on several Federal Duck Stamps.
The scene where the couple tries to make a deal with Jerry on their new car was from an actual experience Ethan Coen had at a dealership. It was "an almost verbatim transcript of my experience," he said.
The pin Jerry wears in that scene is for service to the dealership. Apparently Macy wouldn't do the scene without it.
The film's Paul Bunyan statue was made by production designer, Rick Heinrichs. The real statue (at least the one in MN) is located at an amusement park in Brainerd called "Paul Bunyan Land".
There are several scenes where Jerry is in front of a window with cars racing back and forth behind him. This theme was created for the audience to think about the people coming in and out of the area and how you never know if one of those cars holds a couple of serial killers. Jerry is also seen behind vertical blinds many times to give the illusion of him behind bars. The music in Fargo is based on a Norwegian folk song, Den Bortkomne Sauen (The Lost Sheep).
There is an entire website – AN ENTIRE WEBSITE – dedicated to the question of whether those two girls picked up by Carl and Gaear were actual prostitutes. Never mind that they're listed as "Hooker 1" and "Hooker 2" in the credits.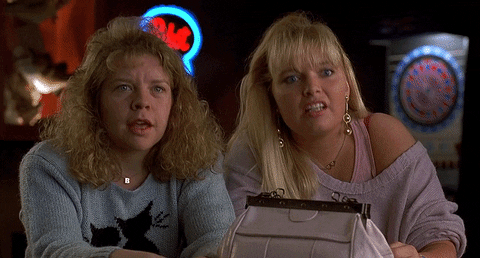 Ironically, "Hooker 1" (Larissa Kokernot) was the dialect coach for McDormand and Macy.
The show Jean Lundergaard is watching before her kidnapping (Good Company) was an actual afternoon talk show that aired in the 1980's and 1990's. It was hosted by Sharon Anderson and Steve Edelman.
Sometimes you just need a little fun in your life! Check back every week for a new "Just Bee-cause" post, where I discuss everything from celebrity news to favorite videos and websites!