Gordon Ramsay. You either love him or you hate him.
The host of Hotel Hell, Kitchen Nightmares, and Hell's Kitchen, as well as the chef behind more than 20 restaurants, Ramsay has been labeled one of the wealthiest celebrity chefs in the world today.
Often known for his fiery temper and hilarious insults,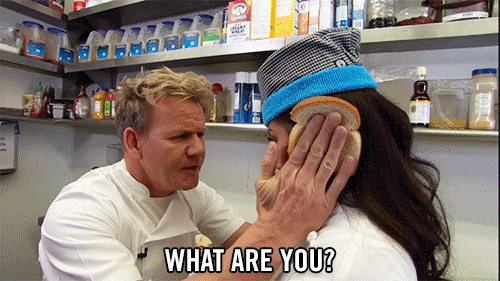 Ramsay has been in the public eye for more than 20 years now, cooking his way to the top – and earning 14 Michelin stars along the way. He delights, he entertains, and he's not scared to call people out on their B.S.
As a lover of food and just eating in general, I LOVE Gordon Ramsay. Sure, his shows are a bit over the top, but honestly he's just entertaining to watch. I mean, imagine watching Kitchen Nightmares and taking a drink every time he does his signature face rub: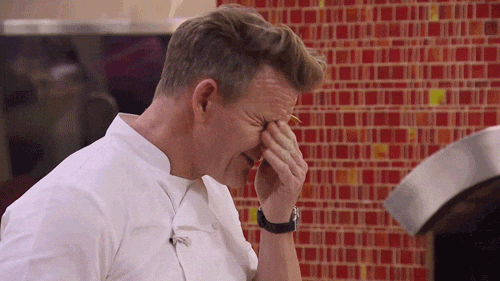 Actually, I can tell you from experience, this is not a fun game.
Regardless of how you feel about the Ram-man, you can't deny this guy's got skills. Here are 22 legit and impressive facts about the one and only Gordon Ramsay.
22 Fun Facts about Gordon Ramsay
Gordon Ramsay has a mobile game called "Gordon Ramsay Dash" that allows you to build your own restaurant empire. If you make a mistake, you might even hear him yell a famous insult at you!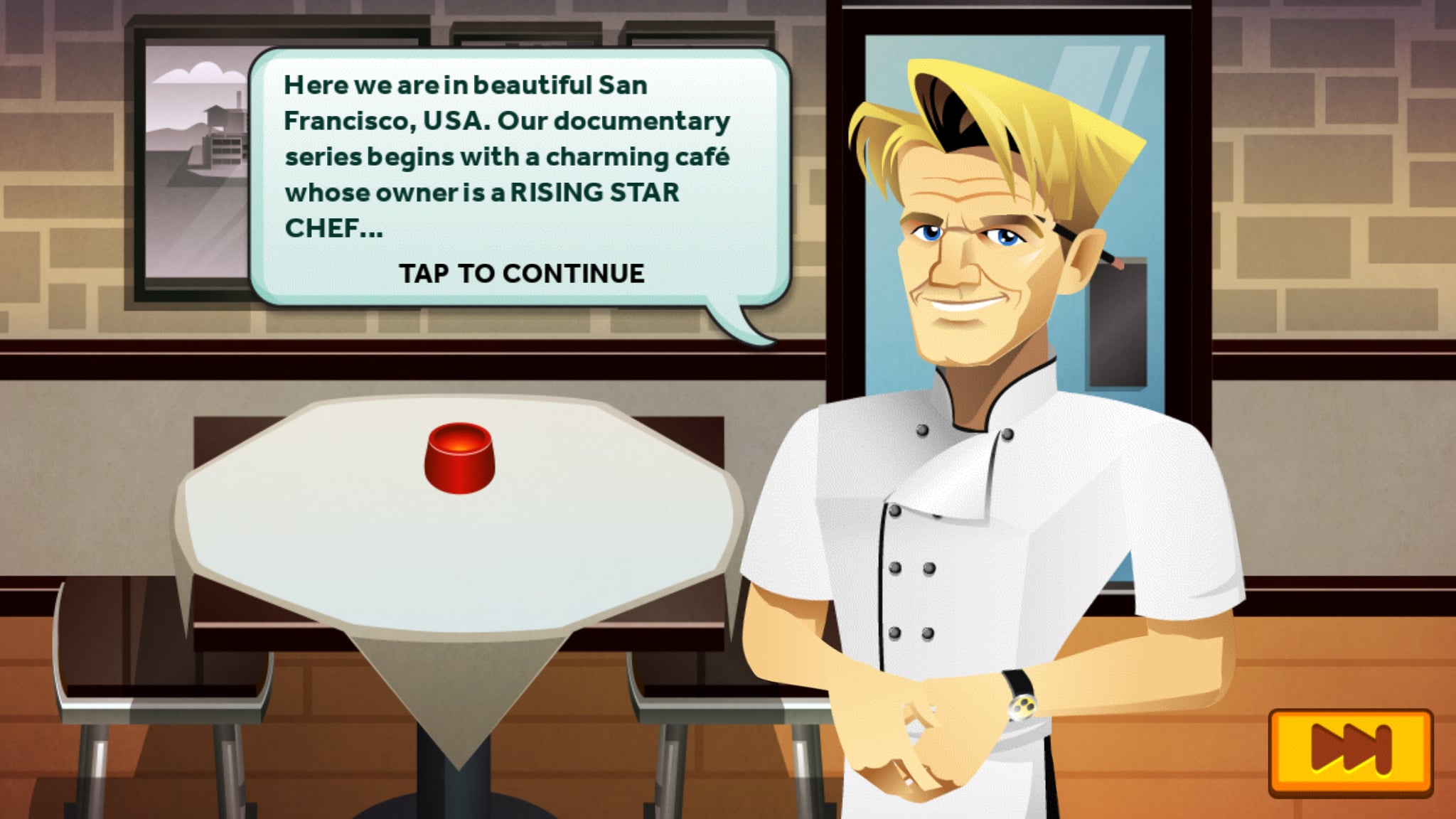 Ramsay and his wife, Tana, have a foundation (The Gordon and Tana Ramsay Foundation) that partners with a UK children's hospital to raise money for thousands of patients.
By the time he was 27, Ramsay became the head chef of a restaurant in England called Aubergine, where he led the restaurant to earn two Michelin stars in three years.
He thinks the five things everyone should know how to cook are burgers, poached eggs, beef short ribs, sautéed chicken, and brownies.
Ramsay's biggest food allergies are to these three four words: "gluten free", "paleo", and "vegan".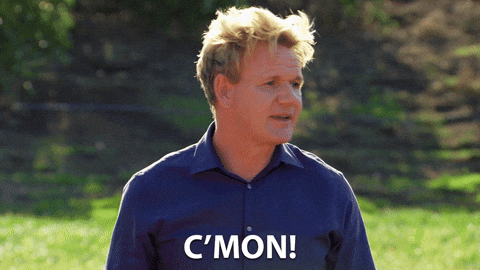 If he could cook dinner for one celebrity, it would be Hillary Clinton. He'd make something authentic and rich, like braised short rib doused with red wine. Um, I'd like in on that dinner, please…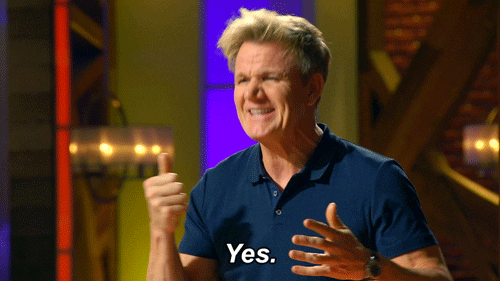 The only person that has made Ramsay cry in the kitchen was his daughter, Matilda. But don't worry, they were tears of pride!
The chef Ramsay looks up to is Michael Voltaggio of ink.well.
The one culinary trend he wishes would die a slow and painful death?…FOAMS.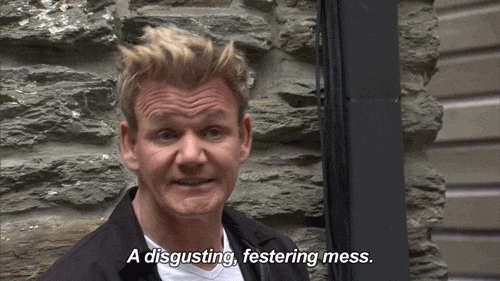 His favorite midnight snack is grilled Sourdough bread, topped with baked beans, Chili flakes, garlic, Tabasco sauce, and a duck egg. That's quite the effort there, Ramsay!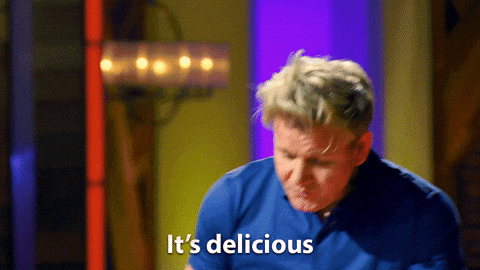 Before becoming a chef, Ramsay actually wanted to be a professional soccer player. He was chosen to play for the under 14 team for Warwickshire at age 12 and wanted to continue playing, but had to stop due to injuries.
He was fired from his first job at Wickham Arms for having an affair with the owner's wife…ooooooooh daaaammmnn…
Between all his restaurants (about 30 world-wide), Ramsay has 14 Michelin stars to his name.
No matter where he is in the world, if Ramsay sees beef Wellington on the menu, he orders it.
Ramsay is a black belt in karate.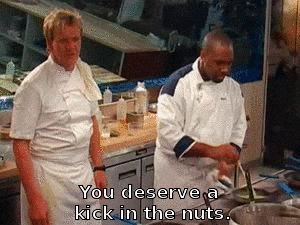 He's been asking Bobby Flay to compete against him on Iron Chef for several years now.  Flay refuses to sign the contract…hmm, wonder why…
Ramsay does not watch his own TV shows out of fear of watching himself screw up or say something stupid. "I'd rather watch Deadliest Catch or go out for dinner," he said.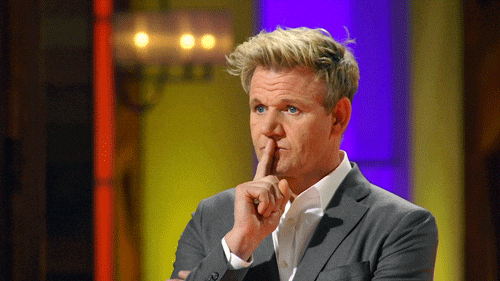 If he was granted a last meal, it would be a pan-fried sea bass with a light sorrel sauce (a cream sauce with sorrel or spinach, white wine, shallots and lime juice).
Not surprisingly, he's one of the wealthiest celebrity chefs in the world, ranking in about $60 million a year according to Forbes magazine.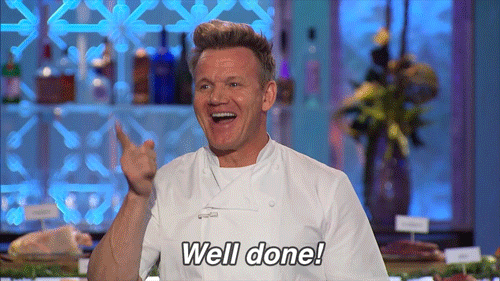 Ramsay is fluent in French.
He also studied hotel management in college…NOOOOW Hotel Hell makes so much more sense to me!
His favorite guilty pleasure is In-N-Out Burger. He's even brought a Double Double into first class flights if he's heading back to England.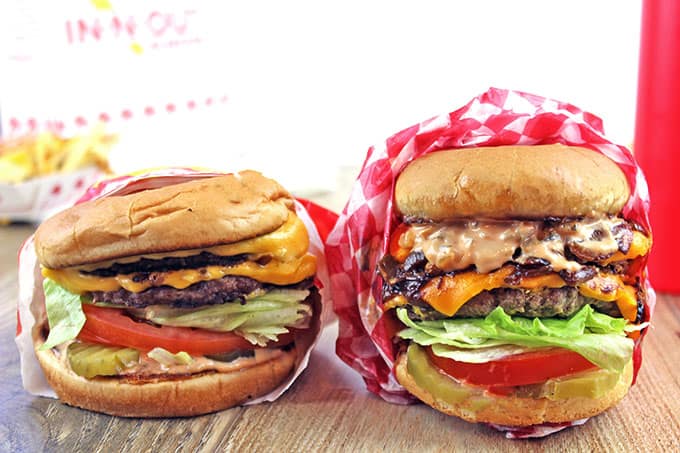 Sometimes you just need a little fun in your life! Check back every week for a new "Just Bee-cause" post, where I discuss everything from celebrity news to favorite videos and websites!