Whether you're as beautiful as Grace Kelly, as talented as Mozart, or as rich as Cornelius Vanderbilt, nothing can save you from death.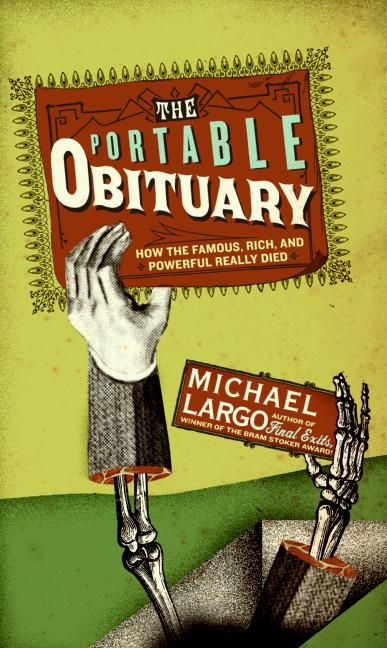 It's the great unifier, the one thing we all have in common. The rich and famous die…the poor and unknown die. It's terrifying and nerve-racking and sometimes quite unexpected…but maybe there's some strange, weird comfort in knowing how those before us met their Maker, so to speak. Maybe knowing how Elvis died, how Bob Marley, Billie Holiday, Henry Ford, Marilyn Monroe, Babe Ruth, Thomas Edison, and Ernest Hemingway all passed will help us cope with our own mortality, or at least will give us some insight in what not do to in order to prolong the time we have left.
In his morbid, yet ironically entertaining book, The Portable Obituary: How the Famous, Rich, and Powerful Really Died, author Michael Largo explores the life and death of more than 1,100 famous people (and animals), diving deep into how they died and what actions in their lives lead them to that point.
Ranging in scope from Jesus to Louis Armstrong, The Portable Obituary covers a wide variety of celebrity. Actors, actresses, singers, dancers, and sports heroes are all mentioned, as well as inventors, writers, artists, and presidents. The book is organized alphabetically, with random black and white photos peppering the pages (though the photos lack description, which ended up being confusing in some places).
Similar to his other books, The Portable Obituary can be used as a reference guide or read cover to cover. Each celebrity gets about a 1 to 2 paragraph installment, so reading it cover to cover actually goes pretty quickly. And if you're worried about it being too dour, Largo does put in little quips and fun stories to help lighten the mood.
If nothing else, this book is a fascinating look into how many musicians die from alcohol abuse and how many celebrities die within weeks of their birthday. It's ironic to see how the inventors of such fun things as bubble gum and popsicles met such sad endings…and how careless practices in filming locations led to several actors and crew members developing deadly cancers.
From gun shots to gluttony…car crashes to cancers, The Portable Obituary is an interesting, albeit depressing, look into what made our late icons what they are today – dead!
Looking for a new book to read? Check in every Friday for a "Bee Happy" post, where I share reviews of books I've read or other book-themed lists.