It's hard not to have a sweet spot for John Candy.
Commonly known as one of the nicest guys in showbiz, John Candy was a powerhouse comedian, starring in some of the most classic films of the 1980s and 90s. I'm talkin' Planes, Trains, and Automobiles, Space Balls, Home Alone, Uncle Buck, and several more.
A big man with a big personality and an even bigger heart, Candy was a loyal, generous and caring friend…paling around with such goofs as Eugene Levy, Bill Murray, Catherine O'Hara, and of course, John Hughes.
While working on Wagons East in 1994, Candy suffered a fatal heart attack in his sleep. His death was a major loss to the world, and we were robbed of so much light and laughter the night he died.
I simply adore Candy's movies and I wish his life wasn't cut so short (he was only 43 when he died). Not surprisingly, Candy was a somewhat quiet man, but could easily light up any room he entered. Every time I watch a John Candy movie, I'm instantly in a better mood and it sucks to think of all the stuff that will just never be :(…
…but we can all relish in what once was with these 16 Fun Facts about John Candy!
16 Fun Facts about John Candy
Not surprisingly, John Candy was thought to be one of the nicest guys in showbiz.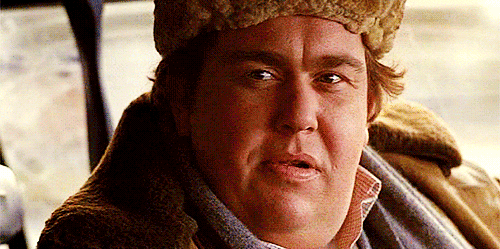 Part of Candy's "trademark", so to speak, was his size. A big guy for most of his life, Candy usually weighed between 275 and 300 pounds for the vast majority of his life.
Director John Hughes had a sweet tooth for Candy (hahahaha). In fact, Candy appeared in more Hughes' films than any other actor, including Uncle Buck, Home Alone, Planes, Trains, and Automobiles and The Great Outdoors.
Candy was part-owner of the CFL team, The Toronto Argonauts, alongside Wayne Gretzky and Bruce Mcnall.
He would often turn down roles if he thought one of his friends would be better in it. He said no to both Honey, I Shrunk the Kids and Ghostbusters because he thought his friend, Rick Moranis, would be a better fit.
Despite his amazing sense of humor, Candy was never a member of Saturday Night Live, though he was offered the option to join several times. Candy was a member of the Canadian comedy show, SCTV and didn't want to appear disloyal to his cast mates.
He was however a member of the Chicago-based comedy troupe, Second City, alongside Harold Ramis, Eugene Levy, Bill Murray and Rick Moranis.
Longtime friend Catherine O'Hara delivered a eulogy at his funeral.
After Candy's passing, Steve Martin – who appeared alongside Candy in Planes, Trains, and Automobiles – moved in with Candy's family to comfort them during their mourning. That's true friendship right there.
Like many before and after him, Candy sensed bad fortune before his death. Before flying to Mexico to start work on Wagons East, Candy called a close friend saying he didn't want to go due to a strong feeling that something bad was going to happen. He died in his sleep of a heart attack just days later.
In 2006 Candy was pictured on one of four 51-cent Canadian commemorative postage stamps honoring "Canadians in Hollywood".
Candy also launched his own radio show in 1989. The show appeared on Los Angeles station KNX-FM and was called Radio Kandy. The two-hour show featured Second City comedians, as well as musical guests.
According to one chef who tried to do the math, in order to make the huge pancakes that Candy made in his beloved film, Uncle Buck, you'll need: 2 cups flour, 1 cup sugar, 2 cups milk, 9 medium eggs, 1/2 cup melted unsalted butter, and about 1 tablespoon vegetable oil…PER PANCAKE.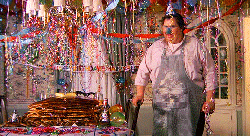 Candy's kids, Chris and Jen, have said their favorite character their dad has played was half of the Schmenge brothers (alongside Eugene Levy).
Candy's kids also look just like him…I mean JUST like him.
Candy's final meal was a late lasagna dinner.
Sometimes you just need a little fun in your life! Check back every week for a new "Just Bee-cause" post, where I discuss everything from celebrity news to favorite videos and websites!