Sometimes when I can't sleep at night, I'll jump on Reddit or StumbleUpon (remember that one?!) and research true crime mysteries. Maybe it's the years of watching Law and Order: SVU, maybe it's my recent obsession with the podcast, "And That's Why We Drink", or maybe it's just my love of all things mysterious, but there's just something in me that loves reading about murder and mayhem.
The first true crime story I remember being obsessed with was the JonBenet Ramsey murder. I was 12 when the face of JonBenet exploded all over the magazine covers. Back in 1996, the Internet wasn't what it was today…so the only "research" you could really do was to dive into People and Us Weekly for the latest updates on the case.  Now I could spend hours combing through the 234,000 search results you get when you search JonBenet's name.
As you can imagine, the internet is now filled with "volunteer detectives" and true crime sleuths who want nothing more than to help catch a predator. There are chat rooms, podcasts, forums, even in-person meet-ups of people who spend their lives looking through old evidence and articles, searching the internet day after day, hoping they'll find the missing piece that will put an end to the madness.
Most of them don't find much…maybe a new photograph or an article buried deep in the world wide web…but once in a while someone does find something. Once in a while, someone has a thought, an inkling, a wild out-of-the-blue idea that creates a ripple effect and opens a whole new door that authorities and investigators didn't even know was there. Once in a while, a curious and dedicated journalist helps put a murderer behind bars.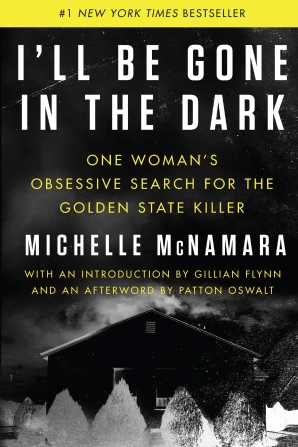 In the 1970s, California was terrorized by a mysterious and violent predator who committed more than 50 sexual assaults and 10 murders. He never revealed his face to his victims, making him near impossible to ID. People started calling him The East Area Rapist and The Original Night Stalker before true crime journalist, Michelle MacNamara, penned him the Golden State Killer.
In her best-selling book, I'll Be Gone in the Dark, McNamara dives deep into the case of the East Area Rapist, pouring over police reports, talking to victims, and spending endless hours in chat rooms and forums talking to other civilians who were just as obsessed with this man as she was.
When he was active, the East Area Rapist was a young, athletic man. He always wore a mask and would blind his victims with a flashlight so they wouldn't be able to see his face. While he favored suburban couples, he also attacked single women, feeding on their fear. He often entered the homes of his victims before attacking them, stealing meaningful family photos, wedding rings, diaries, or letters. He would then attack them when they slept, often tying up the male while assaulting the female, talking to them in a guttural whisper. It wasn't until later that he transitioned into murdering his victims…then, maybe once he felt the authorities closing in, he disappeared.
Some people thought he moved to another country or joined the army. Most people thought he died…maybe just to ease their own fear that he might return. But McNamara knew better…she knew he was still lurking in the shadows…and she wanted nothing more than for him to pay for his crimes.
In I'll Be Gone in the Dark, McNamara gives readers an intimate and sometimes graphic portrayal of what it was like to be in California at that time. Through powerful interviews with victims and the lead investigators at the time, McNamara tries diligently to piece together the pieces of this insane puzzle, hoping somehow, somewhere, she'll find the missing piece that will help the world sleep a little easier.
Michelle McNamara was working on I'll Be Gone in the Dark while she suddenly passed away on April 21, 2016. Her book was finished and published posthumously by her close colleagues and husband, Patton Oswalt, in February 2018.  In a powerful and bone-chilling part of the book, McNamara talks about the possibility of using genealogy sites like Ancestry.com to better track him down. Ironically, this would be the exact way detectives would track down Joseph James DeAngelo, The Golden State Killer, almost two years TO THE DAY that McNamara passed away.
Like I've said, I've always been fascinated by true crime stories. I think there's something ingrained in all of us that enjoys the thrill of the unknown…and maybe the possibility of finding the one piece everyone has been looking for. For McNamara, it was more than just a passion, it was an obsession. She went beyond scoping Wikipedia.com…she completely and utterly submersed herself in this story – and it shows. I'll Be Gone in the Dark is bound to become a classic in the true crime genre, if it hasn't already. It's proof that we can all make a difference in this world – proof that sometimes it takes another pair of eyes to see what we've been staring at this whole time – proof that with the right amount of determination and passion and strive, even a woman who just gets a thrill out of browsing Reddit and StumbleUpon for interesting stories to read about can completely and utterly change everything.
Looking for a new book to read? Check in every Friday for a "Bee Happy" post, where I share reviews of books I've read or other book-themed lists.