George Carlin did more than make people laugh – he made them think. Over the course of his long career, this legendary comedian released several albums, published a handful of books, recorded more than a dozen comedy specials, and even appeared in a few TV shows. He often challenged American thinking and way of life, as well as other hot-button topics like religion, parenthood, and death.
Carlin would have been 81 this year…and lord knows he would have PLENTY to say about today's world! Let me give you a taste…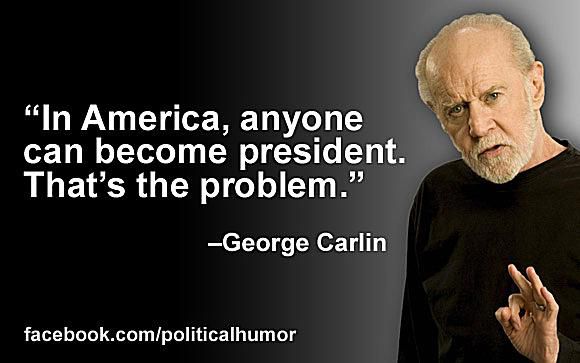 Way ahead of his time, right?!
To help celebrate this smart, yet satirical man, here are 17 fun facts about George Carlin!
17 Fun Facts about George Carlin
Carlin's love of language stemmed from his father, who was an advertising manager for the New York newspaper, The Sun. Carlin's grandfather, a NYC police officer, wrote out Shakespeare's tragedies in longhand for fun.
Growing up, Carlin's hero was actor/singer/dancer/comedian, Danny Kaye.
Carlin went to the same high school as Martin Scorsese and Regis Philbin…however he did not officially graduate because he was expelled. He would steal money from visiting sports teams and joked about having drugs on school property.
In the 1950's, Carlin worked as a radar technician on B-47s at Louisiana's Barksdale Air Force Base. He was court-martialed once after celebrating the 1955 Brooklyn Dodgers winning the World Series by getting drunk on wine and telling off his tech sergeant.
His love of language naturally evolved to a love of curse words, as well. He would write down the "most colorful" profanities he heard in his neighborhood and keep them in his pocket.
Carlin was arrested in Milwaukee, Wisconsin in the 1970's for obscenity after giving a stand-up performance at Summerfest. However it was almost much worse. He happened to have cocaine in his pocket, which he handed off to a band member before exiting the stage where cops were waiting for him.
Carlin was the first-ever host of Saturday Night Live. He was also the first host of Fridays (1980-1982), ABC's attempted version of SNL.
Carlin was almost aborted as a baby. His mother had a change of heart after seeing a painting on the wall of the doctor's office.
When Carlin was just 2 months old, his mom, brother and him escaped his abusive father by climbing down the fire escape. Carlin never saw his father again.
When Carlin was 9, he and his friend Dave Wilson, would do stand-up routines at summer camp. Wilson would go on to become the longtime director of Saturday Night Live.
Carlin's breakthrough album, 1972's FM & AM, earned him a Grammy Award.
Carlin kept extensive files of material…about 1,300 separate files encompassing 44 years worth of collecting thoughts, notions, ideas, pieces of data, and material.
Carlin was a great supporter of young musicians and performers. He actually called Eminem "a brilliant poetic artist".
Despite his cynicism regarding pop culture, Carlin was a big fan of the TV show, Survivor.
Carlin also refused to vote.
He may have come across as a harsh critic, but Carlin was actually a very sweet romantic. He was only married twice, the first one (which lasted 37 years) ending in his wife's death, the second one ending in his.
Carlin died on June 22, 2008 of heart failure. He was 71. His death occurred one week after his last performance at The Orleans Hotel and Casino in Las Vegas. In accordance with his wishes, his body was cremated and the ashes were scattered in front of various nightclubs he played in NYC, as well as over Spofford Lake in New Hampshire, where he attended summer camp.
Sometimes you just need a little fun in your life! Check back every week for a new "Just Bee-cause" post, where I discuss everything from celebrity news to favorite videos and websites!