On July 6, 1994, the film Forrest Gump hit theaters. Love it or hate it, there's no denying that this is both one of the most well-loved and most overrated movies of all time.
Starring Tom Hanks, Gary Sinise, Robyn Wright and many others, Forrest Gump took home 6 of the 13 Oscar nominations it received and gave birth to a restaurant chain, Bubba Gump Shrimp Company, with locations all over the world. It became a cult classic and gave birth to several quotable lines that have become part of our general lexicon.
To celebrate its 24-year anniversary (wow!), here are a few fun facts about Forrest Gump!
23 Fun Facts about Forrest Gump
The movie was based on a book of the same name, written by Winston Groom.
When Forrest gets up to talk at the Vietnam rally in Washington, the microphone plug is pulled and you cannot hear him. According to Tom Hanks, Forrest says, "Sometimes when people go to Vietnam, they go home to their mommas without any legs. Sometimes they don't go home at all. That's a bad thing. That's all I have to say about that."
Hanks wasn't paid for the film. Instead he took percentage points of the film's profits, which ultimately netted him in the region of $40 million. That's a whole lotta ice cream!
Forrest Gump is the film debut of actor Haley Joel Osment, who would go on to star in The Sixth Sense five years later.
Every transition of Forrest's age, one thing remains the same: he wears a blue plaid shirt in the first scene.
Hanks' eyes are closed in every photo you see of Forrest in the film.
Those Bubba Gump Shrimp Co. restaurants you see all over the US, Japan, China, Mexico, and the UK are a direct result of the success of Forrest Gump.
During those crazy ping-pong matches, there was never a ball in play. The ball was added later with CGI, animated to meet the actors' paddles.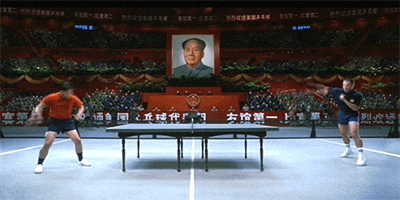 Forrest's Medal of Honor ceremony uses the footage of the actual ceremony for Sammy L. Davis, who was awarded the medal in 1968 by President Johnson for his actions in Vietnam. Hanks' head was superimposed on Davis' body.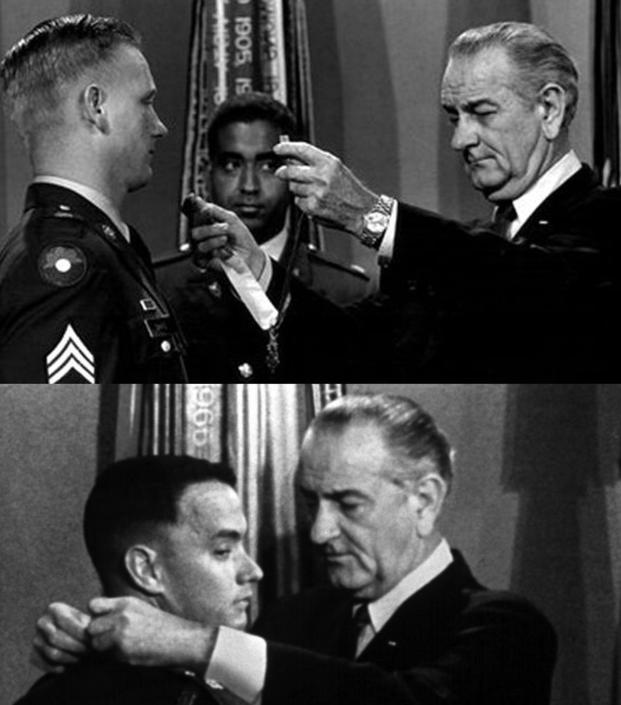 Sally Field, who played Forrest's mother in the film, is only 10 years older than Hanks.
Bill Murray, John Travolta, and Chevy Chase all turned down the role of Forrest.
In October 1994, Forrest Gump was a part of an amazing 4-movie cult classic line-up that were all playing in theaters at the same time: Pulp Fiction, The Shawshank Redemption, and Jurassic Park were the other three.
The shrimp boat used in the film now resides in the moat surrounding the Planet Hollywood restaurant in Downtown Disney in Florida. One of the ping-pong paddles used in the film also bears Hanks' signature and is hanging up inside the restaurant.
Though it's not specified in the film, in the book sequel, Gump & Co, Jenny dies from Hepatitis C in the early 1970s from her years of drug abuse. This was an unknown disease until the late 1980s, and doctors had no idea how to treat her for it.
Gary Sinise's (Lt. Dan) legs were wrapped in blue fabric, which allowed the production team to digitally remove them later.
The line, "My name is Forrest Gump. People call me Forrest Gump," was made up spontaneously by Hanks while shooting the scene with Bubba on the bus. The director liked it so much that he kept it in.
The park bench that Forrest sits on for a good portion of the film was located in historic Savannah, Georgia, at Chippewa Square. It has since been removed and is now in the Savannah History Museum.
Mykelti Williamson wore a prosthetic to extend his lower lip for his role as Bubba.
Forrest's awards and decorations, as worn in his Class A uniform are as follows: the Medal of Honor, Purple Heart, Good Conduct Medal, National Defense Service Medal, Vietnam Service Medal, Republic of Vietnam Campaign Medal, Infantry Shoulder Cord, Combat Infantryman Badge, Expert Badge, and Meritorious Unit Commendation.
Hanks modeled his Southern drawl on the real life accent of Michael Conner Humphreys, who played young Forrest in the film.
Forrest Gump won Oscars for Best Picture, Best Actor (Tom Hanks), Best Director (Robert Zemeckis), Best Visual Effects, Best Film Editing, and Best Screenplay.
In 2011, the Library of Congress selected Forrest Gump for preservation in the United States National Film Registry as being "culturally, historically, or aesthetically significant."
Lt. Dan tells Forrest in one scene that the say he (Forrest) works on a shrimp boat will be the day he (Lt. Dan) becomes an astronaut. This is a reference to the book, where Forrest actually becomes an astronaut. The following year, Sinise and Hanks appeared together, as astronauts, in Apollo 13.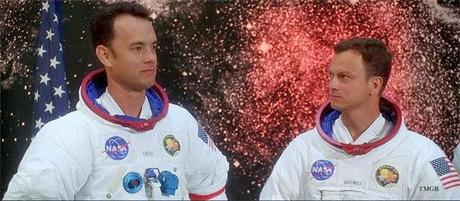 Sometimes you just need a little fun in your life! Check back every week for a new "Just Bee-cause" post, where I discuss everything from celebrity news to favorite videos and websites!