Man, I'm pretty!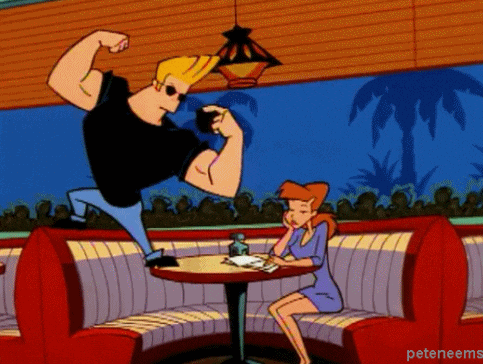 In the early 90's, TBS founder Ted Turner wanted to build an animation empire. His production company purchased Hanna-Barbera (The Flintstones, Space Ghost, Scooby Doo) and launched Cartoon Network in 1992.
The network continued airing those nostalgic cartoons, but Turner was committed to creating unique, original content to get that younger generation hooked on animation.
On July 14, 1997, Cartoon Network debuted a show that would become a cornerstone of that move towards fresh, new content: Johnny Bravo.
Now, let's get one thing straight here. I LOVE Johnny Bravo. I love him so much that if you don't like him, I might have to question our friendship 😉 (not really, but maybe…)
And it would seem that I'm not alone. As a matter of fact, most of the viewers of this classic cartoon are women…and they love it. I don't know if it's Johnny's adorable charm, hilarious chauvinist yet loveable (?) attitude, or the fact that he loves his momma, but this man has a place in the hearts of women all over the world.
To celebrate the 21st anniversary of this narcissistic greaser with the killer pompadour, here are 19 fun facts about Johnny Bravo!
19 Fun Facts about Johnny Bravo
The fact that Johnny sounds just like Elvis is no coincidence. Creator Efram Giovanni Bravo (!) Partible wanted voice actor, Jeff Bennett, to create a mix of old and young Elvis for Johnny's voice.
Elvis wasn't the only inspiration, though. James Dean, Danny Zuko (Grease), and Michael Jackson were also inspirations into how Johnny looked and moved.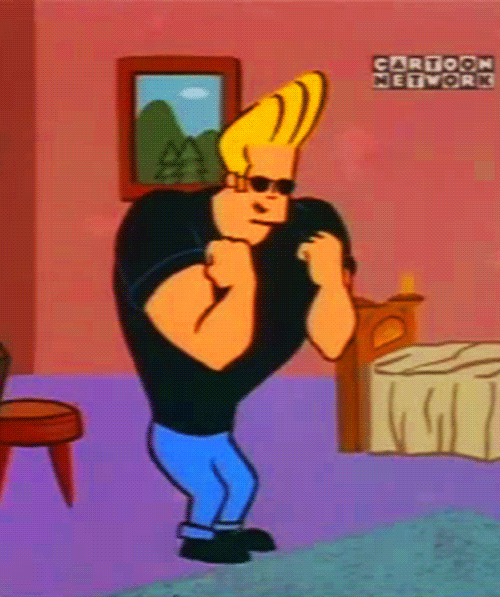 Speaking of Jeff Bennett, here's what the voice of Johnny Bravo looks like…in all his forms! This guy's got some talent!
Naturally, the competition was tough for this role, but what allowed Bennett to get the part was his ability to do the karate chop sound effect with his mouth without skipping a beat!
Three of Johnny Bravo's biggest supporters at Cartoon Network were women. Ellen Cockrill, Janet Mazotti, and Julie Kane-Ritsch fought to keep this loveable chauvinist on air.
And they weren't alone. When creators showed the first episode to viewers, every woman in the audience was applauding…just goes to show you he's a total ladies' man!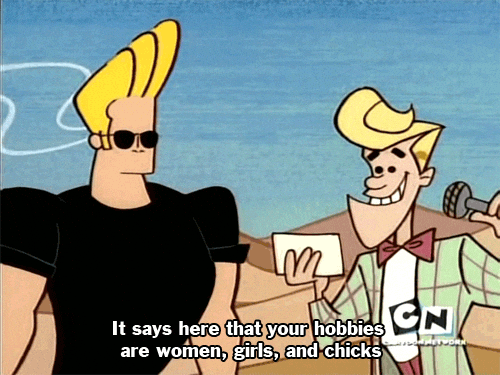 Johnny Bravo was based on Partible's senior thesis project, an animated short called Mess o' Blues. The short featured an Elvis impersonator with jet black hair and a white jumpsuit. There has been no official release of the short, though some snippets of footage do exist.
Much of the animation of Johnny Bravo was inspired by Al Hirshfeld illustrations. Hirshfeld, who was famous for his caricatures, inspired Bravo's head and hair, specifically.
Johnny Bravo was Partible's first rendezvous into TV.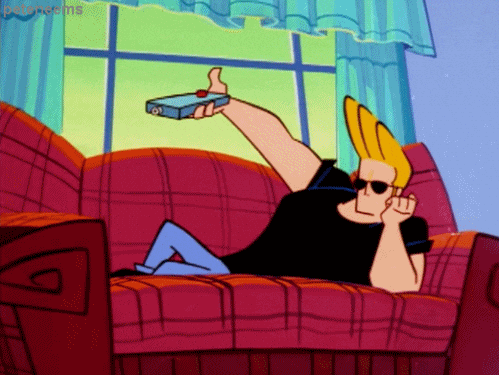 The legendary Joe Barbera was a weekly visitor to the Bravo writer's room.
Johnny Bravo also helped launch the careers of Seth MacFarlane (Family Guy) and Butch Hartman (The Fairly OddParents). MacFarlane was a writer and storyboard artist while Hartman was a writer and director.
PS: Wanna know more about Family Guy? Check out this post on 32 Fun Facts about Family Guy!
There was talk of a Johnny Bravo movie, starring The Rock, in 2002. The Rock is apparently a huge fan of the cartoon and was completely on board until the project fell through.
Johnny Bravo is one of five original Cartoon Network shows. He's so much a part of Cartoon Network that he's the mascot of Tooner Field.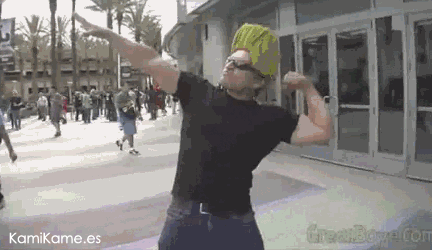 India loves Johnny Bravo. Like, LOVES him. So much so that his name was added to their dictionary. It is used to describe someone with a personality similar to Johnny Bravo himself.
Farrah Fawcett, who also loved the show, made a guest appearance as Little Suzy's cousin.
We may not know how old Johnny is, but is birthday is February 14th. How appropriate!
The name "Johnny Bravo" was inspired by an episode of The Brady Brunch, where Greg got signed on to be a rock star named Johnny Bravo.
Johnny gets hit by something in every single episode of the series.
There's also a theory that Johnny Bravo predicted 9/11. In a scene aired on April 27, 2001, a film poster appears to show a burning tower emitting a smoke cloud with the words, "COMING SOON". Four months later, the attack on the Twin Towers happened.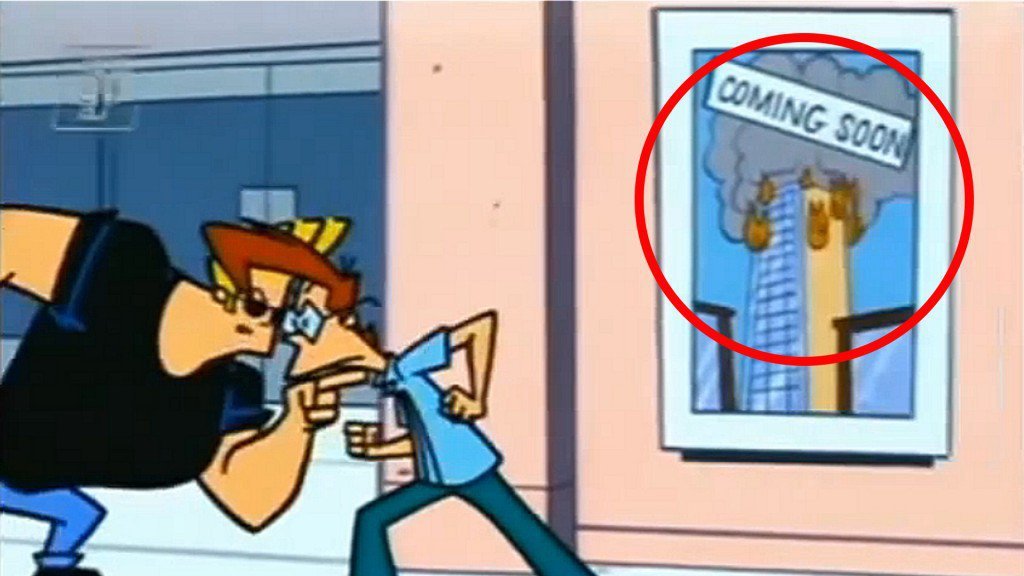 Sometimes you just need a little fun in your life! Check back every week for a new "Just Bee-cause" post, where I discuss everything from celebrity news to favorite videos and websites!