If you were a kid in the 90s, chances are you saw a kind, gentle, big-haired man painting "happy little trees" on PBS when you got home from school. With his calming voice and constant flood of positivity, the entire world found calm and solstice with Bob Ross and his long-running program, The Joy of Painting.
From winter landscapes to serene lakes and cabins in the woods, Bob Ross took us on more than 400 adventures through the magic of the paint brush. His happy little trees filled us with joy…and even his mistakes turned into "happy accidents". This was no ordinary human.
Ross was only 52 when he lost his life to lymphoma. Though he's not here painting anymore, you can still marathon The Joy of Painting on Netflix or YouTube.
In honor of this gifted artist and genuine human being, here are 17 Happy Little Facts about Bob Ross.
17 Happy Little Facts about Bob Ross
Not surprisingly, Ross was a life-long animal lover. He kept an alligator in his bathtub as a kid and an epileptic squirrel in his empty Jacuzzi.
Before he became the gentle painter we all know and love, Ross spent 20 years in the US Air Force as a Master Sergeant.
While he was stationed in Alaska in the Air Force, Ross would paint his happy little trees on the backs of gold pans. He'd sell them for $25 a piece…but now these little paintings could fetch as much as $7,500 at market.
His signature perm was done as an economical choice so he wouldn't have to spend money on haircuts. Though his style has become a part of his fame, he actually hated the hair cut.
One of Ross's students, Annette Kowalski, was the one who actually "discovered" him. After taking one of his five-day courses, she became enamored with is calming voice and positivity. She became his manager and helped him broker the deal for The Joy of Painting and his line of art supplies.
The Joy of Painting ran on PBS from 1983 to 1994…and Ross did every episode for free. His company sold art supplies, tapes, classes and courses, which is how he made his money.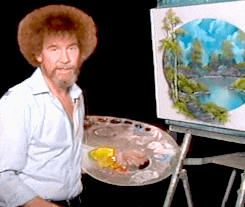 How did he do all those shows for free? Well, he would easily tape an entire season in about two days. That freed him up to teach classes, where he made his real income.
Though the viewing audience loved him, Ross wasn't as well received with his fellow painters. Several called his art "formulaic" and "non-expressive"…and several art stores would hide his supplies near the back of the store so as to "not offend" other artists.
Ross rarely painted people in his art. Kowalski has said that none of the cabins Ross painted on his show had chimneys because chimneys represent people, and he didn't want any sign of a person in his paintings.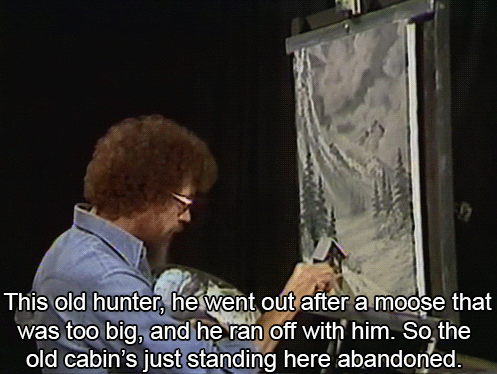 Though The Joy of Painting was intended to be instructional, only 10% of viewers actually painted along with him.
Ross really did love trees. In 2014, a statistical breakdown of Ross's work on The Joy of Painting found that 91% of his pictures included at least one tree…and if he painted one, there was a 93% chance he would give that little tree "a friend" (another tree).
There were three paintings done of each picture shown on The Joy of Painting. One was done and completed before shooting and kept off camera so Ross had a reference, the other was done on screen, then the final third painting was done after filming for photography, which would be used in his how-to books.
Ross never sold his paintings that he did on The Joy of Painting, but did donate them to PBS to auction or display.
In the early 90s, Ross was looking to branch out from art and had an idea for a kids show called Bob's World, where he planned to go out into nature and teach kids about wildlife.
Two Inch Brush, a site named after Ross's brush of choice, is the official database that organizes all 403 paintings from The Joy of Painting.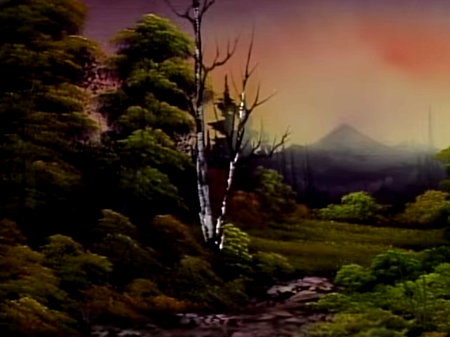 Ross once did an entire painting in greyscale because a color-blind fan wrote in, saying he wouldn't be able to paint along with him because he couldn't see color. Ross wanted to show him that he could create something magical even if it's just in black and white.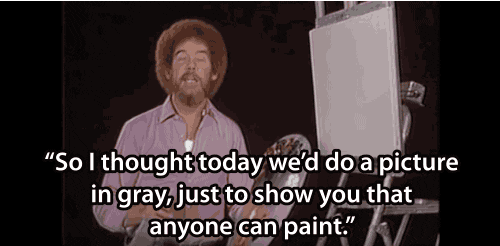 Ross was only 52 when he passed away from lymphoma, but his reruns are on so frequently that Bob Ross Inc and PBS still get calls asking about him.
Sometimes you just need a little fun in your life! Check back every week for a new "Just Bee-cause" post, where I discuss everything from celebrity news to favorite videos and websites!