Get ready for Mr. Napkin Head!
The Holiday is one of those Christmas movies I could watch anytime of year and still love. Starring Jack Black, Kate Winslet, Cameron Diaz and Jude Law, this movie is the epitome of holiday rom-com.
If you haven't seen this holiday treasure, do yourself a favor and check it out. It's got heart, humor and a dash of real-life, everything you need to get you in the holiday spirit. If you're still on the fence, check out these 27 fun facts about the making of The Holiday!
27 Fun Facts about The Holiday
The "boob graze" line came about because Jack Black accidentally boob grazed director Nancy Meyers and then apologized. She found it so funny that she wrote their interaction into the script the next day.
Meyers wrote Black's part for him, after she fell in love with his performance in School Of Rock.
By the time she'd finished writing the script, Meyers knew she wanted to cast Jude Law, Cameron Diaz, and Kate Winslet too.
At first Black was skeptical about doing a rom com, but then Meyer told him he'd get to be in a movie with Winslet and he said yes.
After filming, Winslet said "Trust me, it was not difficult to fall in love with Jack Black. At all."
The website that Amanda and Iris use to swap houses is real.
But Iris's house Rose Hill Cottage is not (booo). It was built as part of the film set.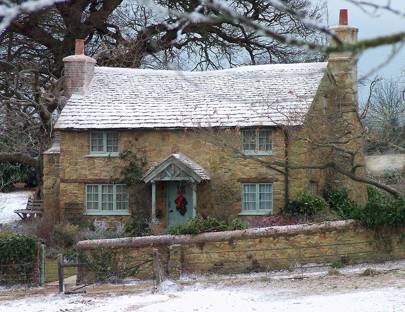 Amanda's mansion is a real place in San Marino, California.
The English village scenes were filmed in Godalming and Shere in Surrey.
And the pub featured is real: It's The White Horse in Shere.
In the week of making the film it snowed three times in Surrey, even though the crew had hired a snow machine because they thought it wasn't going to.
Meyers knows Lindsay Lohan because she directed The Parent Trap. She convinced Lohan to film a fake movie trailer for The Holiday by telling her she owed her. Lohan was immediately up for it.
Eli Wallach turned 90 during filming.
Diaz kept her character's clothes after filming.
In the film Jude Law plays Iris's brother. In real life, he has a daughter called Iris.
Law's favorite part of the film was working with the girls who played his daughters, Sophie and Olivia.
When Iris first arrives at Amanda's LA house she picks out a film to watch. The movie she selects is Punch-Drunk Love, a film about an American man who dates a British woman.
Rufus Sewell plays the guy who Kate Winslet's character is in love with. In real life, they dated for three months in the mid-'90s.
At one point in the film, Winslet and Wallach's characters talk about how Cary Grant was from Surrey. He was actually from Bristol.
Winslet's video shop scene with Black was largely improvised.
The crew removed all of Winslet and Black's films from the video shop so it wouldn't be distracting.
Dustin Hoffman was never supposed to have a cameo in the popular movie shop scene. He was having lunch near the film shop's set, stopped because there were lots of cameras, and ended up appearing in the movie because he knows Meyers.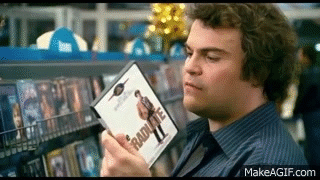 An unspoiled cottage like the one Iris owns easily be worth a million pounds, not far off two million dollars. She's far from slumming it, no matter how basic the kitchen.
The house used for Arthur Abbot's (Eli Wallach's) house belonged to Phyllis Diller at the time of shooting, and is located in the Brentwood section of Los Angeles, California.
Cameron Diaz has claimed that this movie is her most physical due to all of the running she had to do.
The example Arthur uses to explain a "Meet Cute" was used in Bluebeard's Eighth Wife (1938). Strangers Claudette Colbert and Gary Cooper meet while shopping. She buys the bottoms and he buys the tops of the same suit of pajamas.
A young John Krasinski has a part in this film, too as part of Amanda's film crew.
Sometimes you just need a little fun in your life! Check back every week for a new "Just Bee-cause" post, where I discuss everything from celebrity news to favorite videos and websites!