All us bookworms know there's a little Hermione in all of us…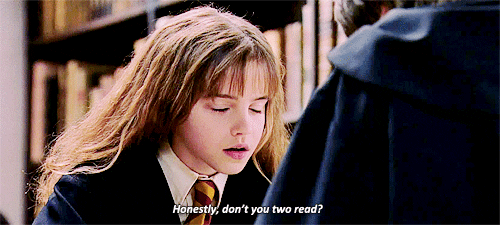 I mean…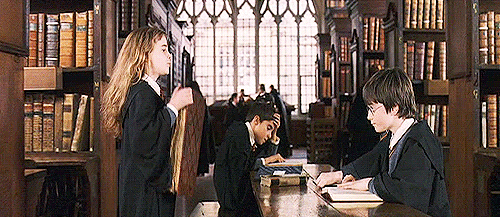 We love to read, we love studying, and there's just that TIIIINY little piece of us that's just slightly judgmental…
😉
And when you're feeling your inner Hermione come out, what better way to show her off than with this cute library tote bag?
Featuring a little book and owl charm, as well as a striped pattern in Hermione's house colors, this tote bag is great for running off to potions class, a study session at the library, or just storing your copy of The Monster Book of Monsters because every smart girl knows not to carry that one around in the open…
I've included instructions on how to make this tote, but if you love it and just have to have this one, it'll be for sale soon in my Etsy store, so stay tuned!
Hermione's Library Tote Bag
Materials:
Canvas Tote
Maroon Fabric Paint
Gold Fabric Paint
Black Fabric Marker
Ruler
Pencil
Paintbrush
Iron-on Letters
Red Ribbon
Book and Owl Charm, if desired
Instructions:
Follow the instructions for caring for your canvas tote (this might involve a quick pre-wash before you begin).
Using a ruler, mark 1 in. marks along both side straps of bag. Lightly draw pencil lines to divide side straps into 11 squares. Repeat on both sides of tote.

Starting with gold paint, fill in every other square on tote. I did about 2 coats of gold paint. Let dry and repeat on other side. Repeat with maroon paint.

If you get some splatters, just let them dry and paint over them!

Once your paint has dried, separate the squares with your black fabric marker. Let dry.
Follow the instructions for ironing the letters onto your tote. You'll need letters in the following quantities:

a-1; b-2; d-1; e-2; g-1; h-2; i-2; l-1; n-2; o-3; r-2; t-3; u-1; w-1; y-1

I was able to make the tote with 2 sheets of iron-on letters.


If you want to attach charms, feel free! I think they add a nice touch and I'm a sucker for bows so I had to tie a bow on the handle!

This tote is a fun gift for any bookworm or Harry Potter fan! If you love this tote but don't want to make it yourself, stay tuned! It'll be up for sale on my Etsy store soon!
Celebrate creativity every Wednesday with a "Creativi-bee" post, where I share easy craft tutorials, project ideas, and craft collections.