Rhett and Link wrote a book.  Let's talk about that.
If you're not familiar with Good Mythical Morning, allow me to educate you.  This is Rhett McLaughlin and Link Neal: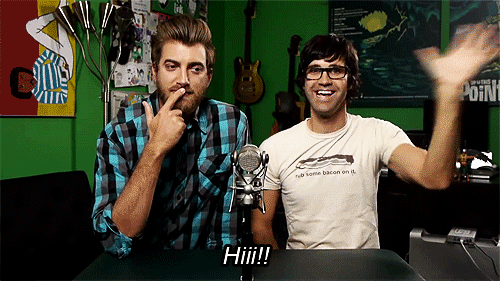 They are the "Internet-tainers" behind YouTube's most popular daily talk show, Good Mythical Morning.  Every weekday they release a video where they try new things for the good of science.  Want to know if LEGOS make good shoes?  Want to know the hottest hot sauce in America or the best-tasting pumpkin spice item at Trader Joe's?  Rhett and Link put their taste buds, stomachs, and sanity on the line for us in this highly addicting and amazing YouTube series.
I've been a Mythical Beast (GMM fan) for at least four or five years.  I tune in every morning to watch GMM and even crafted my own Rhett and Link poster for my workspace!
I'm seriously in love with these guys.
When Rhett and Link announced that they were working on a book, I was literally gitty with excitement.  I knew it would be nothing but MYTHICAL in its amazingness and I have to say, it met – nay – EXCEEDED my expectations!
Rhett and Link's Book of Mythicality is everything Mythical Beasts would want and more.  Filled with hilarious stories, amazing photographs, and top-notch advice for how to be your mythical best, this book is an intimate look into the lives of Rhett and Link and is a testament to true, unadulterated friendship.
Want to throw a party that will go down in history as one of the best?  Rhett and Link show you how.  Want to know the secret to eating tarantulas, pig's blood, and other disgusting things for possible post-apocalyptic survival?  Rhett and Link show you how.  What to learn how to tell someone you love them in the most mythical way possible?  Rhett and Link show you how…well, at least their wives do.  Want to know about Rhett's dog curse, Link's standards for quality BFF material, and their mutual love for Merle Haggard?  It's all found in the colorful and hilarious pages of Rhett and Link's Book of Mythicality.
Just like the show that inspired its birth, Rhett and Link's Book of Mythicality aims to teach readers new things:  how to laugh more often, how to eat things that scare you, how to invent something ridiculous, and how to own your hair style.  Complete the fun activities and prompts along the way, this book is even more fun to read with your BFF…plus you earn Mythical "merit badges" as you make your way through the book!
For those who don't know, Rhett and Link have actually been BFF's since the first grade when their teacher made them miss recess for writing profanity on their desks.  They spent their time drawing and creating mythical beasts and, thankfully for us, it was the start of a beautiful friendship.  After rooming together in college, attempting (and failing) to start a band, and abandoning their degrees in engineering, Rhett and Link decided to take to the Internet as a way to talk about their lives, air their grievances, and just make each other laugh…
Now with more than 12 million subscribers, Good Mythical Morning has spawned several other YouTube channels, including Good Mythical More, which airs after GMM, Rhett & Link which features behind-the-scenes content and other fun videos, This is Mythical, which is a channel devoted to the beloved Mythical crew behind GMM, a YouTube Red series titled Rhett and Link's Buddy System, and even a pod cast titled Ear Biscuits where Rhett and Link continue their discussions about creativity and tomfoolery.
Here's the fact of the matter…If you love GMM, you're going to love Rhett and Link's Book of Mythicality.  And if you've never seen GMM, allow me to share some of my favorite episodes:
Also these:
What I love the most about Rhett and Link is that they are 100% authentic to who they are, something that is ever more apparent in their mythical field guide.  With heartfelt stories that will literally make you laugh out loud, Rhett and Link's Book of Mythicality is like the BFF you always wanted: filled with great advice, funny stories, and plenty of heart.
Looking for a new book to read? Check in every Friday for a "Bee Happy" post, where I share reviews of books I've read or other book-themed lists.